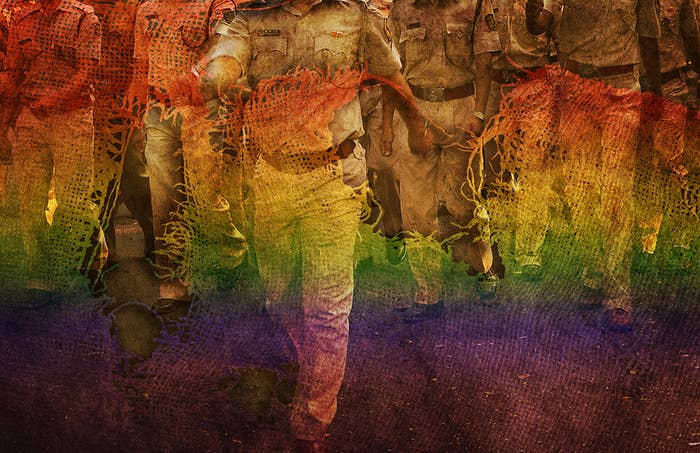 BANGALORE, India — In a sweep that lasted through the first night of India's biggest celebration, Diwali, police in November arrested 13 people for homosexuality in the town of Hassan, about a three hours' drive from India's tech hub of Bangalore. At the police station, some of those arrested say they were asked if they were really men, whether they liked getting fucked in the ass, and if they had pimped out their wives to get them pregnant. At least two were stripped, beaten, and threatened with having a nightstick shoved up their rectum.
The next day, their names were splashed across the pages of local newspapers under lurid headlines. Some lost their jobs.
At first, the arrests appeared to be an example of police lawlessness, and LGBT activists from Bangalore rushed in to investigate. The cops had charged the men under Section 377, a colonial-era law criminalizing "sex against the order of nature," including same-sex intercourse. But the law was unenforceable at the time of their arrest — at least in cases of consensual intercourse — because it had been suspended under a 2009 ruling of the Delhi High Court as an unconstitutional violation of LGBT people's rights.
Now the situation is different. Just over a month after the arrests, India's Supreme Court reinstated Section 377. To activists, that cast the raids in a whole new light. Many LGBT people had decided to come out in the four and a half years since the law was suspended, believing the threat of arrest or prosecution was over. Now, as the men in Hassan wait for formal charges to be presented to the court, there is increasing concern that their situation could be a sign of how easily LGBT people's lives could be destroyed now that the law is back on the books.
This is the story of the police sweep, based on interviews with four of the 13 people arrested that night, as well as a fifth person whose accusations prompted the raids. The accuser and three of the accused spoke with BuzzFeed by phone with the help of an interpreter translating from Kannada or Hindi. The fourth accused man answered questions by email in English.
BuzzFeed also reviewed police documents provided by LGBT activists and translated from Kannada. Several calls to the cell phone of the police officer who oversaw the raids, Superintendent Ravi Channannavar, went unanswered, and he did not respond to multiple emails seeking comment.
Nov. 3 was the first night of Diwali, the most important festival in the Hindu calendar, and most Indians were lighting candles, setting off fireworks, and exchanging gifts. Late that night, a 21-year-old college student identified in court papers as "Puttaraju, son of Thippeswamy," walked into the Hassan police station to make a complaint.
According to police records, Puttaraju alleged that three employees of a government-funded HIV program called the Swami Vivekananda Youth Movement had forced him into sex work more than two years before, in August 2011. He asked police to arrest them, plus two men he said the HIV workers had forced him to service. He also named a sixth person who he said "forcefully had unnatural sex with me against my will" without the involvement of the HIV workers.
The police appear to have taken his statement twice, producing a handwritten First Information Report (FIR), which is time-stamped 10 p.m., and a second, typed version, which he signed at 12:10 a.m. on Nov. 4. The police recorded that he had waited so long to come forward because he "was not sure and was under tremendous pressure and fear," but now had "gathered strength to complain against all of them."
The accusations came as a shock to the HIV workers, some of whom said they were "quite close" with Puttaraju. He had been a client at the Youth Movement, and they'd helped him get tested and access anti-retroviral therapy when he was found to be HIV positive. They had given him some money for food since he was constantly short of cash.
In an interview, Puttaraju said he finally came forward in part because he was angry that those he accused had not done enough to help him pay for his tuition and medication. "I used to ask for support with my education and health status, [but] nobody has helped me so far," he said. He also suggested that he was also doing the sex work he claimed he'd been forced into in order to cover his bills. "I could have stopped all this, but I needed money," Puttaraju said.
The night of Diwali, the police filed two other complaints. One said they had caught three men "indulging in unnatural sex" and "inviting people to have unnatural sex with them in public" in the town's Maharaja Park between 9 and 10 p.m., at the same time that Puttaraju was making his complaint. The second said police had caught five others "indulging in similar activities" on the grounds of a local high school during the same time period.
Puttaraju's problematic complaint, and the simultaneous arrests of the other men, has raised a host of questions among LGBT activists, who believe it was a premeditated scheme by police to target the town's LGBT community. At least one of the men allegedly busted while having public sex was actually dragged out of his home five hours later, witnesses to his arrest said. And it is unclear whether the police actually caught anyone having public sex.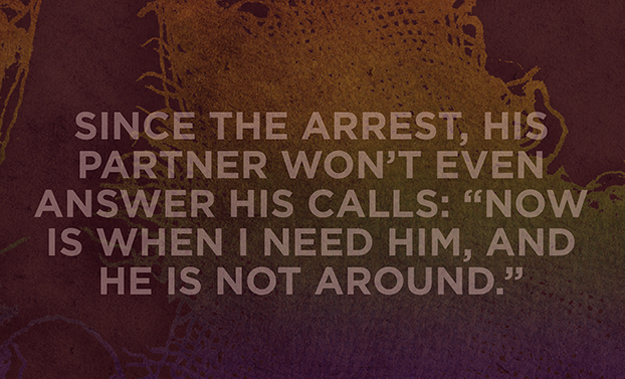 Within 20 minutes of Puttaraju signing his complaint, four police officers were at the door of Dr. H.K. Palaksha, a well-known local pediatrician and head of a foundation for orphans and the poor, with whom Puttaraju said he had been forced to have sex. The officers told him nothing of the complaint, but said there was an abandoned baby at the police station whom they wanted him to examine and transfer to his shelter.
The minute he walked into the police station, it was clear there was no baby. Officers seized Palaksha's cell phone and put him under arrest, never explaining why. It was only when he read the news in the days that followed that he learned Puttaraju had accused him of having "forced [him] to indulge in unnatural sex."
That same night, police arrived around 3 a.m. at the homes of two of the HIV workers to whom Puttaraju accused of pimping him out. Officers told the HIV workers there were HIV-positive people at the police station in need of counseling.
Before returning to the police station, the police stopped to pick up a 25-year-old, who asked to be identified by the alias Prajwal because he has been subject to harassment since his arrest. Prajwal is one of the men the police claimed to have arrested having sex at the high school five hours earlier. After Prajwal answered the door, he and the two HIV workers said, police grabbed him by the back of the neck and shoved him into the police van as his mother implored them to explain why they were taking her son in the middle of the night.
The four men interviewed by BuzzFeed — Prajwal, two of the HIV workers, and Dr. Palaksha — said they all endured abuse by police, and activists who investigated the incident reported that the rest of those arrested in the raids received similar treatment.
At the police station, according to the accounts of Prajwal and the two HIV workers, officers stripped off Prajwal's pants while speculating whether he truly had a penis. "Let's test if you are a man or a woman," the police said. "Let's see if you have [a dick] or not. Oh! You seem to have it!"
Then they started prodding his penis with their nightsticks, trying to force him to get an erection. They beat him when he tried to pull up his pants, and mocked him when his penis stayed soft, declaring, "He isn't a man at all." He started weeping, pleading with them to tell him what he had done wrong, as they interrogated him about his sex life.
"How do you have sex, do you take it through your backside?" they taunted. "How long can you hold on when I take it [up the ass]? Do you take it in the mouth as well? We should take you to the streets and stone you to death — how many like you are there? Tell me their names!"
One of the HIV educators, who asked to be identified by his first name, Faisal, said officers stripped off his pants and threatened to rape him with a nightstick — known in India as a lathi — as they struck him on his head and hands. One of the officers said he would "make sure the lathi is shoved up your ass."
The group arrested that night was taken to jail in the early morning, after being charged under Section 377 and then being paraded in front of local TV and newspaper journalists. Dr. Palaksha was able to secure bail after one day, but the 12 others were held for around 10 days, during which they slept in shifts to protect each other from constant threats of violence and sexual assault from other prisoners, who they say were encouraged by guards.
They learned about the charges from the reports that flooded local media in the days that followed. "Police busted homosexuals network," blared Kannada Prabha, a local newspaper. "Support for homosexuality … Homosexual sex in public places, sexual violence on innocents," wrote the Vijayavani newspaper. "Student got HIV due to his engagement in homosexual activities," said Prajavani, another local paper.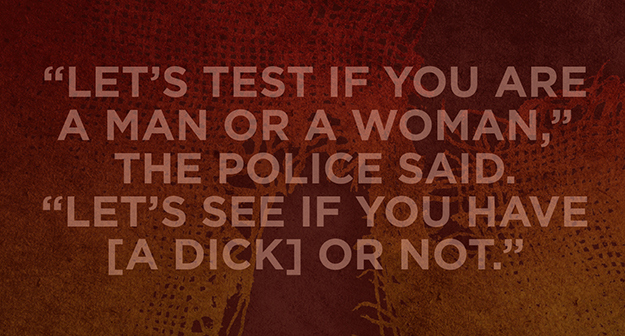 When LGBT activists obtained the police reports, several things struck them as odd.
First, the timing: Puttaraju made his complaint more than two years after the alleged events began. Activists found the speed of the police response even stranger — it is out of character for Indian police to take immediate action and they often dismiss accusations of sexual violence. "He reports it late in the night, and immediately the police swing into action? [That] doesn't happen in India," said Shubha Chacko of the Bangalore LGBT organization Aneka.
There are also discrepancies between Puttaraju's two police statements. In the first, handwritten FIR, he said he was blackmailed into sex work under the threat of being outed: "The above people threatened me, that if I don't listen to what they say they will tell my life history to everyone in college, to my parents and to the people around the room where I stayed."
But the second, typed version included a more serious charge of coercion. "They threatened to kill me if I don't listen to them," he said. Puttaraju also frequently mentioned being paid for the sex work in the second FIR, but never mentioned money changing hands in the first.
The differences in Puttaraju's complaints raise "doubt about whether it is an authentic complaint," the LGBT activists wrote in their report on the arrests; perhaps it was a sign that he was being coached — or used — by the police, the activists suggested.
The police reports regarding the men allegedly caught having sex in public have even more glaring problems: First, the activists documented that at least some of those charged — like Prajwal — were not arrested from the places the police claim. And the description of their behavior doesn't fit a charge under 377; the FIRs never allege penetration even though the law specifically criminalizes "carnal knowledge."
"The collusive fashion in which the [charges] were registered suggests that the sole objective behind these rapid [police] actions was to target the sexual minority community," the activists wrote.
Puttaraju, they suggested, was simply being used: "The tactic of coercing sexual minority persons to file a complaint against their own community members has been used before by the police."
But Puttaraju doesn't see himself as the police's pawn. He said he had thought carefully about lodging the complaint and met with police well before formally filing it. "Before I went to the police station, I met the superintendent of police and told him everything. I showed him the cruising areas and everything."
He said he finally decided to complain because he believed the HIV workers had made public that he was HIV positive. He said they had also turned down his requests for help with his tuition, as had Dr. Palaksha, whom he claimed "forced him to indulge in unnatural sex" one year before the complaint.
"Nobody helped me then, nobody is helping me now," Puttaraju said. "They made use of me [but] they never gave me money."
Those accused confirm that Puttaraju had asked for cash, but deny drawing him into sex work. The two HIV counselors said they had frequently given him sums equal to about $5. Dr. Palaksha said he only met Puttaraju once, when Youth Movement workers brought him to his clinic about a year ago for treatment of a respiratory infection, and didn't hear from again until about a month before the arrests when he called asking for his foundations' help with his school bills. The doctor said he would have to apply in the spring.
Dr. Palaksha said that, "apart from this story, I do not know" why Puttaraju might have named him in his complaint. He denied that he had paid Puttaraju for sex or had engaged in any inappropriate contact.
"I am a married man with two children," he said, adding that he lives a pious life in which he does not even "consume alcohol [or] non-vegetarian food."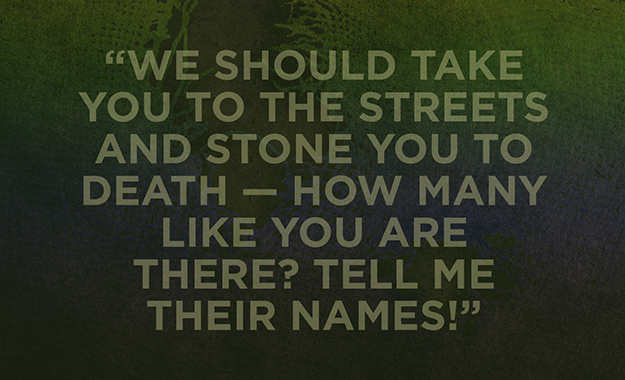 Even before 2009, when Section 377 was fully in force, people were rarely convicted under it; fewer than 200 people had been convicted under it in the more than 150 years it had been in force. But focusing on convictions understates its effect, said Arvind Narrain, a lawyer who worked on the 377 case the Supreme Court ruled on in December and helped investigate the Hassan arrests. Police have used the provision as a pretense for harassing LGBT people and those who work with the community.
In 2001, employees of two HIV organizations were detained for 47 days in the northeastern city of Lucknow for running a "sex racket." The filings in the Supreme Court litigation document several cases in which the police used 377 as pretense for horrific abuse, including a 2004 instance in which a hijra — a trans woman — was tortured at a police station after officers "rescued" her from a gang rape.
Narrain said he has "no doubt" that the cases against the men swept up in the Hassan raids will ultimately fail. "But in the meantime your life is destroyed."
The media sensation around the case ensured that the men's ordeal didn't end when they were released from jail in mid-November. Dr. Palaksha said he was harassed at his clinic by reporters who threaten to invent new charges against him if he doesn't pay them, a plot in which he alleged the police were colluding. His wife has stuck by his side, but his patients are deserting him, he said, and he is having difficulty sustaining his foundation.
"I believe in God," he said. "He will definitely help me — I do not want to shut down my NGO."
The others arrested that night — who don't have Dr. Palaksha's relative wealth or education — are in an even more precarious situation. The Swami Vivekananda Youth Movement has not given the HIV counselors back their jobs since the arrests, and the counselors say they are having hard time finding other work. They say law enforcement officials are using the threat of charges to demand bribes. And the delicate balance they've maintained between fulfilling the family obligation to marry and finding ways to have relationships with men has collapsed.
One of the HIV workers, who asked not to be named, said his mother was forced to sell their cattle — a major source of income — to bail him out of jail, and that she had to leave her job because she was being relentlessly harassed about his arrest. He said he has attempted suicide because he doesn't know how he's going to support his mother, his wife, and his month-old baby.
He also quietly had a boyfriend for 15 years. But since the arrest, his partner won't even answer his calls: "Now is when I need him, and he is not around."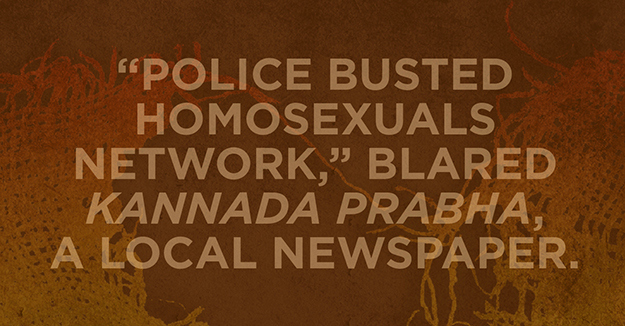 Police abuse has been a problem for LGBT people even without 377. For example, a gay couple was recently granted asylum in the United States after fleeing India in 2011 following sexual assault by police in the northeastern city of Chandigarh, and there have been many reports over the past four decades of police forcibly separating lesbian couples at the request of their parents even though women cannot technically be charged under 377.
And while 377 has spurred some LGBT people to be more politically engaged — pride marches have been held in parts of the country since the ruling that never had them before — LGBT people throughout the country have told BuzzFeed of people going back into the closet, corporate LGBT support groups being shut down, and increased petty crime targeting communities of trans women. The reports could not be verified, but their widespread circulation reflects the fear that the gains made while out from under the shadow of 377 could suddenly evaporate.
Even some people who are already out and politically active have shrunk from fighting for their rights because of the fear engendered by the return of the law. On Feb. 11, the Mumbai Mirror published the story of a 23-year-old man who was pulled over by police at 2:30 a.m. in the northwestern city of Ahmedabad. He said the officers attempted to rape him and then forced him to perform oral sex. He told the newspaper that the cops said they recognized him from a local gay pride parade held just before the Supreme Court ruling.
"Had homosexuality been legal, I would have had the courage to file a complaint" against the officers, he said. But he did not want to take the risk of further abuse, especially since they appear to have the court's permission to persecute LGBT people.
"My attackers were cops. How can I expect any justice from them?" he said.