U.S. Must Do More To Prevent Ugandan Anti-Gay Law, Activists Say
Activists raised the issue during a meeting with U.S. diplomats in Kampala on Monday. "The U.S. Embassy or the British, I think diplomatic missions here are still taking a quiet stand, which I don't appreciate. I think they should be more vocal," said a leading Ugandan activist.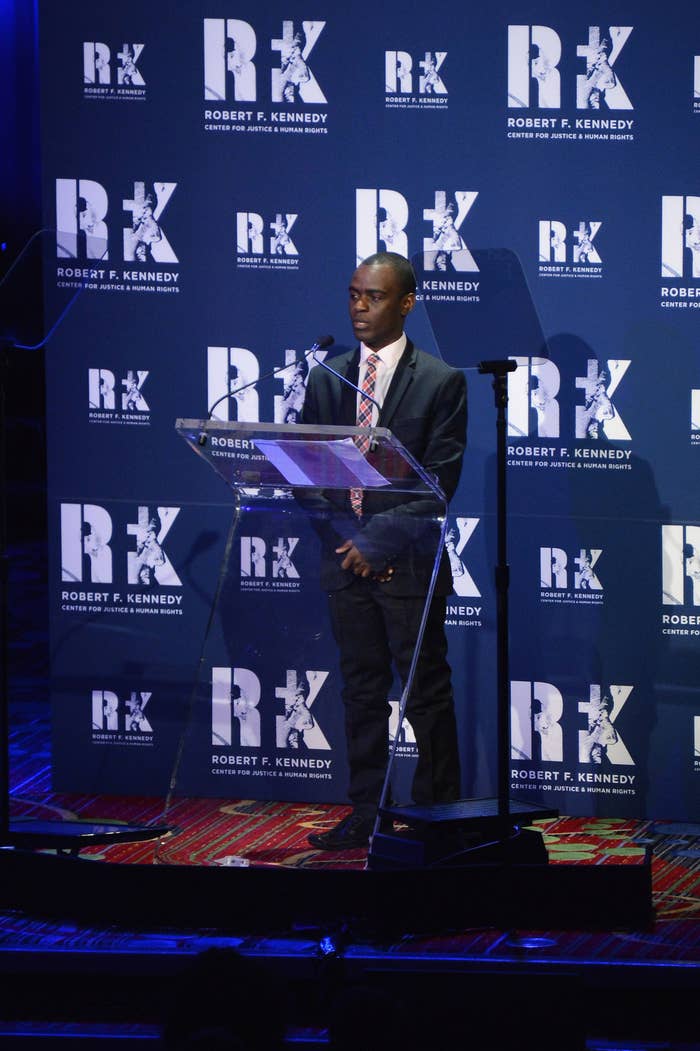 Human rights activists in Uganda have appealed directly to the United States to step up criticism of parliament's adoption of a long-pending Anti-Homosexuality Bill.
Activists made the appeal during a meeting hosted by U.S. diplomats in Kampala on Monday, a source close to the State Department told BuzzFeed. Activists hope that increased criticism and pressure can help persuade President Yoweri Museveni to help keep the law from being enacted.
The highest-profile public condemnation from the U.S. has come from National Security Council spokesman Jonathan Lalley, who said after the bill's passage on Friday that the U.S. was "deeply concerned." The White House and State Department did not respond to BuzzFeed's repeated inquiries for further details about what action the Obama administration would take in response to the bill's passage.
"The U.S. Embassy or the British, I think diplomatic missions here are still taking a quiet stand, which I don't appreciate. I think they should be more vocal," Frank Mugisha, the head of Sexual Minorities Uganda and the best-known Ugandan LGBT activist in the West, told BuzzFeed.
Western governments have largely downplayed public threats in response to anti-gay legislation since British Prime Minister David Cameron was roundly criticized by human rights activists in Uganda and other African countries for suggesting in 2011 that Uganda's aid might be cut if it passed the Anti-Homosexuality Bill. His remarks raised concern that open confrontation could force local politicians to boost their support for anti-gay legislation in order to avoid appearing weak in dealings with European leaders.
But now, activists are indicating that their Western allies have swung too far in the opposite direction. Many activists still argue that aid should not be cut in response to the bill — encouraging aid cuts could backfire if the government then blamed LGBT people for damaging the country's economy as a result. But they have begun sending signals that Western governments consider threatening cuts behind closed doors.
"I don't ask for aid to be used around this legislation," Mugisha said, noting that cuts would also hurt LGBT people in the country who depend on food and medicine funded by foreign donors. But, he added: "I won't be surprised if some countries stop giving aid to Uganda because of their own mandate. When partners are providing money, especially HIV work, it's very clear that that work won't be implemented" because the Anti-Homosexuality Bill could make it impossible to do outreach with men who have sex with men and other high-risk groups.
Uganda's legislation would impose a maximum sentence of up to life in prison for those found guilty of homosexual relationships. It would also make it a crime to not report homosexuals to the police, and would outlaw the promotion of LGBT rights.
Given the scale of western HIV funding in Uganda, any cuts could be an economic disaster — and not just for public health. Between 2005 and 2012, the United States alone poured $1.7 billion into the country's battle against HIV, an amount equal to about 5% of Uganda's 2012 GDP, which stood at $21 million.
"People need to feel the pressure and the urgency of this legislation," Mugisha said.
"Members of parliament should know that if we're going to pass discriminatory laws, there are going to be repercussions."
So far, the only Western government that seems prepared to openly talk of aid cuts is Denmark, which currently provides about $19 million in aid to the Ugandan government.
"The development in Uganda is sad, and the proposal to discriminate against homosexuals is deeply unacceptable," Rasmus Helveg Petersen, Denmark's development minister, told a Danish newspaper. "If the Ugandan Parliament insists on pushing through this law, it should have serious consequences. I will not rule out that it could lead to stopping the portion of Denmark's development aid that goes through the government."
Other Western powers have been far more circumspect, expressing disapproval of the bill but reluctant to suggest concrete consequences for its actions.
"We have and will continue to raise our concerns," British Foreign Minister Hugh Robertson said in a statement posted on his ministry's website. The European Union High Representative for Foreign Affairs Catherine Ashton also released a statement saying she "regretted" the bill's passage and said she would "urge the Ugandan authorities to ensure respect of the principle of non-discrimination."
"Now that it appears that the coalition [of Ugandan human rights groups] has called for a robust response, we look forward to stronger action from the administration," said Mark Bromley of the Council for Global Equality, an advocacy group promoting LGBT rights in U.S. foreign policy.
Bromley said he also hoped the U.S. government would soon speak out about the anti-gay bill passed earlier last week in Nigeria, which makes promotion of LGBT rights a crime and criminalizes public displays of affection between two people of the same sex.
Lalley declined to comment on the Nigeria bill, referring BuzzFeed's inquiries to the State Department. State Department spokesperson Will Stevens said: "In Africa and around the world, the United States advocates unequivocally against violence and discrimination, including in legislation." He did not answer further questions about whether the U.S. had taken concrete steps in response to parliament's vote last week.
"The problem is that nobody seems to have a sense of what the final version [of the Nigerian bill] says," Bromley said. "I do assume that [the Obama administration is] seeking clarification just like everyone else is. I do hope we'll see something on either [the State Department] or the White House soon."