BUDAPEST — Hungarian Prime Minister Victor Orbán told a US-backed social conservative summit in Budapest on Thursday that encouraging larger families is integral to Europe's triumph in a clash of civilizations.
"Our homeland, our common homeland, Europe, is standing to lose in the population contest of the big civilizations," Orbán said during a program kicking off the four-day World Congress of Families, a global social conservative gathering sponsored by the US-based International Organization for the Family. "It's important to say that it's a national interest to restore natural reproduction. Not one interest among others — but the only one. It's a European interest too. It is the European interest."
The International Organization for the Family is headed by Brian Brown, who became one of the best-known campaigners against marriage equality in the US as head of the National Organization for Marriage. The conference website says this year's theme is "Building Family-Friendly Nations: Making Families Great Again." The local organizing committee for this year's conference is led by Hungary's secretary of state for youth, family and international affairs, and the program features politicians from several European countries. Friday's program includes Ben Harnwell, director of the Dignitatis Humanae Institute which organized Steve Bannon's 2014 Vatican talk, and Nebraska Republican Congressman Jeff Fortenberry.
Orbán is one of the European Union's most outspoken nationalist heads of government, and has recently clashed with other EU leaders over Hungary's policy of detaining asylum seekers, refusing to take its share of asylum seekers under an EU agreement to address the migrant crisis, and steps to shut down a major university and NGOs backed by Hungarian-American philanthropist George Soros. His government has also been at the forefront of imposing social conservative policies, including passing a constitution in 2011 that made Hungary the first country to enact a constitutional ban on marriage equality after joining the EU.
Orbán announced a new package of incentives to encourage Hungarians to have large families, including a program that would forgive 50 percent of student loans to women who have two children and 100 percent to women who have more than two. Orbán said the country's goal is to increase the country's birth rate by 2.1 percent over the next two decades, a policy he suggested other European nations should follow if they want to avoid being outnumbered by the regions now sending migrants to European.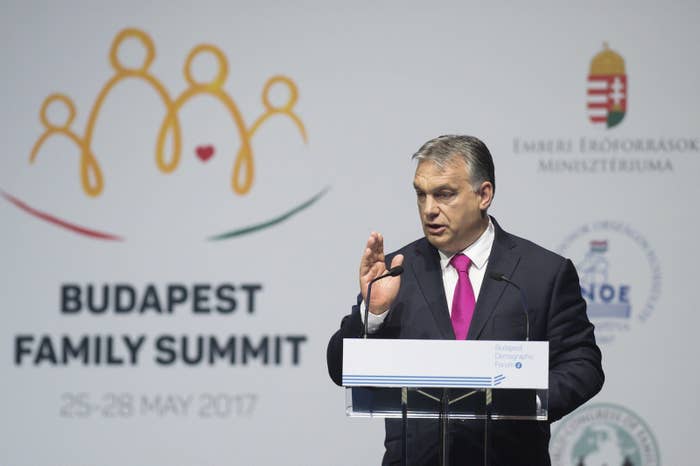 "Europe is old, rich and weak. The part of the world that released more and more crowds of people in the recent years is young, poor, and strong," Orbán said, his comments translated from Hungarian into English. Though many migrant routes have been shut down since the height of the refugee crisis in 2016, Orbán said, it was only a temporary reprieve.
"Europe had been given a minute to breathe in the siege to measure the damage, fix the holes and strengthen the walls," Orbán said.
In a speech following Orbán's, Deputy Prime Minister Zsolt Semjén also linked the government's family-promotion strategy to a nationalist struggle much older than the current migrant crisis. Semjén said the government's plan extends incentives to have children to Hungarians living outside Hungary's current borders with the goal of restoring Hungarian majorities in regions of neighboring countries that Hungary lost during World War I. Restoring "greater Hungary" is a dream of Hungarian nationalist factions.
On its website promoting the Budapest conference, the World Congress of Families said the Orbán government is "the hero of pro-family and pro-life leaders from all over the world" and given Hungary "a well-deserved reputation as one of the most family-friendly countries in Europe."
When asked whether the group shared Orbán's belief that the pro-family agenda is part of an anti-immigration agenda, International Organization for Family President Brian Brown told BuzzFeed News, "If you want to keep the differences in each of the countries, they're going to have to keep their culture. So part of what we support is big families, growing their cultures, having these differences."
He continued, "If you ask me should we just have mass, unfettered immigration, so that there's no difference from country to country? Of course not. We appreciate those differences."
Thursday's program was focused largely on Hungary and branded as a pre-conference called the Budapest Demographic Forum. The World Congress of Families program formally begins on Friday and includes workshops ranging from "sanctity and dignity of sex and human life" to "family advocacy at international institutions." It will conclude on Sunday with a "Viva Familia" festival and march in central Budapest.