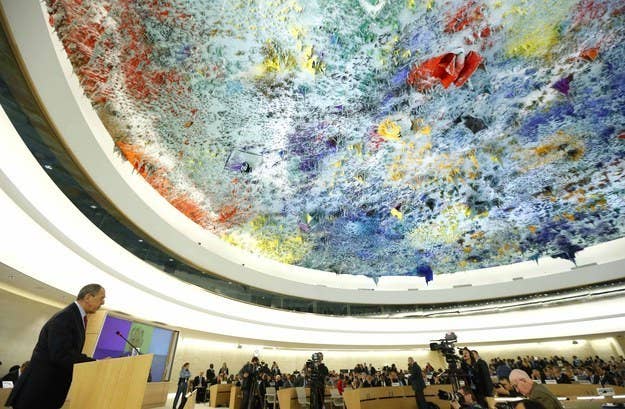 LGBT rights supporters were defeated in the United Nations Human Rights Council on Thursday, when the body adopted a resolution on "Protection of the Family" that could become the foundation for opposing LGBT rights under international law.
The resolution does not call for dramatic action, only calling for the High Commissioner for Human Rights to prepare a report on the status of the family and instructs the Human Rights Council to convene a "panel discussion" at its next session on the subject. It also does not specifically declare that marriage consists only of a man and a woman — Saudia Arabia and Pakistan had tabled an amendment to add that language, but withdrew it after another amendment stating that "various forms of the family exist" was rejected.
But it is significant in diplomatic circles where large fights are often fought over small minutiae in wording. The reference to a singular "family" without acknowledging diversity could be used as precedent to oppose rights for LGBT couples in later negotiations.
The push for the legislation was led by Egypt, and it was cosponsored by many other countries that have opposed efforts to recognize LGBT rights in international accords, including Russia, Uganda, Qatar. It passed on a vote of 26 to 14, and diversity language sponsored by Chile, Uruguay, Ireland and France was defeated on a procedural vote of 22 to 20.
The United Kingdom's representative blasted those who voted against the diversity language after it was voted down, saying that the final language excludes extended families led by grandparents, single parents, and other arrangements along with those headed by same-sex couples.
"I do not know how" those who voted against the diversity language "can look a child in the eye and tell them that, because they do not come from an imposed model of the family, they do not come from a real family," the UK representative said.
Austin Ruse of the Catholic Family and Human Rights Institute, which lobbies against LGBT rights proposals at the UN, said the vote reflected widespread opposition to efforts to protect LGBT rights in diplomatic agreements, which many countries view as being pushed by Europe and the United States.
"The defeat of various forms of the family demonstrates that the UN is weary of these kinds of debates," Ruse said. "Most of the member states would like to move on to issues that concern the whole world and not just elites in the [global] North."
Julie de Rivero, who directs Human Rights Watch's advocacy with the Human Rights Council, said "it is a travesty for the UN to ignore [the] reality" that "families come in all shapes and forms."
"Insinuating that different type of families don't exist can do nothing but harm the children and adults around the world who live in those families," she said.