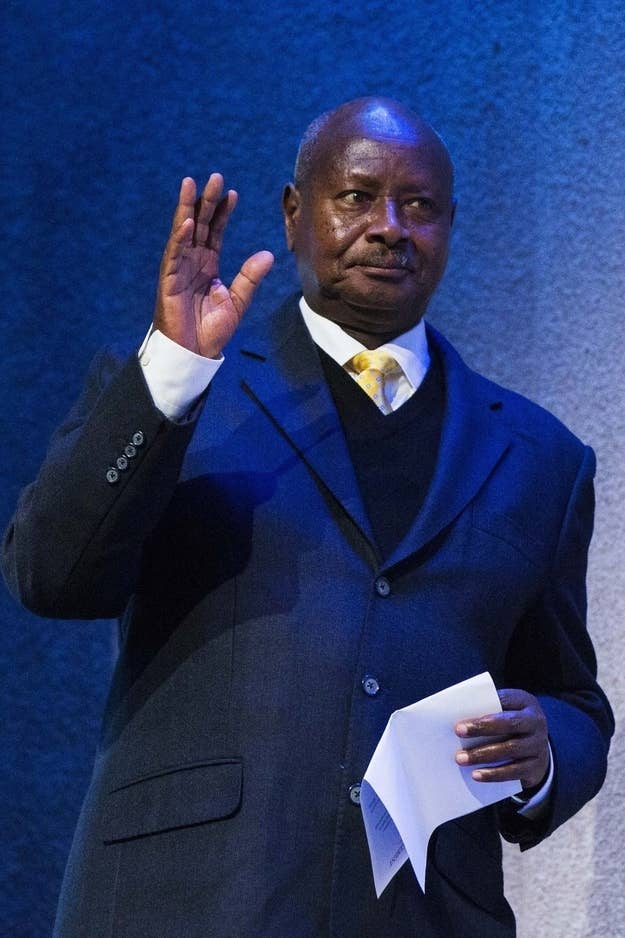 Ugandan President Yoweri Museveni has told a group of visiting U.S. human rights activists that he planned to formally reject the country's "Anti-Homosexuality Bill," but would seek to introduce new legislation targeting adults who coerce youth into sexual activity.
Museveni had created confusion by harshly denouncing the bill in a letter dated Dec. 28 without technically rejecting it. But according to the U.S. based Robert F. Kennedy Center for Human Rights, which met with Museveni on Saturday, Museveni pledged to take formal action before the deadline set by the Ugandan constitution for legislation to take effect once passed by parliament, which the law did on Dec. 20. Yet confusion remains: Museveni's comments indicated it was not entirely clear when the clock for him to act had started ticking — or whether it has even begun.
Under the Ugandan constitution, legislation passed by parliament becomes law 30 days after it is given to the president unless he refers it back to parliament for modification. The bill passed on Dec. 20, which means it could go into effect as early as this week if parliament quickly delivered the bill to his desk. It seems unclear if or when Museveni received a copy of the bill, which would impose up to a lifetime sentence for people found guilty of same-sex intercourse and require Ugandans to report LGBT people to police.
In his meeting with the RFK Center, Museveni pledged not to let the clock run out. The organization said in a statement that Museveni promised to formally reject the bill before the 30-day timeline expired, though he still left doubt about when that action would come, said RFK staff attorney Wade McMullen, who attended the meeting.
"From our conversation with the president, the timeline is still not clear, but he stated and pledged that he will be writing an additional more technical letter to send [the bill] back to parliament before the 30-day timeline ends," McMullen told BuzzFeed. "When that timeline began — and whether it has begun [already] — we're still not clear based on our conversation with the president."
The RFK Center also said Museveni intended to "consult with his party and plans to introduce a new piece of legislation aimed at protecting minors from being coerced into sexual activity." In his Dec. 28 letter, Museveni had endorsed a lifetime prison sentence for a wealthy person who "lures normal youth" into the "disgusting behavior" of homosexuality.
Despite the derogatory tone of the letter, McMullen said that Museveni's openness to the idea that homosexuality was an innate trait for at least some people counted as progress.
"While we definitely don't agree with the underlying analysis or understanding of sexual orientation, he did reach a point where he conveyed the concept that LGBT people were born that way—"born abnormal" are the words he used," McMullen said. Museveni also repeatedly called the legislation "fascist," and at one point "compared it to Hitler's regime," McMullen said.