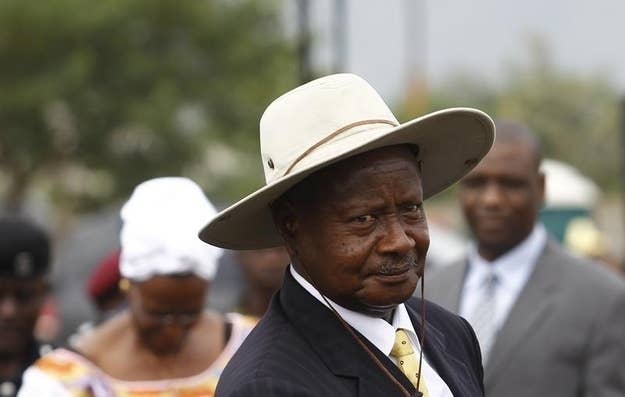 Ugandan Yoweri Museveni called for scientists to study whether homosexuality is genetic, pledging not to sign the pending Anti-Homosexuality Bill unless they conclude it is not an inborn trait, according to reports in Uganda's The Observer.
"Unless I have got confirmation from scientists that this condition is not genetic, but a behaviour that is acquired, I will not sign the bill," Museveni reportedly told members of his National Resistance Movement. He called for a commission to be established and report its findings on during the party's retreat to be held Feb. 6 to 16.
However, an unnamed source reportedly told The Observer that Museveni "said that he also supports the law 100% especially if it deals with people who promote, abate, recruit and support homosexuality, but [he] was a bit hesitant to accept the law if it seeks to punish homosexuals."
Members of his party reportedly booed his opposition to the bill, which would impose a maximum sentence of life in prison for homosexual intercourse and criminalize LGBT-rights organizations. Parliament passed it on Dec. 20, and Museveni has 30 days to formally reject the bill after he receives the bill from parliament. But it is not clear that the legislation has been delivered to his desk.
Museveni announced that he opposed the legislation in a letter addressed to parliamentarians dated Dec. 28 that became public in mid-January, in which he explained that he believes "nature goes wrong in a minority of cases," leading some people to be born gay, though he added that most people are lured into homosexuality in exchange for money.
According to The Observer's source inside the meeting, Museveni "told us that his views against the law were influenced by a report by some gay rights activists whom he met recently. He said that those activists told him that gays were born just like albinos."