Ugandan Police Arrest Five Amid Government Efforts To Reassure Donor Nations About Anti-LGBT Law
Ugandan Foreign Ministry says new anti-gay law "has been misinterpreted as a piece of legislation intended to punish and discriminate against people of a 'homosexual orientation.'" This post has been updated.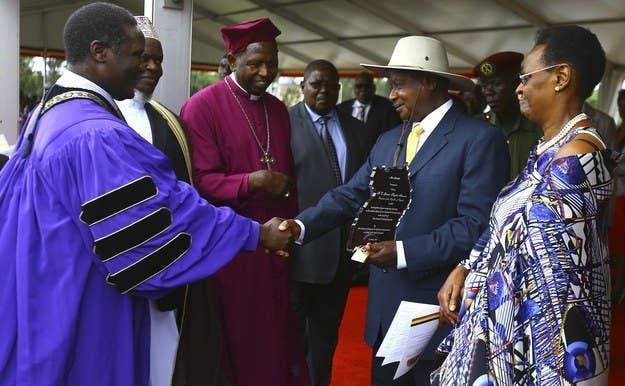 Human rights lawyers who investigated the arrests following publication of the original report by a Ugandan newspaper found that the five had been arrested on June 26 and 27, but they were not charged with "promoting homosexuality" under the Anti-Homosexuality Act. The investigators found that they were arrested after one of the group, an 18-year-old student, attempted suicide apparently following from domestic violence by a same-sex partner. The investigators report that the group were subjected to anal exams that proved to be "inconclusive," and the Resident State Attorney determined, "there was no evidence of any offence related to homosexuality." They have all been released without charge.
Five people have been arrested in Uganda on suspicion of "promoting the act of homosexuality," according to the Daily Monitor. The arrests come just as the government has begun to make gestures apparently designed to mollify international donors concerned about human rights violations committed under the recently passed Anti-Homosexuality Act.
The Monitor reported that those arrested in the northern district of Pader include two businessmen, a teacher, and two students who are alleged to "have been carrying out clandestine movements in both primary and secondary schools in the district luring the pupils and students into the practice."
LGBT activists reached in Kampala had not yet had time to investigate the incident. But Clare Byarugaba, co-coordinator of the civil society coalition organized to oppose the anti-LGBT law, said the she was troubled because Kale Kayihura, Uganda's inspector general of police, had given "assurances that he could keep the police in check" and LGBT people wouldn't be arrested as long as they "keep our activism out of the public eye." The inspector general could not immediately be reached for comment.
The arrests occurred two days after the Foreign Ministry released a document titled "Statement by the Government of Uganda on the Anti-Homosexuality Act, 2014." The statement provided no new information nor was it responding to any international conflict over the law that had come into public view — which is why it raised eyebrows among those following the human rights situation in Uganda.
The timing — coming just as lawmakers are hashing out the government's budget — suggests increased anxiety about the potential impact of foreign aid cuts to Uganda. This is despite claims from President Yoweri Museveni and other government officials that foreign dollars were not essential to running the country.
The Anti-Homosexuality Act punishes same-sex relationships with a sentence of up to life in prison and also criminalizes "abetting homosexuality," a provision that has been used to suspend operations of the country's largest human rights group, the Refugee Law Project. However, the Foreign Ministry statement said "our [international] development partners" had "misinterpreted [the law] as a piece of legislation intended to punish and discriminate against people of 'homosexual orientation.'"
Rather, the statement declared, "The intention of the Act is to stop promotion and exhibition of homosexual practices." It added, the "Government of Uganda ... will continue to guarantee equal treatment of all persons on the territory of Uganda" and "will continue to enable civil society and NGOs to operate freely."
The Ministry of Health has also moved to finalize a directive instructing health workers on implementation of the act in an apparent bid to satisfy the United States, the major funder of Uganda's HIV program as well as other health services that recently announced sanctions in response to the law. They also may be hoping to satisfy the concerns of the World Bank, which placed a $90 million health care loan on hold just after the law was enacted.
A version obtained by BuzzFeed dated June 2014 removes provisions of a previous draft that could have effectively turned health workers into front-line enforcers of the anti-LGBT law by allowing them to report patients to the police when "a person has been sodomized" or in "cases of aggravated homosexuality as defined by the anti-homosexuality act." The new directive, which also was rebranded from "Guidelines for Health Workers Regarding Services for Homosexuals" to "Ministerial Directive on Access to Health Services without Discrimination," says information on individual patients could only be released when required by a court order.
While this represents an improvement in the eyes of some LGBT and public health advocates, nowhere does it spell out that health care workers will not be prosecuted for "abetting homosexuality" if they treat LGBT patients.
"We know that this just might be lip service [to reverse] US sanctions [and the Ugandan officials] still want the World bank loan," said Byarugaba. "But it's something we can use" to attempt to preserve access for LGBT people even though it's not "necessarily meant to fully protect LGBT persons."
Here's the latest version of the directive on health services and the Anti-Homosexuality Act: