Ugandan Court Dismisses Charges Against Two People Accused Of Sodomy
If the case had gone to court, the defendants would have been the first ever to be tried for sodomy in Uganda even though homosexuality has been criminalized for more than a century.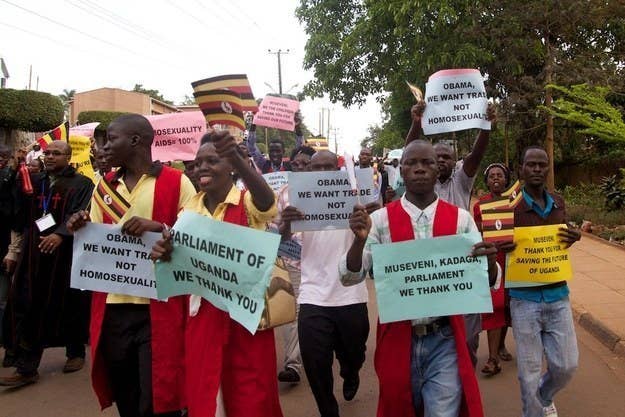 A Ugandan court has dismissed sodomy charges against a man and a trans woman arrested in January, their lawyer, Fridah Mutesi of the organization Human Rights Awareness and Promotion Forum (HRAPF), told BuzzFeed News on Wednesday.
Kim Mukisa and Rehana Mukasa — who was charged as Jackson Mukasa — were arrested after Mukisa was attacked by a mob during the period leading up to final approval of the Anti-Homosexuality Act. Because they were arrested before the anti-LGBT bill became law, they were charged under a colonial-era statute criminalizing "carnal knowledge against the order of nature" and imposing a sentence of up to life in prison.
The case was dismissed because the prosecution failed to produce any witnesses, Mutesi said. The case was originally supposed to begin in June, but the government had repeatedly sought to postpone the case because they couldn't produce evidence. They sought another postponement on Wednesday, Mutesi said, but the judge dismissed the case when she objected.
"This is a victory because our clients are free," Mutesi said, but she said they actually would have preferred to go to trial. Though the law has been on the books for more than 100 years, this would have been the first time a case would actually have been tried under the provision. More often the threat of sodomy charges are used by police to extort money from those arrested rather than brought to trial, said HRAPF Director Adrian Jjuuko in an interview in May.
On the rare occasions when charges are formally brought, Mutesi said on Wednesday, they always "stop at this stage" because the police arrest people based on their believed sexual orientation or gender identity, but they can't produce evidence to convict them of sodomy.
"The law under two which the two are charged criminalizing homosexual acts, not ... being transgendered or being homosexual," Mutesi said.
The Anti-Homosexuality Act that was enacted the month after Mukisa and Mukasa were arrested was much broader than the colonial-era sodomy statute, criminalizing not only same-sex intercourse but also "abetting" homosexuality. The law was struck down on a technicality by Uganda's Constitutional Court in August, but some lawmakers are still working to restore it to the books.