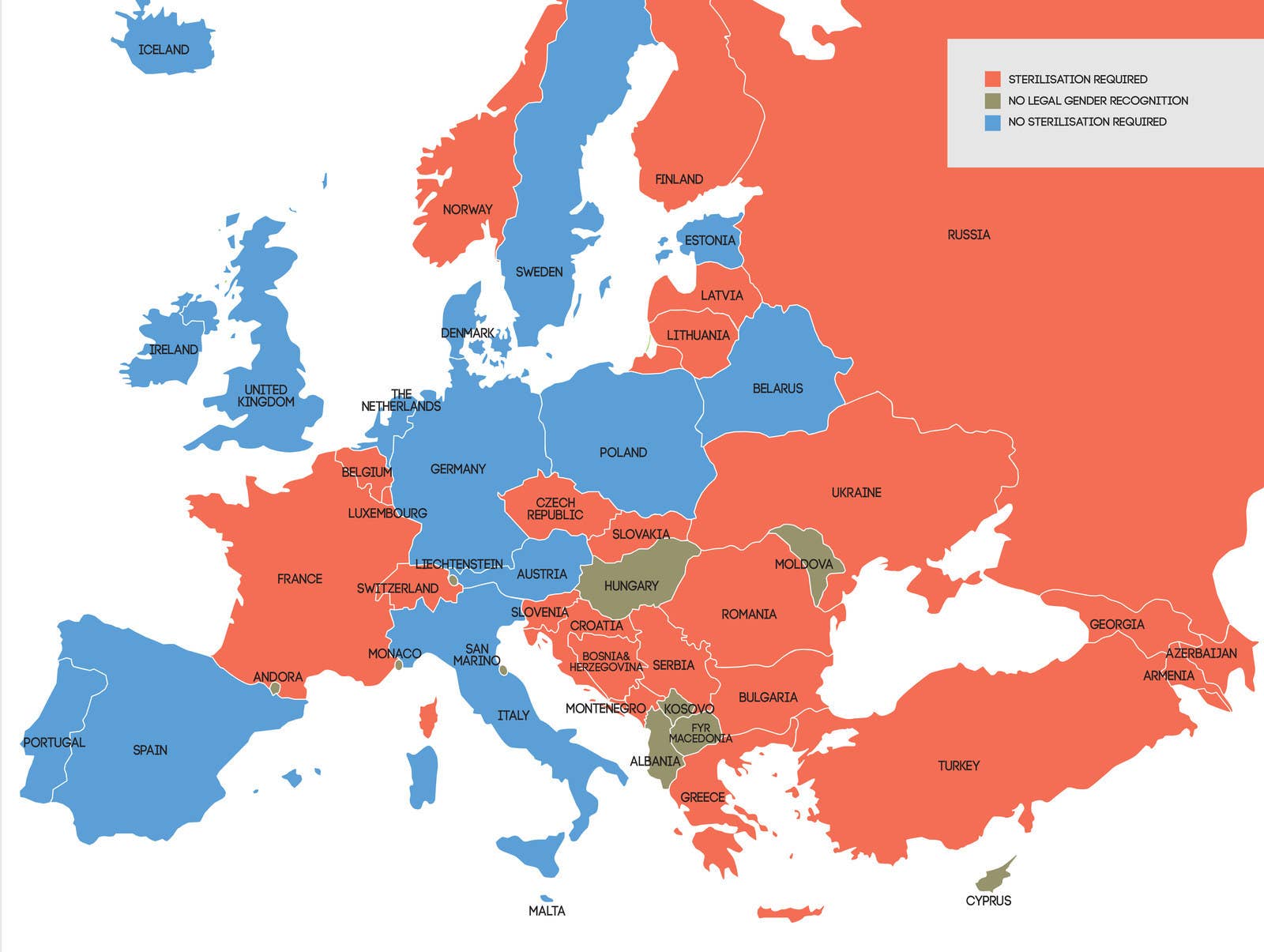 Despite progress on transgender rights in Europe, most countries still require people to be sterilized before they can change their gender on legal documents, according to an annual review released by Transgender Europe on Tuesday.

One of the most significant changes since last year is the adoption of a gender identity law in Ireland, which Transgender Europe (TGEU) called "astounding[ly] progressive." Ireland is the third country in Europe to adopt a new kind of gender identity law that allows people to change their identity documents based on someone simply filing a request and not requiring a certification from a mental health professional. The Irish law signals that the idea is getting broader traction since Argentina became the first country to implement it in 2012. Denmark and Malta also enacted similar statutes, and a committee of the British Parliament has called on the UK to do the same.

"Across Europe we see a trend towards gender recognition procedures based on self-determination," said TGEU Executive Director Julia Ehrt, in a press release accompanying the report. "This has the double value of signaling respect to trans people and their lives. It also helps them to navigate everyday life hassle-free with ID documents reflecting their gender identity."
In the past year, four countries have added language prohibiting discrimination on the basis of gender identity in employment: Denmark, Estonia, Serbia, and Ukraine. The protections were especially controversial in Ukraine, which adopted the rules under pressure from the European Union which had made it a requirement for closer ties with the bloc.
Despite the progress, Ehrt said it is shocking that 24 countries "still require a proof of sterilization to change legal documents." The European Court of Human Rights — which has jurisdiction of countries including Russia and Turkey as well as EU member states — ruled in 2015 that sterilization requirements violated international human rights law.
Protections for transgender people on the continent still vary greatly in areas from political asylum policy to hate speech. Here is what TGEU's full scorecard for European countries looks like.