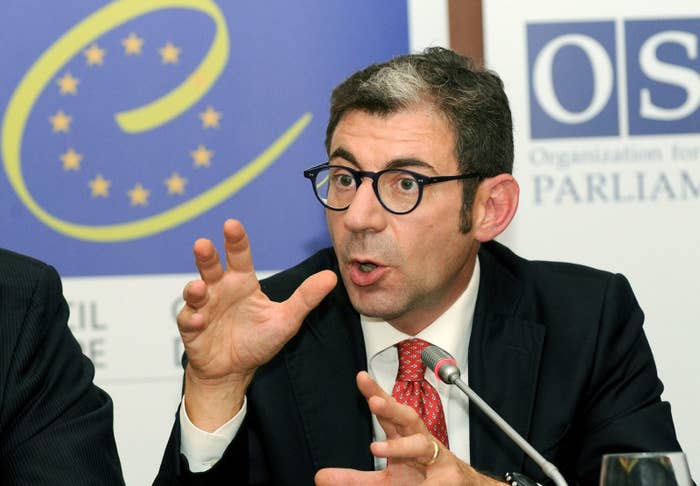 A former Italian lawmaker with links to some of the largest social conservative organizations in the US and Europe is under investigation for allegedly accepting millions in exchange for helping muzzle Europe's top human rights body.
The lawmaker's name is Luca Volonté, and until 2013 he led the largest bloc in what's called the Parliamentary Assembly of the Council of Europe. Since leaving elected office, Volonté has been a major player in circles of "pro-family" activists working to build an international movement. He served as the chairman of the Dignitatis Humanae Institute when it hosted a video address inside the Vatican in 2014 by Steve Bannon, then Breitbart's executive chairman and now US President Donald Trump's top strategist. That year, the World Congress of Families lauded Volonté's work "building organizations and networks which support the natural family" by presenting him with a "Family and Truth" award during its meeting in Salt Lake City.
Volonté told BuzzFeed News in a phone interview Tuesday that his foundation has granted more than 200,000 euros (about $218,000) to social conservative groups, which he said came from a former lawmaker from Azerbaijan named Elkhan Suleymanov who served with him in the Parliamentary Assembly of the Council of Europe and headed an organization called the Association for Civil Society Development in Azerbaijan. Volonté's lawyers maintain this funding was a legitimate partnership between NGOs, but Italian prosecutors say it was part of a scheme that funneled 2.4 million euros from interests close to the Azeri government to Volonté's foundation and businesses between 2012 and 2014.
"I declare myself totally innocent about the charges and the accusations," Volonté said in a second phone interview on Wednesday. He also provided a statement from his lawyers saying the charges of money laundering are "groundless since the documentation received from Azerbaijan's general prosecutor shows that money received was not illicit" and that they have "provided an explanation for the legitimate reasons why Volontè has received this money." The payments were for "for cultural activities" and had "nothing to do with his functions" in the Council of Europe, his lawyers say.
Suleymanov did not immediately respond to a request for comment, but has in the past called the allegations a "ruthless slander and smear campaign against my country" and "part of a broad international conspiracy" in an interview with the Azeri outlet APA.
In a case approved for trial this February in Milan, prosecutors allege Volonté was paid in exchange for "his support of political positions of the state" of Azerbaijan before the Council of Europe, a body comprising the 47 states that have ratified the European Charter of Human Rights. Specifically, they allege that the Azeri government bought Volonté's influence to defeat a 2013 resolution that would have condemned the government for holding political prisoners.
The Italian court hearing the case tossed out a corruption charge on the grounds that it would amount to prosecuting a lawmaker for a vote cast in his official capacity. But on Tuesday, the Parliamentary Assembly of the Council of Europe released a statement saying it had agreed on rules for an investigation to be conducted by an independent body of what it called "allegations of 'corruption and fostering of interests' made against certain PACE members or former members." The statement didn't name Volonté, but it is the next step in the process begun when the allegations were first made public. The commission conducting the investigation won't have the power to bring legal charges, but will determine if there is evidence to support the allegations.
Azerbaijan has been accused of meddling with the council before, and an advocacy group called the European Stability Initiative describes Suleymanov's association as a "key instrument" in what has become known as "Caviar Diplomacy" for regularly handing out jars of the delicacy to foreign officials. This time, prosecutors allege they were handing out cash to Volonté between 2012 and 2014. Politico reported last month that prosecutors believe the money passed from banks in Estonia and Latvia through companies in countries ranging from Scotland to the Marshal Islands before reaching accounts controlled by Volonte.
Volonté told BuzzFeed News that the payments were "private and totally different from the Council of Europe discussions." He said that Suleymanov had pledged to provide 1 million euros annually for a period of 10 years to Volonté's Novae Terrae Foundation, which describes its mission as promoting "human life and dignity, natural family, freedom of religion and education." This made Suleymanov Novae Terrae's sole donor in 2013 and 2014, but Volonté said the agreement was "suspended" in 2014 after Suleymaonov "told me several times he had some economic problems."
"He wants support our foundation and developing on human rights too, [and there's] no reason to refuse so important [a] donation," Volonté said. Politico reported that Novae Terrae received monthly payments of 105,000 euros between July 2013 and December 2014 before being shut off.
Volonté said that he worries that the allegations have convinced Suleymanov to delay restarting the payments. "We hope that we may start again as soon as possible," Volonté said.
Prosecutors believe the payments were for a different purpose. Politico reported investigators obtained emails between Volonté and Suleymanov that suggested a plan to defeat the 2013 resolution entitled "on the issue of political prisoners in Azerbaijan," which would have condemned the imprisonment of 85 people.
The resolution was voted down 125 to 79. The vote was held six weeks after Volonté's company, L.G.V., received a payment of 220,000 euros, Politico reported, which was followed by a consulting contract with Azeri official that prosecutors allege was intended to justify the amount. Volonté told BuzzFeed News that this was to consult on a government-backed program managed by Suleymanov's organization "to develop the image and initiative on cultural school programs and social developments."
In a 2014 interview with BuzzFeed News, Volonté said his primary backing was coming through ties with lawmakers in the the Caucasus, the region where Azerbaijan is located, that began during his time in the Council of Europe's Parliamentary Assembly.
"During the last three years of my political engagement at the European level, I have developed some friendly relations with members of different parliaments, from different religious inspiration. Some of them, especially in the Caucasus region, are especially happy to help to support this work of the foundation," Volonté said at the time.
"They think if we present and prepare and take a good fight and good battle to the Western European countries, supporting and promoting family values — freedom of religion, freedom of education, and life values, — they could [stop] aggression by the pro-abortion, pro-gay [forces]," he said, adding, "Also because they are quite moderate Muslims, and they believe that some values and some aggression of these values in these Western countries are totally catastrophic."
On Wednesday, Volonté said in an interview that Suleymanov was in fact Novae Terrae's sole donor in 2013 and 2014, and the loss of this funding has depleted the organization's bank account. The group had a staff of 15 people at its peak, but now it is just Volonté and a temporary secretary, he said. Volonté said that in 2013 and 2014, Novae Terrae issued around 200,000–250,000 euros in grants, but today it is now seeking donations from the groups that it once supported.
Volonté would not name any organizations he'd asked for help, but a cache of internal documents hacked from CitizenGo — an international online organizing platform for social conservatives based in Spain — included a request for support. Volonté sits on CitizenGo's board, and once contributed 12,000 euros annually to the group, according to invoices in the hacked documents.
Volonté's ties to many conservative organizations means there could be wide-ranging implications for the movement if he were to be found guilty of the corruption allegations.
Benjamin Harnwell, director of the Dignitatis Humanae Institute where Volonté serves as chairman, said the title is honorary and "we'll wait until those due processes are completed before responding." Volonté played no role in inviting Bannon to address the conference by Skype in 2014, and the Novae Terrae Foundation only covered catering costs that year.
CitizenGo President Ignacio Arsuaga did not respond to a request for comment from BuzzFeed News. Brian Brown of the National Organization for Marriage, who sits on CitizenGo's board and is now also president of the group that organizes the World Congress of Families, told BuzzFeed News that he believed Volonté will be "exonerated completely."
"Luca [Volonté]'s Novae Terrae Foundation … does international work and has many different supporters. The fact that they have a supporter in Azerbaijan — it's absurd to take the next step and say somehow that affected his votes," Brown said. "In my view it's just a political witch hunt."