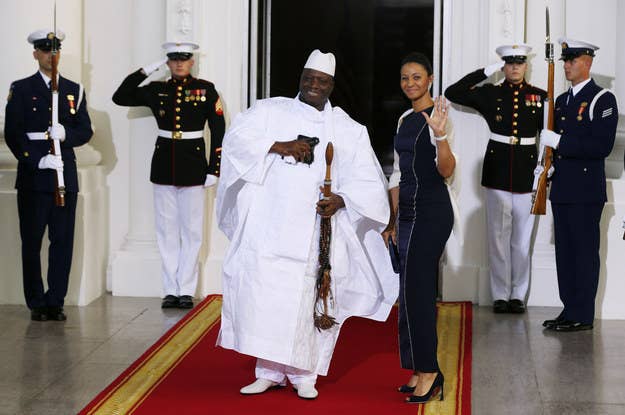 Reports that officers with the Gambia's National Intelligence Agency are raiding the homes of people alleged to be LGBT have prompted several people to flee the West African nation that is home to around 2 million people.
Amnesty International has documented that at least eight people have been arrested on allegations of homosexuality since early November, including one 17-year-old boy. But three people who fled to neighboring Senegal after the arrests began told BuzzFeed News that they have had reports from friends that put the number of arrests as high as 13.
"If ever they find us, they're going to kill us," a 20-year-old lesbian who escaped to Senegal said in a phone interview. She asked to be identified as "Theresa" in order to keep her real name secret because she fears Gambian officials will come after her even outside the country. In May, Gambian President Yahya Jammeh vowed in cases of LGBT refugees fleeing the country, "If I catch them, I will kill them."
Jammeh has ruled the Gambia, a long and narrow country entirely surrounded by Senegal, since 1994 and is known as one of Africa's most unpredictable dictators. This is not the first time Jammeh's regime has targeted LGBT people for arrest; at least twenty people swept up during raids in 2012 and the Gambia has stiffened its laws against homosexuality several times since 2005. But the raids come as Jammeh appears to have ratcheted up his presence on the international stage, which some observers suggest is part of a strategy to court support and aid from Africa and the Middle East as he has lost support from nations like the United States and Great Britain.
Last fall, Jammeh pulled the Gambia out of the Commonwealth of former British colonies. That was just days after declaring at the United Nations in New York, "Those who promote homosexuality want to put an end to human existence. It is becoming an epidemic and we Muslims and Africans will fight to end this behavior.... Homosexuality in all its forms and manifestations which, though very evil, antihuman as well as anti-Allah, is being promoted as a human right by some powers."
In September, just after a months-long confrontation between Uganda and donor nations over a sweeping anti-LGBT law enacted in February was brought to an end when Uganda's Constitutional Court nullified it on procedural grounds, Jammeh's government passed a law imposing a lifetime prison sentence for "aggravated homosexuality" that appeared to be closely modeled on some of the Ugandan law's most controversial provisions.
Fatou Camara, who briefly served as Jammeh's communications director and hosted a Gambian television program before she was charged with sedition and fled to the United States, noted that the current wave of arrests took place just before Jammeh made a state visit to the Persian Gulf state of Qatar. While there, he signed a cooperation agreement with Qatar's leader, Emir Sheikh Tamim bin Hamad Al-Thani.
Camara said that she spoke with sources who accompanied Jammeh on the visit, and that they told her he was using this issue to make the case for Qatari support. "This is one point he used to talk to the emir: 'I cannot get along with the West because they want [me] to promote homosexuality,'" she said.
Getting accurate information about events inside the Gambia is very difficult, because the media is tightly controlled and Jammeh has created an extensive security service. Amnesty International says it has been able to confirm that this round of arrests began on November 7, and those arrested include five men and three women. They were detained at the headquarters of the National Intelligence Service in the capital Banjul, where they were were tortured and forced to provide names of others for officials to arrest.
"They are making a list," said Amnesty International's François Patuel. "This is a very well organized operation."
Fatou Camara said she had spoken to sources with the intelligence service that said 200 people alleged to be LGBT had been identified, but this could not be independently confirmed.
Theresa said she and her best friend, who asked to be identified only as Youngesp, fled to the Senegalese capital Dakar around three weeks ago. A friend who works on the police force tipped them off, telling them, "you guys have to leave the country because they are coming to arrest you." They left at 4:00 AM the next morning.
After they were out of the country, Youngesp got a call from her aunt saying that a 17-year-old who had been arrested had identified her to the police, and they had come to arrest her. Youngesp said that she knows the boy and believes he was tortured into providing her name, and had heard reports that police are using a device "that they put in the gays' anus to see if you are gay or not."
Her aunt told her "not to set foot in Gambia because I would be arrested at the border."
A 24-year-old gay man who asked BuzzFeed News not to publish his name said he fled to Dakar when he got a call that some of his friends had been arrested. He had been arrested in the 2012 raids, and didn't want to go through the experience again.
"They arrested all my friends, and people don't know where they are," he said. "They've been hunting all of the gays and lesbians."
The three people who spoke to BuzzFeed News from Senegal said they knew of a few others who fled to Dakar and had heard that others had taken refuge in Senegal's southern neighbor, Guinea-Bissau. They say they are at a loss for what to do now — finding places to stay has been hard, and they've been told the process of getting refugee status can take two years or more.
But they all say they not only don't want to return to the Gambia, but also want to get off the continent of Africa.
"We just want to leave Africa," Theresa said. "it's not safe here any more. We don't know what's going to happen next."