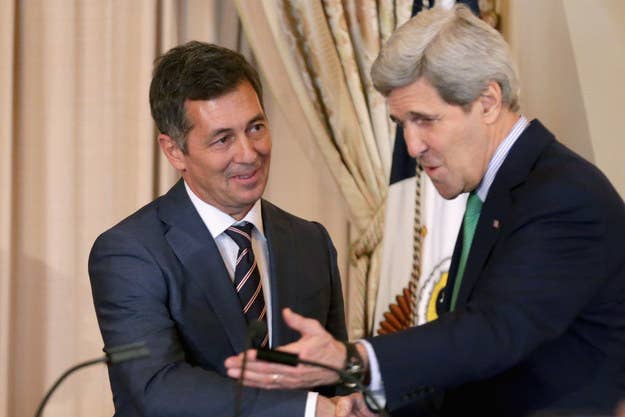 Newly appointed U.S. LGBT rights envoy Randy Berry doesn't see his primary job as weighing in in countries where LGBT rights are most embattled. Instead, he's targeting "the vast set of countries in the middle" on the question of embracing LGBT rights as a human rights concern.
"If we can do our part to move the center of the universe towards progress on this, that's something I would like to be able to point to a few years from now," Berry said in an interview with BuzzFeed News on Friday, just before beginning a 15-country swing through Latin America and Europe set to coincide with LGBT Pride Month.
The pace of the trip "kind of makes my stomach hurt," Berry said. "I'm home long enough to basically take my shirts to the dry cleaner and tuck the kids in."
Though Berry is working on plans to head to Uganda in July, he is first visiting countries that have made rapid progress on LGBT rights over the past few years to get ideas on what strategies have been most effective. His South American stops include Argentina, Uruguay, and Brazil, all of which have established marriage equality over the past five years. He'll also visit Chile, which enacted its first civil partnership law earlier this year, and is a funder of the Global Equality Fund, a multinational, public-private partnership set up by the U.S. to support LGBT rights groups around the world.
"A great deal of leadership is coming out of several places in Latin America," Berry said, adding that he hoped the trip would generate ideas on how to diffuse the attack often made by LGBT rights opponents that the U.S. is forcing acceptance of homosexuality on the rest of the world.
"We're not working on a [North] American issue," Berry said. "We're working on a global issue."
Berry said his last stop in Latin America will be in the Dominican Republic, where the appointment of the out gay Wally Brewster as U.S. ambassador in 2013 was met with a backlash from conservatives and the leaders of the Catholic Church.
Berry next heads to Eastern Europe, including a stop at the continent-wide pride event being held right on Russia's doorstep in Riga, the capital of Latvia. He will also visiting neighboring Lithuania — which has a law similar to Russia's ban on "gay propaganda" on the books — Poland, and Finland, which is also a contributor to the Global Equality Fund.
Before returning to the U.S., Berry will stop in Amsterdam and London with the goal of recruiting support from business interests to promote LGBT rights, which he described as "one of the pillars" of what he hopes to achieve in the envoy post.
Berry is kicking off his tenure by emphasizing his role as an international emissary, but he has also been charged by Secretary of State John Kerry with coordinating the U.S.'s response to anti-LGBT crackdowns when they occur. Following the passage of sweeping anti-LGBT laws in Nigeria and Uganda in early 2014, Kerry said in an interview with BuzzFeed News that he had called for a comprehensive review of our relations with all countries that have anti-LGBT laws on the books.
That review has been completed, Berry said, including a "process of engaging with embassies and consulates" about the situation on the ground.
When asked about the fact that the U.S. response to LGBT crackdowns has been uneven — introducing some sanctions on Uganda and the Gambia following passage of their anti-LGBT laws, for example, while remaining mostly publicly silent on Nigeria's anti-LGBT law and Egypt's growing arrests of people accused of homosexuality — Berry said it would be a mistake to establish a set of measures automatically triggered when governments turn against LGBT people.
"I'm not convinced that you can put a matrix of action together that when you consider them to be violating human rights … because it robs you of the flexibility to engage," said Berry. "Sometimes you need to take out the sticks, but I'm firmly a believer in engagement."
But he said that it was sometimes a challenge to get the U.S. to respond swiftly to threats to human rights because foreign policy requires coordinating across a sprawling set of divisions in the State Department and several other federal agencies.
"Any time you're moving a bureaucracy as big as this one — especially with interagency [cooperation] — it takes some time," Berry said.