St. Petersburg Lawmaker Leads Mob Attack On LGBT Festival
Several participants fell ill after hooligans sprayed them with a "putrid gas" in a disruption led by local lawmaker Vitaly Milonov.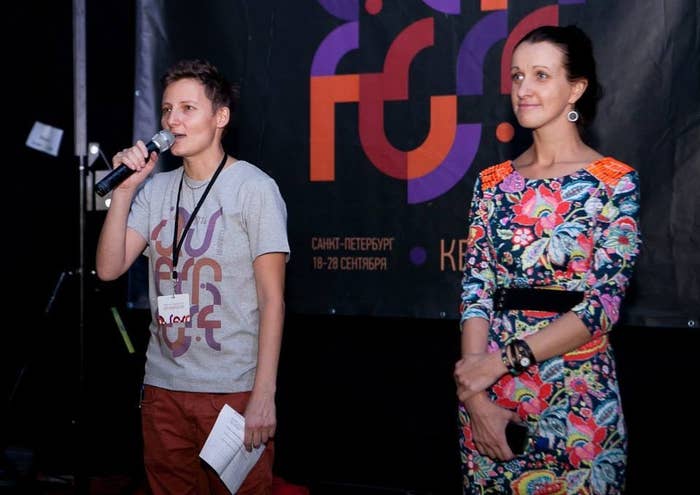 A group of around 20 people assaulted the opening of St. Petersburg QueerFest on Thursday, dousing participants with a green antiseptic and an unidentified "putrid gas" that caused many to fall ill, according to statement issued by Polina Andrianova, one of the event's organizers.
The counter-protest was led by St. Petersburg lawmaker Vitaly Milonov, author of the local ordinance that became the model for Russia's "gay propaganda" ban. Andrinova said security successfully barred the door to the assailants, and praised the police, who she said "carried themselves professionally."
St. Petersburg ombudsman, Alexander Shishlov, denounced Milonov in a letter sent Friday to the head of St. Petersburg Legislature, Viatcheslav Makarov.
"I believe that the active participation of the deputy of the Legislative Assembly [Vitaly Milonov] in such actions discredit MPs, damages the reputation of St. Petersburg," Shishlov wrote. "I ask you to assess the actions of the deputy of the Legislative Assembly of St. Petersburg associated with human rights violations."
The organizers have faced scores of cancelations by venues for events, which are scheduled to be held through Sept. 27. Yet Adrianova expressed optimism in her statement following the opening event, which attracted more than 160 people.
"We feel exhausted and exhilarated," she said. "People — their rights — but also their light and kindness, is what our festival is all about. And there are more of them around us every day. That is why we will prevail."