KIEV, Ukraine — In recent weeks, billboards with images of same-sex stick figure couples holding hands began to appear on the streets of the Ukrainian capital. The text warned: "Association with the EU means same-sex marriage."
The group behind the posters is Ukrainian Choice, an organization funded by Viktor Medvedchuk, a wealthy businessman and former parliamentarian who is so close to the Russian president that local media routinely allude to the fact that Vladimir Putin is his child's godfather. Medvedchuk created the organization with the sole purpose of lobbying against Ukraine strengthening its ties with the European Union — and is stirring up opposition to LGBT rights as part of the process.
Since passing the "homosexual propaganda" law this summer, Russian leaders have increasingly used opposition to gay rights — along with an ostentatious embrace of the Orthodox Church — to define the country in opposition to the West. Now its homophobic nationalism is moving west as part of Russia's campaign to retain its influence in the former communist nations being courted by the European Union.
The big testing ground is Ukraine, which is currently in a tug of war between the two sides. The EU wants it to sign an association agreement deepening ties — and has been urging it to release a prominent political prisoner as proof it is ready to move toward the west. Russia wants it to join a Moscow-led customs union instead — and has been warning of dire consequences for Ukraine's "traditions" if it decides to forego integration with Russia in favor of closer ties with the EU. At the end of November, EU and Ukrainian officials are due to meet in the Lithuanian capital Vilnius to sign an association agreement, formalizing bilateral relations with the bloc.
Russia has not been shy about its message. On Thursday, Alexey Pushkov, the outspoken chair of the Duma's foreign affairs committee, tweeted that an agreement with the EU would mean "pride parades will be held instead of Victory Day parades" in the streets of Kiev.
"Now, the fight [is] between East and West, Russia and Europe," said Olena Shevchenko, executive director of the LGBT advocacy organization Insight. "Ukraine is the field of the battle."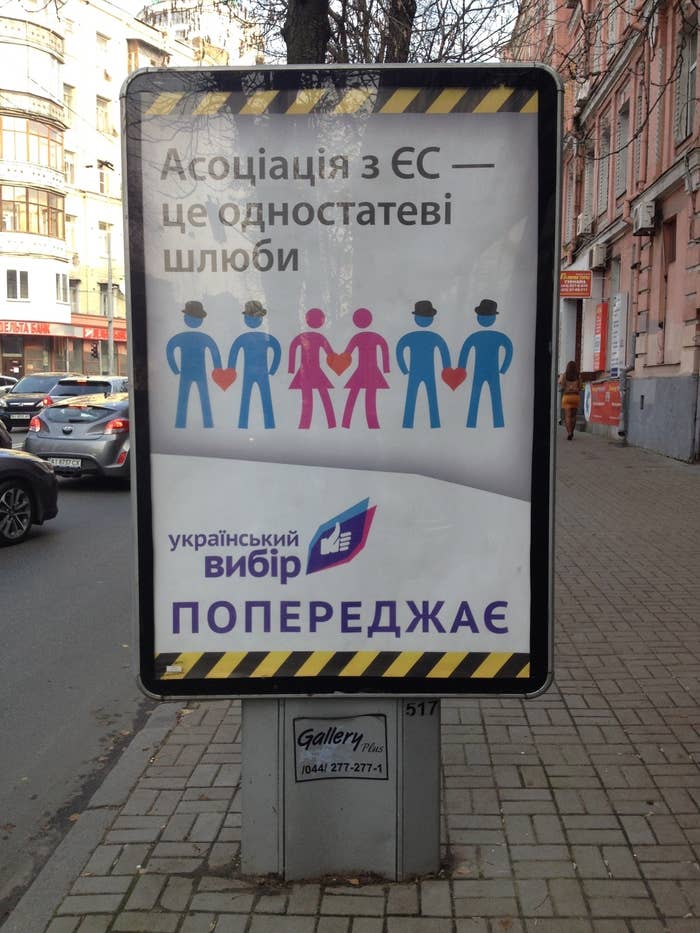 Anti-EU protesters in Kiev have zealously seized on the LGBT issue as they rally against closer ties with the West. They have carried signs showing stick figures engaging in anal sex with slogans like, "Homosexuality is a threat to national security." They chant, "v Evropu cherez zhopu," a Russian rhyme that carries the rough meaning of "Fuck you and your Europe." Its literal meaning: "Go to Europe through the ass."
Last week, an NGO called the Parents Committee of Ukraine held a rally in front of the German embassy in Kiev under the slogan "Traditional values—ja!,, Homosexuality, nein!," nominally targeting two German foundations it says promote homosexuality in Ukraine through grants to LGBT rights groups and the promotion of sex education.
Yet it was clear the rally's target was bigger. "We oppose the signing of the association agreement with the EU, because it will lead to the inevitable homosexualizing of Ukraine," said the group's co-head Aleksandr Skvortsov in a statement posted on the group's website. Activists from Ukrainian Choice also joined in the rally, wearing signs that read, "European values are gays, lesbians, and corrupting minors."
Speaking to BuzzFeed at his Kiev office, Skvortsov said that in its current form, the association agreement would establish "the dictatorship of homosexuality in regard to the whole society" in which religious schools would be forced to employ "teachers who are … covered with rainbow flags" and anti-gay parents would be denied the right to adopt. He insisted that his group was not officially calling for the whole agreement to be rejected — it simply wanted amendments that would exempt Ukraine from having to comply with EU rules concerning "public morality."
While it does encourage some reform on LGBT rights, the EU's only explicit requirement in that realm is that countries pass legislation banning discrimination against gays and lesbians in employment as part of a broad package of human rights protections. Ukraine doesn't even have to meet that obligation at this stage — that only comes into play at the next stage of integration, when countries seek to liberalize travel rules to Europe.
Even that is too much for some. Ruslan Kukharchuk, who leads Love Against Homosexuality, another of the most visible anti-gay organizations in Ukraine, said employment protection for gays and lesbians would start a chain reaction that looked like this: next would come a request for civil partnerships, then marriage, then adoption rights, and, finally, the criminalization of those who speak out against gay rights.
This "scheme is implemented in all countries in which they start from this first law," Kukharchuk said. "We are doing everything not to implement this first step."
Under current EU rules, same-sex marriage won't ever come into play — the EU charter restricts it from regulating family law, and many EU member states still do not recognize same-sex marriages or allow gays and lesbians to adopt.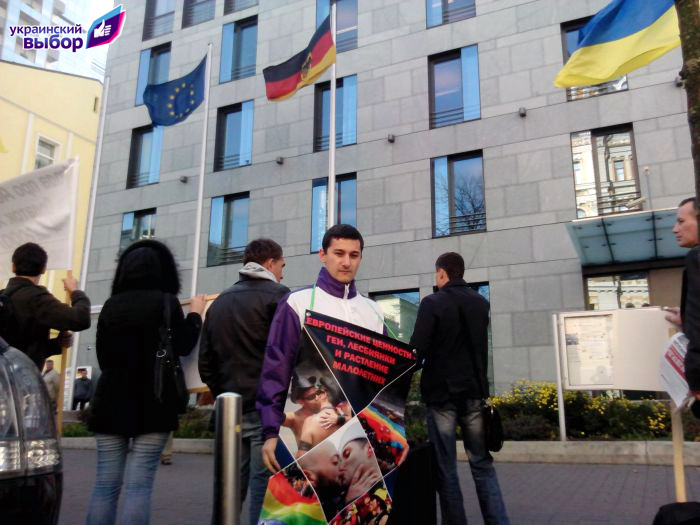 But EU pressure has been critical in keeping Ukraine from following Russia's lead in passing a "homosexual propaganda" ban. A similar bill was first brought up in 2012 and passed an initial vote in the Ukrainian parliament with a vote of 289-61, uniting Ukraine's infamously warring parties like never before. EU officials vehemently opposed it. Štefan Füle, the EU's enlargement commissioner, said at the time that "such legislative initiative … stands in contradiction to the requirements of the relevant benchmarks" for closer ties with the EU. The bill stalled.
Then, this past July, just as negotiators were working out the fine print on Ukraine's association agreement and locked in a tussle over whether President Viktor Yanukovych would release his imprisoned rival Yulia Tymoshenko, a Russian-leaning lawmaker named Vadim Kolesnichenko reintroduced the propaganda ban bill. Support for the bill is broad — it has six co-sponsors from different parliamentary factions, and had support from the Yanukovych's parliamentary representative.
Lawmakers may disagree about whether to side with Europe or with Russia, Insight's Olena Shevchenko joked ruefully, but opposition to LGBT rights is "the only thing that can unite our parliament."
Despite the timing, Kolesnichenko maintained that the bill was not an effort to derail the treaty, nor was it inspired by Russia. "This is an issue of protecting of our society from corruption and from an attack on the foundations of our society's spirituality and an issue of fighting for health — our country's population is dying out," Kolesnichenko told BuzzFeed. "I do not connect in any way with European integration."
And yet, he argued that Europe's desire to spread its pro-LGBT rights agenda masked a deeper desire for conquest: Since "the time of crusades, Western Europe has practically always fought with … Eastern Christianity," Kolesnichenko said. "I do not really believe that in the past 15 to 20 years, Europe has drastically transformed itself and for some reason begun to love Slavic people from Ukraine."
That kind of jockeying appears transparently political to EU officials.
"I don't think the more pro-Western [politicians] would necessarily be that much in favor of LGBT rights," said Ulrike Lunacek, a member of the European Parliament from Austria and co-president of its intergroup on LGBT rights and sits on its foreign affairs committee. "But it's very clear that the more pro-Russian side is using the … propaganda law that [means] you're not allowed to talk about LGBT rights to enhance their political situation in the country. Very often the politicians in these countries … [use] the argument against LGBT rights to cover up problems that exist on the economic level."
Some EU policymakers fear that pushing too hard on a nation like Ukraine could backfire, driving it into Russia's arms and losing the leverage to shape national policy whatsoever. The challenge is evident in nations like Armenia, which abruptly decided earlier this year to walk away from its EU association agreement and join Russia's Customs Union. EU opponents, assisted by the country's church, had run a virulently anti-gay campaign invoking much of the same rhetoric seen in Ukraine.
Yet in places where the government is firmly committed to the EU — or where national economies are far too dependent on Europe to walk away — EU pressure has empowered national LGBT movements far beyond what they could have achieved on their own.
Ukraine's post-Soviet neighbor, Moldova, illustrated this dramatically in October, when it suddenly repealed a law criminalizing any information about "any other relations than those related to marriage or family" that had been enacted in June. The country is also looking to formalize closer ties with the EU in Vilnius.
Desire for EU membership has also helped enable pride parades throughout eastern Europe, activists argue. The government of the former Yugoslavian republic of Montenegro, which is vying for EU membership, mobilized half the small nation's police force to protect the first gay pride parade in its capital city late last month.
"On the road to European integration, the government of Montenegro has shown its democratic capacity, [and the pride march] shows that Montenegrin society is maturing in the protection of all minorities, including members of the LGBT community," Suad Numanović, Montenegro's minister of human and minority rights, told BuzzFeed last month.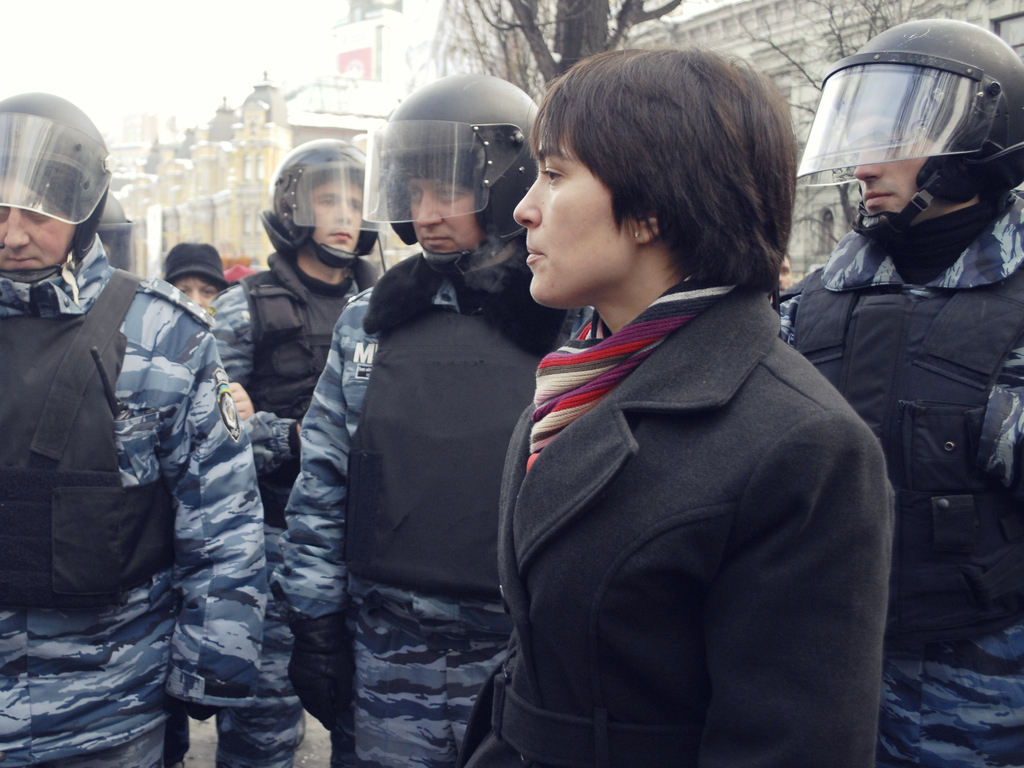 Despite Russia's best efforts — which have included economic bullying through freezing Ukrainian imports and withholding gas shipments — the EU still has sway in Ukraine. Polls show that a narrow majority of Ukrainians prefer the EU to Russia.
"For 22 years [Ukraine] has been trying to join the EU," Valeriy Patskan, a member of the pro-European Udar party, who chairs parliament's committee on human rights, national minorities and international relations, told BuzzFeed. He had just come from a meeting with a European delegation on the human rights terms of Ukraine's association agreement and was convinced a gay propaganda ban would never pass. "Adoption of one legislative act in order to disrupt all these 22 years of efforts by the Ukrainian state is not realistic," he said. "Though a number of pro-Russian deputies will, of course, be raising such issues … for their own public relations."
Despite Patskan's optimism, and apparent evidence that EU efforts have helped derail legislative efforts to enshrine anti-LGBT laws, widespread homophobia has continued to grow on a social level, buoyed, activists say, by Russia's rhetoric next door.
Several high-profile hate crimes have recently hit Ukraine's LGBT community, and Amnesty International has accused the authorities of burying the cases. Pro-gay speech is suppressed through vandalism and violence. One video, posted to YouTube by a Ukrainian Choice activist, showed a group of young men spray-painting over posters against the propaganda law posted in a Kiev subway, apparently with the tacit approval of police.
Hate groups similar to ones that have gotten attention in Russia, including Occupy Pedophilia, also operate in Ukraine. And gay rights activists are prevented from holding street protests even without a propaganda ban.
When Insight tried to protest the proposed propaganda law on Dec. 8, 2012, Shevchenko, as its executive director, was suddenly summoned to an administrative court hearing at 10 p.m. on Dec. 7. At the late-night hearing, the court acceded to police demands and banned the protest because "the mass action may be viewed as provocative by conservative-minded citizens and groups which could lead to the threat of conflict."
Organizers pushed back — and moved the protest to another location. Shevchenko was subsequently arrested for violating the "regulations for the conduct of meetings." Seven other LGBT activists were also arrested, along with four counter-demonstrators who assaulted the activists with tear gas and were fined for "hooliganism."
Nevertheless, activists keep hope that the LGBT debate may be inching forward. When a small group of activists defied a court ban to hold a pride parade in May, the police protected them from violent counter protestors. And on Wednesday, an LGBT activist made history by becoming the first openly gay person to address a parliamentary committee.
Bogdan Globa, a member of the LGBT group Fulcrum, told a parliamentary hearing on visa liberalization with the EU, "Today's main appeal to you is, when you vote for the bill introducing the mechanism of non-discrimination on the grounds of 'sexual orientation,' you have to understand that the implementation of the EU demand is not simply [to satisfy] a requirement of the European Commission, it [affects] lives of young guys like me. And this is our chance to live in our country a safe and happy life despite our sexual orientation."