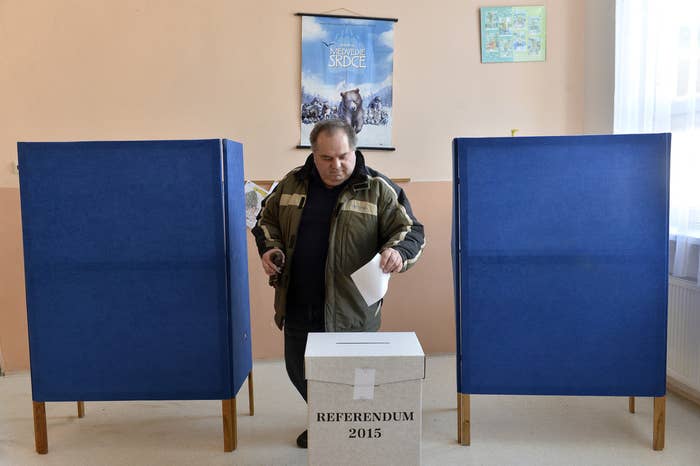 A proposal to deny same-sex couples the right to marry and adopt failed in Slovakia on Saturday because turnout did not reach the 50% threshold required to become law under the country's voting rules.
The Slovakian outlet SME.sk reported just after midnight local time that voter turnout was 21.3%, with 99% of precincts reporting. The outlet reported that 94% of those who cast ballots on Saturday voted in favor of the ban on marriage equality, but opponents of the initiative encouraged people to stay home so that a "yes" vote would be invalid.
The ballot included three questions. The first asked voters if marriage should be defined as a union between a man and a woman. This was mostly symbolic, because Slovakia's parliament established that definition in the country's constitution in a June vote.
The other two questions would have changed existing law if passed, asking if same-sex couples should be denied the right to adopt and whether parents should have the right to withdraw their children from sexual education classes.
Even some of the referendum's supporters said before the vote that it was unlikely to pass. Only one referendum has passed since Slovakia became an independent nation in 1993: a vote on whether the country should join the European Union.
But the vote reflects a growing backlash in Eastern Europe against LGBT rights. Slovakia is one of four Eastern European countries to pass laws denying legal recognition to same-sex couples since 2012, the same time that a growing number of countries in Western Europe have adopted full marriage equality. The country is majority Catholic, and Pope Francis endorsed the referendum during a general audience on Wednesday.