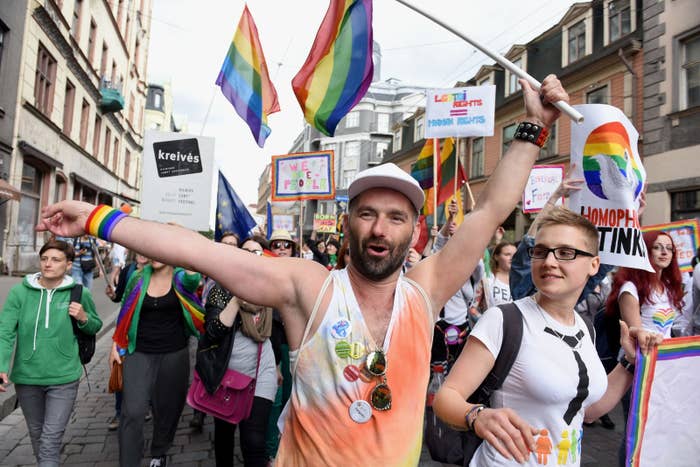 A leading Dutch LGBT group asked the country's anti-terrorism agency last month to investigate if LGBT venues could be targeted for attack. Nothing specific had triggered the request, but worries about threats added up in the months after terrorist attacks in Brussels and Paris.
The group, COC-Netherlands, had become convinced that "there is a realistic terrorist threat in many European countries at the moment, and we need to find out if this threat also against the LGBT community," Philip Tijsma, the group's public affairs manager, told BuzzFeed News.
Brussels had already substantially altered its pride route that month to make it easier for security to monitor, and Amsterdam Pride in August could be the biggest of the dozens of pride festivals held in Europe this summer because it's combined with the continent-wide EuroPride.
The attack on a gay nightclub in Orlando, Florida, on Sunday has turned this hypothetical concern into a very real one, mixing real security concerns with the explosive politics of migration at the height of pride season. Initial evidence suggests shooter Omar Mateen's only apparent connection to ISIS was a last-minute phone call to 911 professing his allegiance, and that he was born in the U.S. — unconfirmed reports also emerged late Monday that he spent time in the gay clubs and on gay apps — but anti-immigrant politicians in Europe seized on the attack to accuse liberals of politically correct blindness to security threats, while LGBT organizations are struggling to determine how worried they should be and how to take precautions without stoking anti-immigrant or anti-Muslim fervor.
"This time, as in Islamist territory, homosexuals were the target in #Orlando," tweeted Florian Philippot, a gay man who is a member of the European Parliament and one of the top officials of France's anti-immigration National Front. "This barbarism must be neutralized without any weakness."
Geert Wilders, leader of the Netherlands' far-right Party for Freedom, told BuzzFeed News that Orlando showed "we should finally have a debate about Islam: What does it mean that we've imported so much Islam to the Western free countries."
"The freedom that gay people should have — to kiss each other, to marry, to have children — is exactly what Islam is fighting against," said Wilders, who is rare among anti-immigration politicians in Europe in also supporting gay rights. "They know exactly what it means to have Islam imported to your society."
Wilders, who said he would attend the Republican National Convention in the U.S. this summer, was encouraged that Donald Trump was making a similar pitch.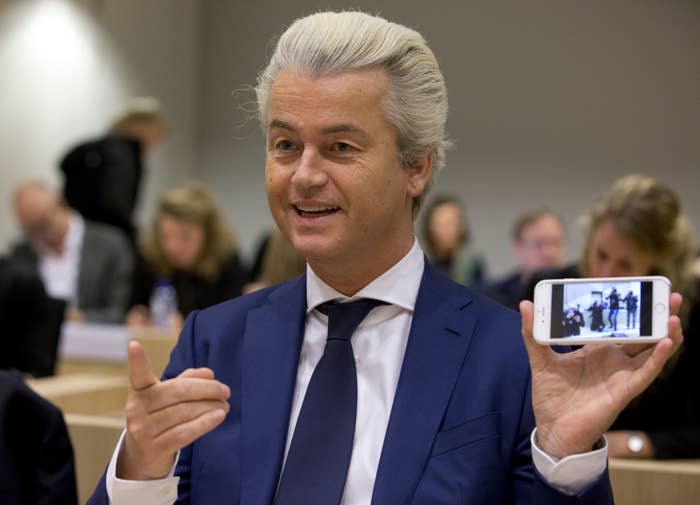 "Whether you like him or not, I believe the issue of Islam should be number one on the political agenda … [and] he's the one person at least in America who is making this issue," Wilders said.
This kind of reaction is exactly what immigrant advocates feared when news of the Orlando attacks broke, said Neil Grungras of ORAM, an organization that supports LGBT refugees, who spoke from Geneva, where he's attending a meeting of NGOs organized by the United Nations High Commissioner for Refugees.
"It's just leading to all these calls to stop Muslim immigration and to blame refugees," Grungras said.
Grungras said he was worried that although many progressive LGBT organizations express strong support for immigrants, there has never been the same level of support among LGBT people, even concerning refugees who are fleeing persecution because of their sexual orientation or gender identity.
"The LGBT community has not really been forcefully behind [LGBT] migration," Grungras said, but then the LGBT community has not really felt directly threatened — until now. "This is the first frontal attack and it happens to be the worst [mass shooting] attack in U.S. history. ... My fear is that the solution is just keep immigrants away."
Grungras added that the polarization over immigration and security had made it impossible to to address very real security issues that both LGBT people and supporters of immigrants need to pay more attention to.
Grungras said he had found that many immigrants from Muslim countries were bringing strong anti-LGBT sentiment — and equally strong attitudes towards gender norms — and that he believed it was unrealistic "to take someone from a culture where [homosexuality] is the most heinous they can conjure up, and expect them to change" instantaneously.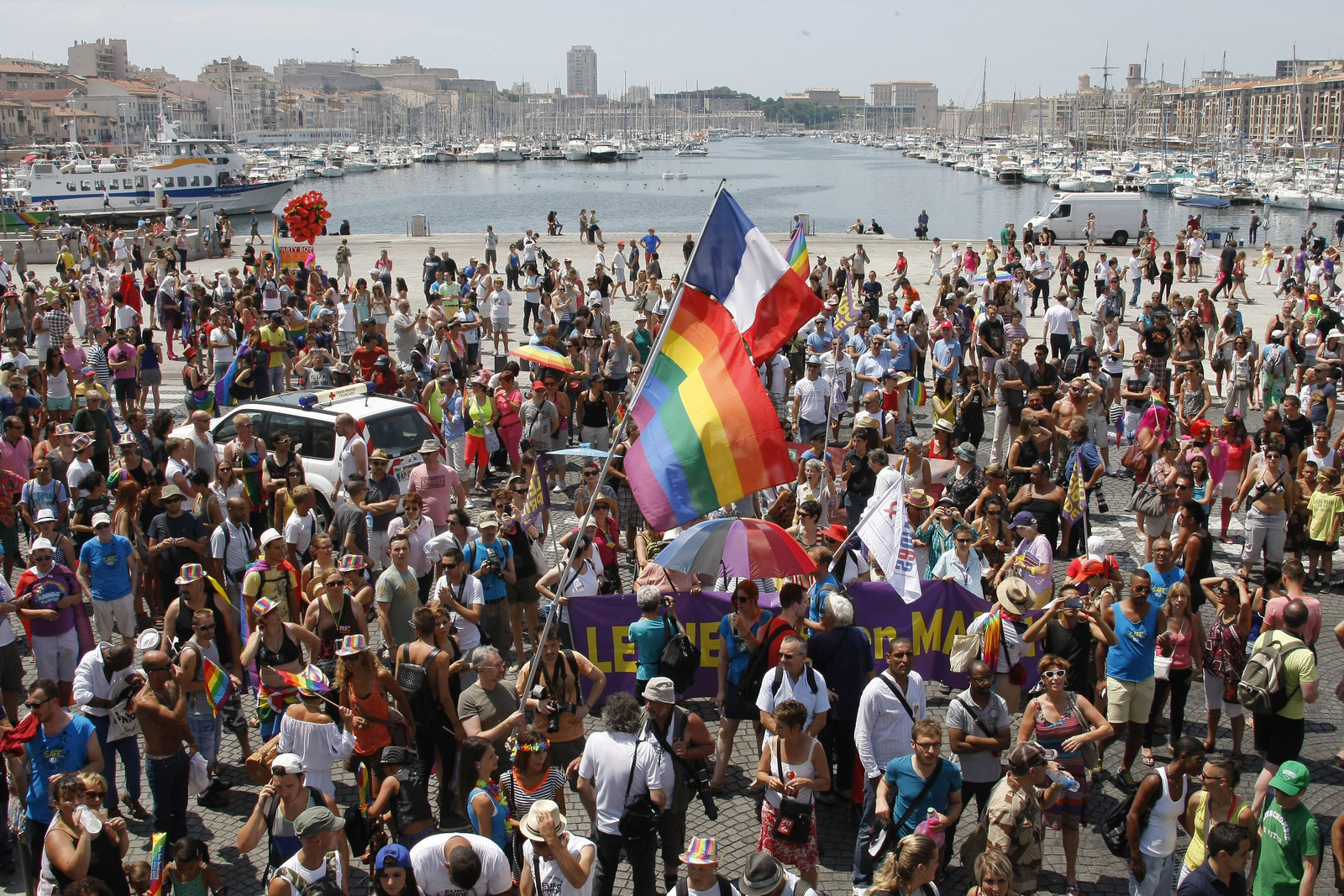 The U.S. and European governments allocate almost no money to develop cultural sensitivity on LGBT issues with new immigrants, which makes immigrant communities potentially dangerous to LGBT refugees and to LGBT people who live in the countries where they're resettling. Dramatic terrorist attacks are rare, but anecdotal reports indicate that street harassment is becoming increasingly common in European's most gay-friendly cities, he said, creating a dynamic that harms both LGBT and immigrant communities.
"In the gay capitals in Europe, there has been increased harassment of LGBT people in the gay neighborhoods, particularly where they mix with migrants," Grungras said. LGBT groups "haven't been wanting to talk about it because we're very liberal, and our governments have made us understand that they're not willing to launch education campaigns."
The Orlando attack has caused duelling reactions among LGBT rights advocates, with sometimes conflicting impulses even within an individual leader's own thinking. They call for increased vigilance, but some also maintain that the rise of Islamist extremists doesn't necessarily pose any particular threat to LGBT people.
Even an event of the size or visibility of the upcoming EuroPride isn't "more of a target event than a football game or a shopping mall where females shop alone or transport where all kinds of [people travel]. I really don't think it's an LGBT concern," said Kristine Garina, a Latvian LGBT activist who is president of the European Pride Organizers Association.
Security officials reached by BuzzFeed News generally sent the message that they've already been on high alert for a range of possible attacks and are not giving special scrutiny to LGBT events or venues, though "an incident like [Orlando] is always a reason to keep a finger on the pulse" of places additional threats may come from, said Edmond Messchaert, spokesman for the Netherlands Ministry of Security and Justice.
But in Cologne, Germany — where police were accused in January of ignoring widespread sexual assault allegations against men, most of whom were seeking refugee status — the potential for violence targeting LGBT people did not appear to be on the police department's radar, even though the pride festival scheduled to begin this weekend has attracted upwards of 700,000 people in previous years.
Police spokeswoman Natalie Stach for the region of North Rhine-Westphalia initially told BuzzFeed News she was unaware when the event was taking place and said the department doesn't evaluate security based on the nature of specific events, only on the basis of specific suspects.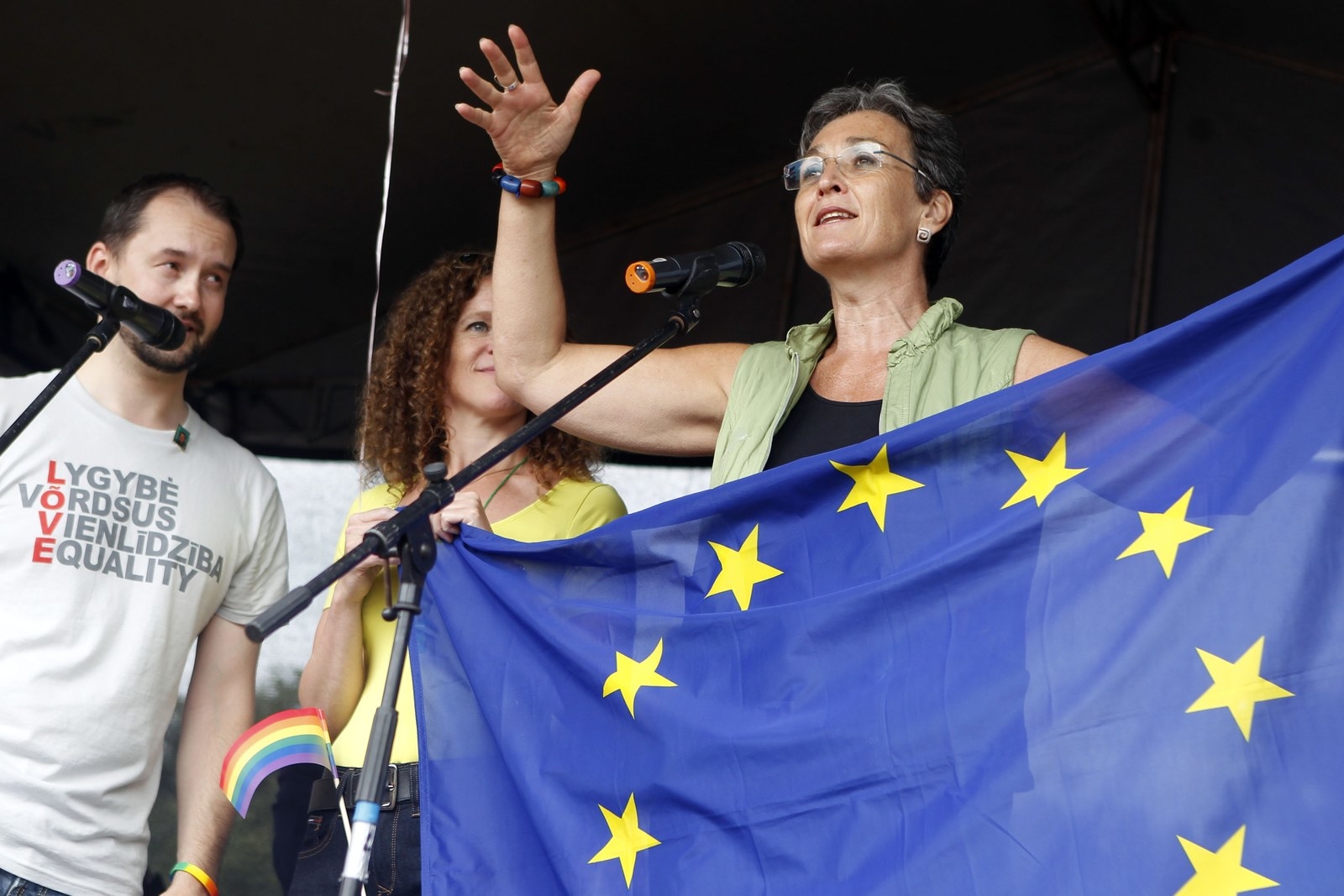 "There is currently a high abstract threat situation in North Rhine-Westphalia," Stach stated in a follow-up email. "Currently, there are no concrete signs of danger."
Ulrike Lunacek, vice president of the European Parliament and co-chair of the parliament's LGBT rights group, said the Orlando attacks came as a special blow because she was participating in a Pride march in Warsaw, Poland, where 30,000 people gathered and "had nothing thrown at us."
Lunacek was assaulted during Vienna Pride in 2014 by a man throwing a foul-smelling acid. Though violence can happen, she said, it is critical LGBT people don't shrink from being visible.
"We have to recognize that of course LGBTI people can also be targeted," Lunacek said, "but I hope also in Europe LGBTI people will not be afraid to go to the marches."