Russia Sentences Notorious Anti-LGBT Activist To Prison — But Not For Anti-LGBT Attacks
Maxim Sergeyevich Martsinkevich was sentenced to five years in a labor camp, but faced no charges for his infamous videos torturing gay men.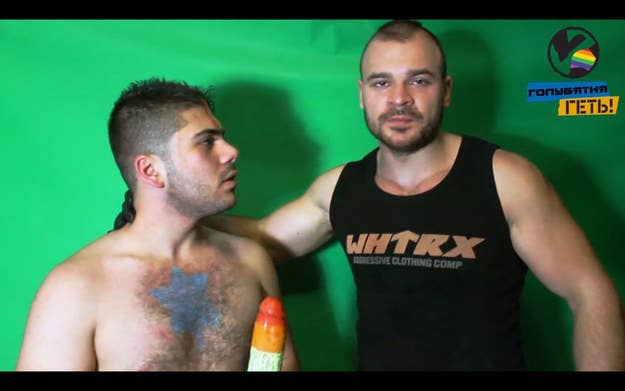 Maxim Sergeyevich Martsinkevich, the Russian who went by Tesak, who became known worldwide for the "Occupy Pedophilia" movement that entrapped gay men and posted videos torturing and humiliating them on social media, was sentenced Friday to five years in a labor camp, according to a report by Interfax.
But the ruling actually allowed him to escape charges for these assaults. He was sentenced under a Russian law against "extremism" for videos he posted targeting minorities from the Caucasus and Central Asia. Martsinkevich, who also belonged to a nationalist party and founded a skinhead group, had spent three and a half years in prison for one incident of performing a mock execution of a Central Asian drug dealer while wearing Ku Klux Klansman garb and another of interrupting a political debate by chanting "Sieg Heil!" He was released in 2010.
Martinskevich fled Russia last winter and was ultimately captured in Cuba on Jan. 13.
Ukrainian authorities were the first to begin hunting for him, after an apparent sting and beating of an Iraqi man that took place in the eastern Ukrainian city of Lugansk. Documents Martinskevich posted about the indictment to his page on the Russian social network VKontakte suggest that he was originally to be charged for this video because of its elements of inciting ethnic hatred. But the authorities charged him instead over videos concerning a race riot that took place in Moscow last summer and another about a World War II movie in which he apparently expressed support for Nazi Germany over the Russians.