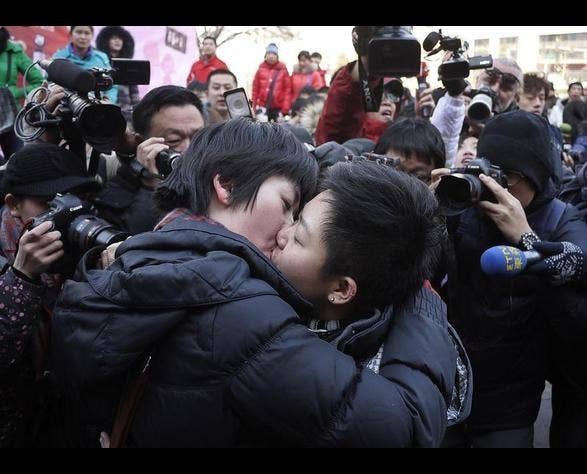 Nine LGBT rights activists were arrested in China this week in a rare group arrest — but that isn't stopping 20-year-old Xiang Xiaohan from going ahead with organizing the country's second ever LGBT rights march later this month.
Xiang was one of nine people arrested in Beijing in the early morning of May 7 in an unusual group arrest of LGBT activists. They were all released within the day, but the police instructed them to cancel a seminar planned for later that day on registering organizations with the authorities, which would give them formal permission to operate. Such meetings had been allowed to happen before, but security officials were on edge because the 25th anniversary of the 1989 massacre of democracy activists in Tiananmen Square was less than a month away. Several other human rights activists have also been arrested this month, including lawyer Pu Zhiqiang and journalist Gao Yu.
But Xiang, who lives in the province of Hunan, was one of a few "sensitive" participants who may have provoked additional scrutiny, according to one of those arrested who asked not to be named out of fear of more trouble from the police. Last May, Xiang was arrested and held for 12 days for organizing China's first public LGBT march as part of the International Day Against Homophobia and Transphobia (IDAHOT). In March of this year, he filed suit against the government of Hunan after it refused to register his organization, called the Same-Sex Love Assistance Network, which has been operating since 2009. Xiang is also planning to hold another march on IDAHOT, which falls on May 17.
Xiang, who has been an activist since he was 16, is courting confrontation with authorities in a way the LGBT movement has largely avoided. Instead of street protests that would provoke a crackdown, activists organized "performance art" like staging same-sex weddings on the streets. Or couples would go into government buildings and attempt to register their unions, knowing they'd be turned down. That wasn't the prelude to going to court; the act itself was the protest, but it was private enough to be allowed. Shanghai Pride, held for the past five years, is filled with panel discussions and performances, but no parade.
This approach brought significant gains. Sodomy was decriminalized in 1997, homosexuality was declassified as a mental illness in 2001, and bars and other social spaces for LGBT expanded rapidly — especially in major cities like Shanghai, Beijing, and Guangzhou.
"If you come to the political rights space, everyone has this little [room]," said Wei Xiaogang, executive director of the Beijing Gender Health Education Institute, who spoke to BuzzFeed during a visit to Washington in March. "LGBT [activists] are smarter in some ways" in using that space than other human rights activists.
But Xiang said in an interview last week that he believes that legal equality — including the right to marry and inheritance rights — now requires state action that can only be forced by provoking a response.
"If we don't do something, then the government will continue to ignore such issues and pretend they don't exist — I think this is unacceptable," Xiang said by Skype. "Because the official attitude is one of tacit acquiescence, then people are not willing to stand up or work hard" for LGBT rights.
In a brief text exchange following his arrest, he said he still planned to go ahead with his march next week.
"I'm not worried about getting arrested," he said in the interview last week. "I think according to China's current law, as long nothing serious happens during the event, like street fights, then at most it's fifteen days [of detention]. To be able to have such an activity, in exchange for fifteen days – I feel it's no big deal."
This has some other activists — even those who support him — nervous.
Yu Fangqiang, from Nanjing NGO Tianxiagong and who was also arrested in Beijing on May 7, said he "told [Xiang] several times … not to hold the event" while they were detained. In an interview by instant message, Yu said that while he believes actions like Xiang's are needed "to test the government's tolerance," the arrests show the 25th anniversary of Tiananmen has them especially on edge.
The 15 police who detained them, Yu said, appeared to be GuoBao, the powerful national security police. Although they did not identify themselves, they were not in uniform like regular local police officers, and they seemed more focused on sending a message than enforcing specific laws. And they wanted to drive home that no public gatherings would be tolerated.
"You can do the lawsuits," Yu said an officer told them. But they were very concerned about any efforts by LGBT activists to "organize" or "gather."
And it was clear they didn't like the cause they were working for.
"Homosexuals need to be reformed," Yu recounted the officer saying. "It is like for people who are coprophiles, if we don't help them to change the habit of eating feces, how can our society progress?"
Yu believes that after the Tiananmen anniversary passes, the LGBT movement will have just as much latitude as it did before this week's arrests. But another person arrested, who asked not to be named, isn't so confident.
"It really [sends] the LGBT community very bad message — people are quite scared now," he said. "At least now a lot of people think the government is more aware of what LGBT organizations are doing."
Dot Gong contributed to this report.