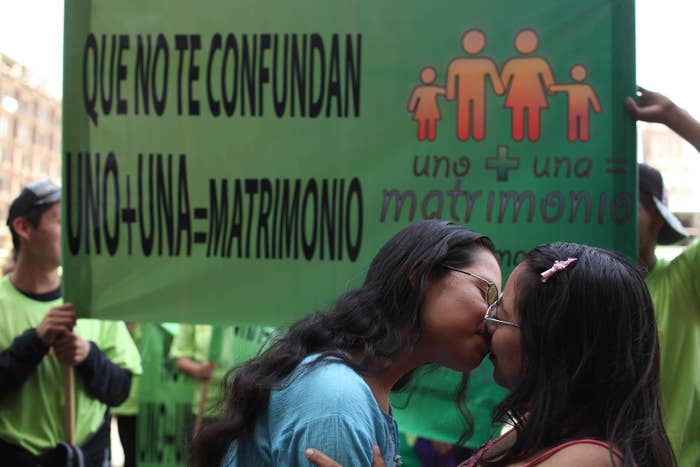 Opponents of marriage equality have announced protests throughout Mexico this month, hoping to kill a proposal from President Enrique Peña Nieto that seeks to override barriers to marriage for same-sex couples remaining in 21 of Mexico's 31 states.
A coalition called the National Front for the Family is organizing a protest Saturday in cities throughout the country, including one in Guadalajara that organizers claim could attract as many as 100,000 people. A follow-up march is planned to converge in Mexico City on Sept. 24. In protests held last weekend, including one in Mexico City under the banner of "For Life and Family," organizers delivered a petition reportedly signed by 300,000 people calling on Congress to pass a constitutional ban on same-sex marriage.
The protests won the endorsement of a group of Catholic bishops who circulated a letter declaring "we support and encourage the coalition" and calling on their peers to "encourage and promote enthusiastic and creative participation of all individuals, families and groups" in the upcoming marches.
Same-sex couples have been able to marry in Mexico City since 2010, and full marriage equality has been established in 10 states since then. But those gains have largely been made by quietly bringing dozens of lawsuits in a state-by-state litigation strategy. The Supreme Court first ruled that state bans on same-sex marriage were unconstitutional in 2012, but that ruling attracted little attention because technicalities in the country's legal system mean the court can't change state laws with a single sweeping judgment.
This process has created a situation where "some people in some states or entities have certain rights and others don't," said Peña Nieto during an event in May, which is why he proposed a national constitutional amendment that would allow same-sex couples to marry throughout the country.
Many LGBT activists were initially jubilant at the president's support, but as the backlash grew in the months that followed, some now wonder whether his intervention was actually helpful.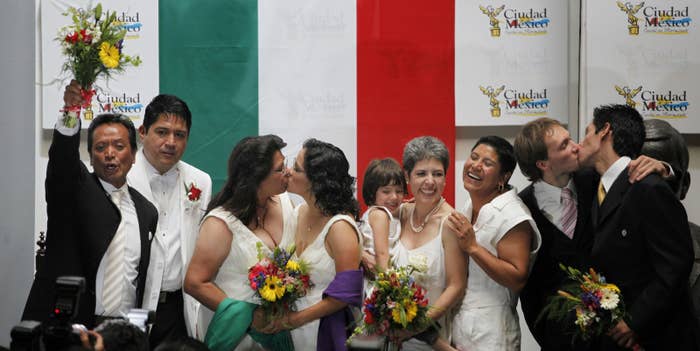 "I think it hurt us a lot that someone like him to get involved at that moment," said Cristian Galarza, outreach director of the Mexican Pride Front, a new group created to respond to the ongoing backlash. It didn't help that the proposal was announced after Peña Nieto's approval ratings had plummeted to beneath 30% amid a wave of corruption scandals.
"The religious organizations had not taken notice of how much we advanced in the courts," said Alex Alí Méndez Díaz, legal director of Equality Mexico and the lawyer who pioneered the successful marriage equality litigation strategy. The president's proposal is "very limited," Méndez said, and weakness in the language of the president's proposal might not actually remove the legal barriers for same-sex marriage in state law.
Passing it would be mostly a "symbolic advance," he said, but added, "even though this is a bad proposal, it needs to pass."
In response to questions about this criticism from BuzzFeed News, a spokesperson for Peña Nieto said in a statement, "The initiative that President Peña Nieto presented to Congress aims to give a constitutional framework to marriage equality, consistent with the vision and jurisprudence of the Supreme Court of Justice of the Nation."
The president's proposal has faced an uphill battle from the beginning. Leaders of Peña Nieto's own Institutional Revolutionary Party in Congress responded to his announcement by declaring they would not consider the proposal in the legislative session that began Sept. 1. Peña Nieto is in an even weaker position to force the issue than he was in the spring, after his approval rating dropped to 23% following his meeting with Donald Trump. The proposal appeared to be all but dead as the session began, though a senator from the left-wing minority Party of the Democratic Revolution announced Tuesday that he was attempting to revive it by introducing a proposal very similar to the president's.
This rapid politicization is a new challenge for Mexican LGBT groups. The country has never had a strong national LGBT rights organization, and infighting has sometimes made collaboration difficult. But there's been a new level of communication following the president's announcement, activists say, including a meeting that drew activists from across the country to the city of Cuernavaca late last month that hammered out principles to respond to the growing backlash.
They are now putting a good deal of effort in trying to flip the debate into a referendum on the separation of church and state. Mexico has a long tradition of limiting the church's involvement in politics — for much of Mexican history priests were not allowed to vote — and LGBT activists are trying to portray religious opposition to marriage equality as crossing a bright line.
On Monday, Equality Mexico filed a formal complaint against the Archdiocese of Mexico with the Ministry of the Interior, alleging that the church had violated constitutional limits on church political activity by directly opposing the marriage equality proposal. It followed this with a similar complaint against the Archdiocese of Tijuana, and complaints against other archdioceses are reportedly in the works.
Méndez, the group's legal director, told BuzzFeed News he was prepared to take the matter to the Supreme Court if national authorities did not sanction the church for actions like directly opposing the president's legislative proposal in church publications and "fomenting hate speech."
(In an apparent response to such criticism, the spokesman for Mexico's top bishop issued a statement in late August asserting some distance between the National Front for the Family marches, saying the church had not "convened" the events and that they are not intended "as a protest against a legislative proposal.")
On Sept. 11, the day after the first of the marches, the National Pride Front will respond with its own march to Mexico City's cathedral to defend a "secular, democratic, and plural state," which Galarza said could attract 5,000 to 10,000 people.
Despite the backlash, Galarza said he is optimistic that legislators will reject the conservatives' arguments and ultimately take up some form of the president's proposals.
"We have no fear because the legislators of our country are going to understand that they legislate for everybody," Galarza said. "For sure it's going to be considered."