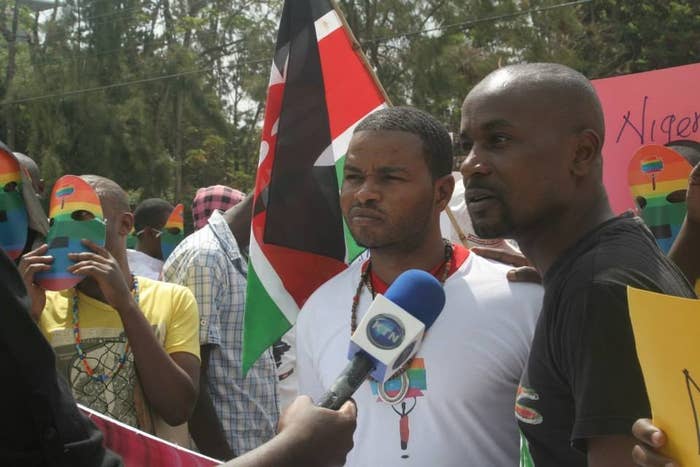 A leader of a major Kenyan LGBTI rights organization said Wednesday that the group would be filing suit against a Kenyan law criminalizing homosexuality.
The announcement, made on Facebook and Twitter by Eric Gitari of Kenya's National Gay and Lesbian Human Rights Commission (NGLHRC), comes less than two weeks after a landmark ruling in neighboring Uganda that struck down the continent's most infamous anti-LGBT law. The move is a departure from the previously cautious strategy pursued in the courts by Kenyan activists, targeting smaller questions involving LGBT rights before tackling the colonial-era sodomy law that punishes same-sex intercourse with up to 14 years in prison, though it is seldom enforced.
Gitari confirmed the planned moved in a text message, saying, "We are filing a constitutional petition on sodomy laws in Kenya." He did not provide further details and could not be reached by phone.
Gitari announced the move following a visit to Uganda, where the Constitutional Court issued a landmark ruling earlier this month striking down the Anti-Homosexuality Act — a law that came into force in February and punished homosexuality with a sentence of up to life in prison. According to his Facebook timeline, Gitari was in Uganda to participate in a pride event on Saturday.
The announcement seemed to catch other activists in close touch with the Kenyan movement by surprise. Monica Tabengwa, an LGBT researcher with Human Rights Watch in Nairobi, replied to Gitari's Facebook post by commenting, "Don't know, can we all talk about this and develop a strategy together?"
NGLHRC's legal director, Njeri Getaru, who has been on an extended visit to the United States, said that she had no further details on the new suit. But in an interview last week, she told BuzzFeed that while a challenge to the sodomy provision had been the ultimate goal, LGBT activists in Kenya had decided that making a direct attack on the provision without first establishing precedent in case law for protecting LGBT rights could risk a legal setback.
The idea was to "file on matters that are related to the effects of criminalization of homosexuality, but not present the suit in court as a decriminalization suit," Gateru said. "We're going to use all the rulings and findings and precedents that are set in the big case, which will be the decriminalization case."
The NGLHRC is still waiting on a ruling in one of the cases that is part of the strategic litigation strategy. The suit challenged a decision by government officials to deny registration to the organization, which the group needs in order to fully operate as an advocacy group under Kenyan law. The government was fighting back with an argument that promoting LGBT rights runs counter to Kenya's prohibition on same-sex intercourse, according to a post Gitari published on Facebook last week.