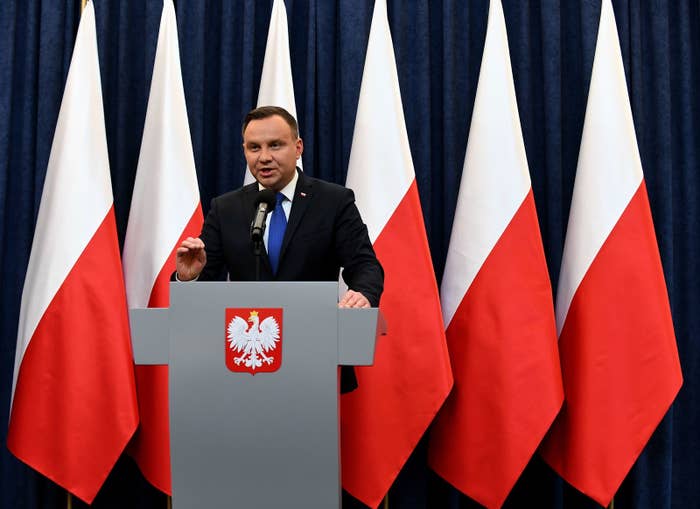 Polish President Andrzej Duda announced Tuesday that he would sign legislation making it a crime to suggest Poland had any responsibility for the Holocaust or any other crimes against humanity.
"One must protect the good name of Poland and Poles," Duda said while announcing his approval of the legislation, which carries penalties of fines and three years in prison. "We have the right to historical truth and we have the right to be judged in a real way, according to the facts."
The bill is largely aimed at making it a crime to refer to Auschwitz and other Nazi camps established by German forces in Poland as "Polish death camps." The Polish government has repeatedly lodged official protests when foreign officials have referred to the camps that way, as when President Barack Obama did so in 2012.
Poland lost an estimated 6 million people during World War II, during which it was simultaneously invaded by Nazi Germany and the Soviet Union. Half this number is estimated to have been Jews, while the rest were Poles and members of other ethnic groups. Thousands of Poles have been recognized by the World Holocaust Remembrance Center in Israel for helping rescue Jews during the war, despite there having been a death penalty for anyone found helping a Jew while the country was under Nazi occupation.
But Poland also had its own anti-Semitic movements before the war — including government officials exploring ways to deport Jewish people from the country — and several anti-Jewish riots broke out as the Nazis conquered Polish territory.
Israeli Prime Minister Benjamin Netanyahu called the Polish prime minister to protest when the bill cleared its first legislative hurdle in late January, and denounced the legislation as an "attempt to rewrite history." The US also lodged an official protest against the bill, saying it "could undermine free speech and academic discourse" and could have "repercussions" for "Poland's strategic interests and relationships — including with the United States and Israel." US Secretary of State Rex Tillerson on Tuesday said in a statement that the law, when in effect, would "adversely [affect] freedom of speech and academic inquiry."
Historians and Jewish groups have also said they were concerned the law could be used against Holocaust survivors telling their own stories. President Duda acknowledged this concern on Tuesday, saying he would refer the law to the Constitutional Tribunal after he signed it into law to make sure it would not "close the mouths of those who survived."
The Israeli Embassy in Warsaw issued a statement on Friday reporting a "wave of anti-Semitic statements" in Poland since the legislation sparked an international uproar, remarks that have been "overflowing the internet channels in Poland, but they have become present on the main stream media too," including on the government-backed channel.
Nationalist groups that take their names from anti-Semitic organizations active before World War II had planned a protest in front of the Israeli Embassy on Monday, but local officials blocked their access to the street in front of the building.