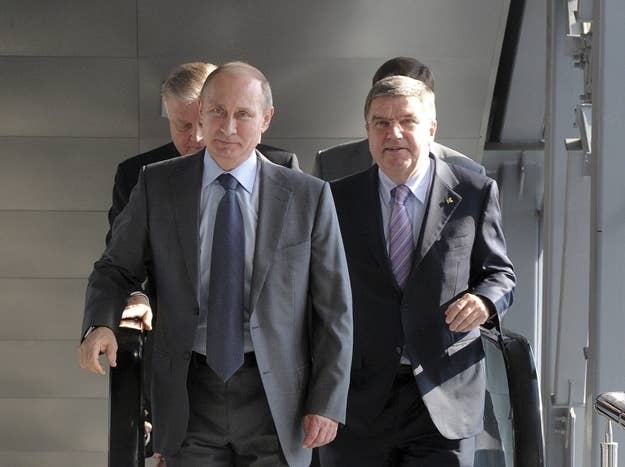 The head of the International Olympic Committee, Thomas Bach, told a coalition of Russian LGBT activists on Wednesday that he would not meet them during his visit to Sochi, a spokesperson for the coalition said.
Bach has instead invited the activists to meet him in Lausanne, Switzerland, at an unspecified time, said Anastasia Smirnova, spokeswoman for the Russian LGBT activist coalition. A spokesman for Bach said the IOC had invited the coalition for talks in Lausanne on Friday morning.
Activists criticized Bach's refusal to meet with them in Russia during a visit in which he held a high-profile meeting with Russian President Vladimir Putin. The decision is "yet another indicator that the Sochi Olympics are far from being a platform to uphold and promote the Olympic values," Smirnova said in a statement.
Mark Adams, a spokesman for the IOC, said the committee had offered activists a Friday morning meeting with Bach in Lausanne. "We offered them a meeting at our headquarters in Lausanne with the president and they seemed happy," he said. "If they do not want to, no one has mentioned it."
"They responded yes to a meeting in Lausanne and expressed no concern so far, so it would be a surprise if they go to the media without mentioning their discontent to us," he added. "In other words, we agreed to everything they asked for."
Smirnova added, "We are glad that this discussion with the IOC will still take place," but noted that moving the meeting out of Russia would substantially undermine efforts to inform the Russian people about the impact of the law against "homosexual propaganda" and moves like banning Pride House during the Olympic games.
"Moving the meeting outside of the country will significantly limit opportunities to inform people in Russia," she told BuzzFeed. She said it also imposes a substantial burden on the LGBT activists to attend, noting that the IOC has offered no help with the cost, nor assistance in securing visas.
Adams said that "they hadn't asked for any assistance."
"The IOC is obviously trying to strike the balance" of not offending Putin by not meeting with activists this week, Smirnova said. "But when it comes to upholding its own values and principles, compromise cannot be an option. The IOC repeatedly assured that there will be no discrimination at the Sochi games, and a meeting with LGBT organizations that work extensively in Russia would allow them to uphold their obligations better."