MEXICO CITY — On a bright fall day last weekend, tens of thousands of people dressed all in white took to the streets of Mexico City for the country's first national march against marriage equality.
They had flocked from across the country, and marched with signs bearing the names of their states and a number, which was a count of how many people had participated in local protests held two weeks before in dozens of cities. Thousands carried flags with the logo of the new group that had organized the marches. It called itself the National Front for the Family and said it was made up of "millions" of people from all walks of life as an emergency response to a proposal rolled out by President Enrique Peña Nieto in May to establish marriage equality in all of Mexico's 31 states through a constitutional amendment.
"Mr. President, count us well," they chanted, as they marched down Paseo de la Reforma, a wide boulevard punctuated with monuments commemorating key moments in Mexican history. "We're not just one, we're not just 100."
The national media were stunned, and marriage equality supporters were incredulous. There had never been a serious national anti-LGBT movement, and full marriage equality had spread from Mexico City to 10 states since 2009 with only ripples of opposition. The Supreme Court had repeatedly ruled that marriage discrimination was unconstitutional, and many thought the fundamental question was settled. Many LGBT rights supporters thought they'd already won the most important fights — they just needed to push the country's remaining 21 states to come into compliance with these decisions and allow same-sex couples to marry.
And some things seemed strange about the march, which had been billed as a scrappy grassroots movement. Organizers had set up six Jumbotrons along the march route broadcasting a live feed of the procession, narrated by an advertising consultant who had worked for some of Mexico's largest mining companies and luxury brands like Versace. The protest's online image was managed from a war room in an upscale hotel managed by an ad agency that had worked for Mexico's major right-leaning political party, the National Action Party (PAN), and universities affiliated with the conservative Catholic order Opus Dei.
Who was funding all this, the group's opponents wanted to know, and how did they get so well-organized so fast?
This was not simply a spontaneous backlash to the president's proposal. This was an event more than a year in the making, coordinated by a network of conservative groups who wanted to amend the constitution to reverse marriage equality gains, interviews by BuzzFeed News with more than a dozen activists, political advisers, and members of Congress both for and against marriage equality show.
These groups had already stitched together the body of a nationwide movement against marriage equality outside the national spotlight. Since August 2015, they'd worked together to gather signatures in support of a "citizens' initiative" to amend the constitution to block same-sex marriage, and had 200,000 by early 2016 — more than the number needed to technically require Congress to give it formal consideration. This proposal was one of the first to take advantage of relatively new rules to allow citizens to directly introduce legislation to Congress.
But this work was done so quietly that when they submitted their petition to the Senate in February, hardly anyone in the press or the halls of Congress even noticed. Now they needed a surge of energy to get the issue into the spotlight and to rally a broader movement that could demonstrate political muscle. The president's marriage equality proposal came like a bolt out of the blue, and it was just the opportunity they'd been looking for.
"Many of us are grateful to the president," said Rodrigo Iván Cortés, leader of the National Front for the Family and a former PAN member of Congress. The president did what they could not, he said, bringing "to life [a movement] that seemed was never going to be brought to life."
Peña Nieto's marriage equality proposal caught nearly all of Mexico by surprise.

Olivia Rubio, chief of staff of the Senate Human Rights Committee and a longtime LGBT activist, had been invited to the president's residence on May 17 for what she was told was a "consultation" on LGBT rights measures, timed to coincide with the International Day Against Homophobia. She was, she told BuzzFeed News, caught totally off guard when "we realized the whole world of [LGBT] activists were there, [and] there was press — it was a mega-meeting."
She first realized the president would make a big announcement when she overheard one aide say to another, "Did you bring the initiative?"
Peña Nieto proceeded to announce a proposed constitutional amendment that would bar states from prohibiting same-sex couples from marrying.
Though the Supreme Court had already ruled such laws were unconstitutionally discriminatory, the technicalities of Mexico's legal system meant that couples had to bring a new lawsuit every time they wanted to marry in most states. Peña Nieto hoped his proposal would immediately allow same-sex couples to marry throughout all of Mexico by simply going to a registrar, just like opposite-sex couples.
Many LGBT activists were overjoyed at the president's backing, but some recognized that it also created a serious problem. There was no truly national LGBT organization like the US's Human Rights Campaign that could lobby congress, run a media strategy, and organize to get the proposal passed. Most LGBT rights groups worked on the local level, and infighting had frustrated broader collaboration. Even the push for nationwide marriage equality never required them to develop political savvy — it largely rested on litigation spearheaded by a single lawyer.
To fill the vacuum, LGBT activists turned to WhatsApp, where Victor Espíndola, an activist and political consultant who had worked on the president's social media team, had put together a group the afternoon of the announcement. There, the collaboration between activists was more collegial than ever before. It would ultimately produce a new national organization called the Movement for Equality in Mexico, which launched a Facebook page on May 24.
The president's team "probably thought it would be easy," but it was an "error in calculation and judgement," Espíndola told BuzzFeed News during a recent interview. The LGBT activists were essentially starting from zero, and, Espíndola said, supporters of the president's proposal quickly realized they were outmatched.
"Can we compete with the [National Front for the Family]?," Espindola asked. "No — they're well-organized, they have the pulpit in their favor."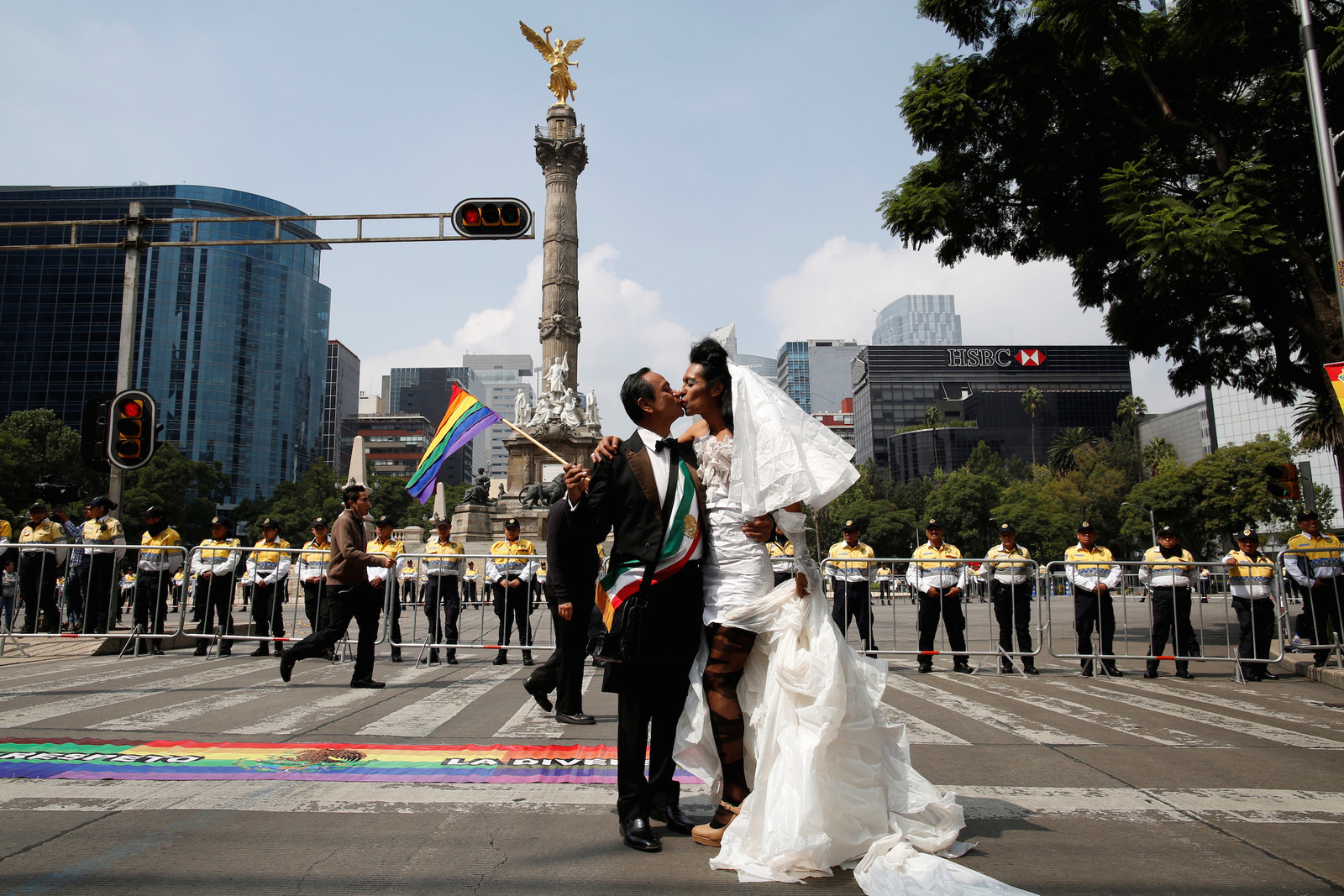 The leaders behind the National Front for the Family were already planning their first salvo while Espíndola was still building his contact list.
Front leaders say they were on the phone within hours of the president's announcement, and met face-to-face within days. The organizing committee included Juan Dabdoub, of a small group known as ConFamilia and author of the citizens' initiative to block marriage equality, which had been submitted to the Senate two months earlier. It also included leaders of the two largest groups that helped gather signatures for the initiative: Consuela Mendoza of the National Parents Union — a group that has fought restrictions on church participation in politics and to provide alternatives to secular public education — and Mario Romo of the Family Network, an umbrella organization whose local affiliates range from addiction programs to emergency pregnancy centers to groups that promote abstinence.
They met in person on Friday, May 20, and held their first press conference announcing they would unite under the banner of the National Front for the Family on May 24, and they were looking abroad for ways to step up their game. One example was a recent movement in Colombia, said Dabdoub, where conservatives had mobilized against a new sex education curriculum to be rolled out under the country's education minister, who is a lesbian.
The Front was also getting some coaching and support from CitizenGo, a kind of conservative MoveOn.org that began in Spain and expanded to Latin America three years ago, including a staffer in Mexico and a list of 500,000 members in the country. (CitizenGo also includes Brian Brown of the US-based National Organization for Marriage and World Congress of Families on its board; he was in Mexico City for the Sept. 24 march.)
The Front had a lot to learn and quickly, CitizenGo's Latin America Director Luis Losada told BuzzFeed News.
"They didn't have the capacity before," Losada said. "They tried their best … but they were not so efficient."
But the timing of the president's announcement made it obvious to the leaders what they had to do next. There would be elections in 12 states and Mexico City on June 5 — less than three weeks after the president's marriage equality announcement — and the president's Institutional Revolutionary Party (PRI) was already in serious trouble thanks to corruption scandals, widespread violence, and the president's low approval ratings.
So they set out to frame the vote as a referendum on marriage equality. Through small protests organized in partnership with CitizenGo and campaigns on social media, they targeted PRI candidates to demand they reject the president's proposal or face a "punishment vote."
"We needed an instrument so that they'd take [this issue] into account," said the Front's Rodrigo Iván Cortés. "On this basis, we're going to ask people not to vote for the PRI in the states … [and] the people responded."
The June 5 vote was a disaster for the PRI, which lost governorships in seven states, including four where it had never lost an election. National polls showed no evidence of an overwhelming tide against marriage equality — pollsters find the public evenly split or largely in favor of marriage equality. But the Front proclaimed victory, and got help from key voices to spin the vote as a rebuke of same-sex marriage.
The Catholic Archdiocese of Mexico City called the results a "deserved punishment vote" for a "destructive and immoral" proposal in its official publication, Desde La Fe. Former PRI presidential candidate Francisco Labastida called the marriage equality proposal a "decisive, fundamental" factor in the party's loss and blasted the president for not consulting party leaders before rolling it out.
By the time Congress returned for the legislative session beginning in September, the leaders of the president's own party declared his marriage equality proposal dead in the water.
The PRI leader in the Senate said he was putting it "in the freezer," an expression that meant Congress would set it aside without ever giving it a vote. He said it was because party members were divided on the issue, but it was clear party members wanted to distance themselves from the president, whose approval ratings had fallen to 23 percent following his deeply unpopular invitation to meet with Donald Trump. Elections are looming in 2018, and the party looks doomed unless it can show that the next PRI president's term will be very different than this one.
Since then, a few lawmakers with left-leaning parties have introduced their own versions of the marriage equality proposal in the hopes of getting the issue onto the legislative calendar, but their supporters privately admit Congress is unlikely to take action on any of these proposals this year.
With the president's marriage equality initiative stalled, it was time for the National Front for the Family to press their advantage. Congress had never acted on the citizens' initiative to amend the constitution against marriage equality, either, and now they had a chance to mobilize to put it on lawmakers' agendas.
"Society woke up, and the people felt they could achieve something," said Dabdoub, whose citizens' initiative was still lying in wait in the Senate. Now, he said, "we're ready to show our faces."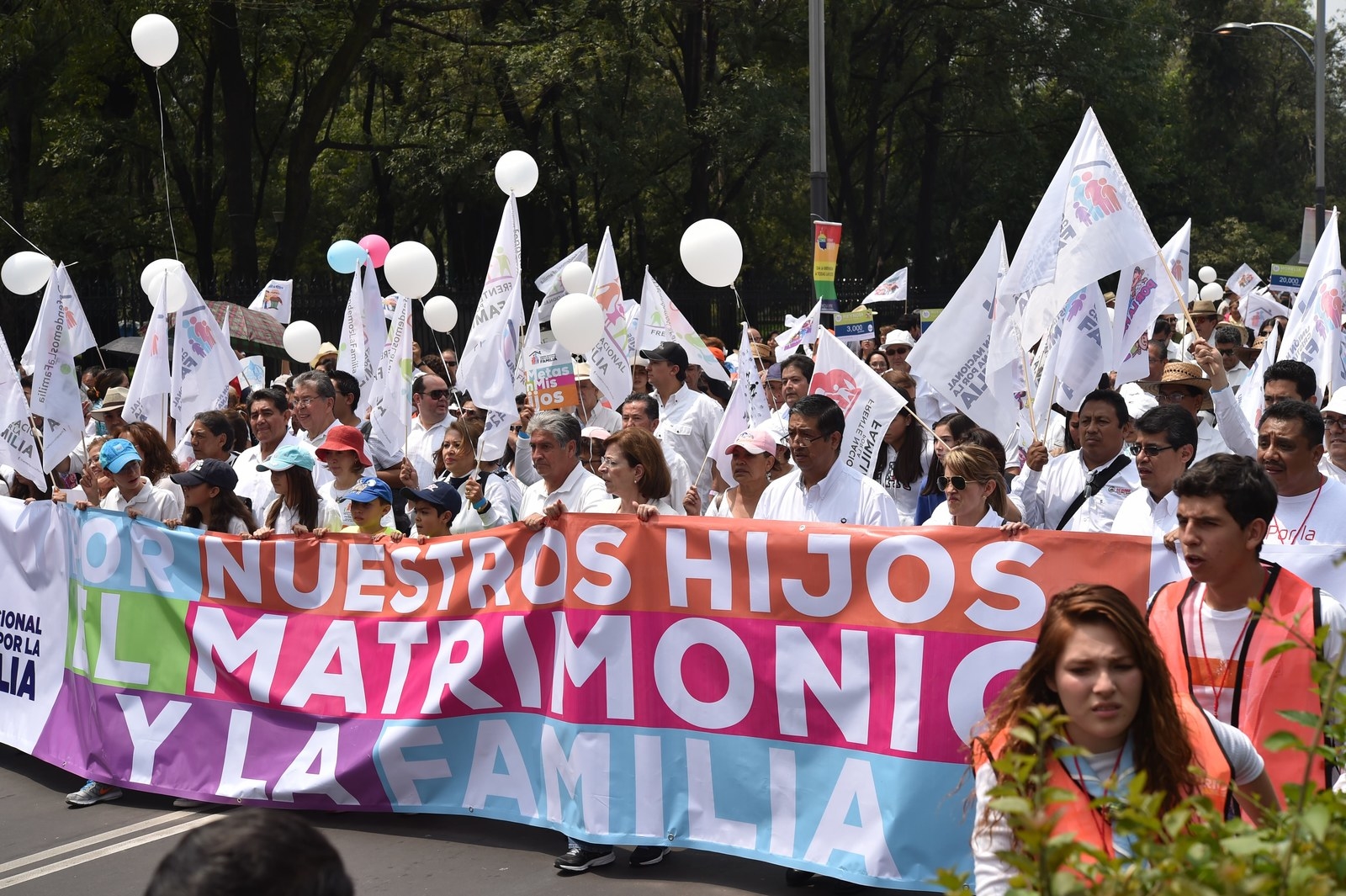 The Sept. 24 march in Mexico City was a sort of coming-out party for the National Front for the Family.

As marchers streamed toward Mexico City's Angel of Independence, the group distributed a press release declaring the Front was a "permanent" movement. The group laid out its demands in a "manifesto" published in several national papers the next day, which included a call on lawmakers to "protect … the institution of marriage between a man and a woman" in the constitution by enacting Dabdoub's citizens' initiative.
The statement was a declaration of war from an organization that believed it had proved itself a credible political threat. They also were increasingly professional and, apparently, well-funded.
Press materials from the march identified the Front's lead press contact as Pablo Mier y Terán, president of a PR firm called Mier y Terán and Associates, whose past clients include Mexico's state oil company Pemex and the National Action Party. Another press contact is Ruben Rebolledo, communications director for a Front member organization — whose LinkedIn profile, though, says he is also a director of media relations at Mier y Terán — who has previously worked for major mining corporations and luxury brands.
Neither Mier y Terán nor Rebolledo would discuss the Front's budget, but there there are clues that they are well funded. One is the fact that their firm managed a media command center on march day out of three conference rooms in the Sheraton complete with buffet, one of Mexico City's premier business-district hotels.
The speed with which their movement mobilized has prompted allegations that there are much bigger forces behind them. The press in both Spain and Mexico have buzzed with rumors that the front is manipulated by El Yunque, a shadowy secret Catholic network with fascist leanings said to have had senior Mexican politicians as members, but no concrete direct evidence of a link with Front leaders has been reported.
There are clearer ties, however, between the Front and other conservative religious factions. The Sept. 24 march was branded as a joint effort between the Front and an organization called the National Christian Union for the Family ("Christian" in Mexico is usually meant to refer to evangelical denominations), which has a Facebook page that lists its official website as a broken link with a URL hosted by the Apostolic Church of Faith in Jesus Christ. The Mier y Terán agency also lists past clients as multiple educational institutions affiliated with Opus Dei, a Catholic order known for promoting doctrinaire church teaching in public policy.
Several of the country's Catholic bishops have been unusually outspoken in support of the marches, and LGBT activists have filed legal complaints against several archdioceses arguing that this violates Mexico's strict laws against church involvement in politics. (Another LGBT group was widely condemned by other activists when it retaliated against the church by releasing the names of senior priests they claim have had same-sex relationships.)
"We're going to regret it," José Raúl Vera López, the liberal Catholic Bishop of Saltillo, told BuzzFeed News. "The backbone of these marches comes from a very closed faction … with fascist — even Nazi — tendencies. It is very sensitive what we're doing."
The anti–marriage equality forces are not entirely united, however; Front leaders told BuzzFeed News that some evangelical groups have wanted to fight marriage equality through their own initiatives. In early September, a separate citizens' initiative to ban same-sex marriage was submitted with 400,000 signatures to the House of Deputies with support of a small political party seen as drawing its core support from evangelical Christians, the Social Encounter Party. (Social Encounter Party members did not respond to interview requests from BuzzFeed News.)
But even as marriage equality opponents are more visible than ever before, LGBT rights supporters are confident their efforts will ultimately come for nothing.
For one thing, they'd need two-thirds of both houses of Congress to amend the constitution to outlaw marriage equality, and so far no major political party has shown an interest in taking up the cause. And although the rules of citizens' initiatives technically require Congress to formally consider the anti–marriage equality amendments, lawmakers and congressional aides who support marriage equality say they are confident they can quietly be buried in committee.
There is no sign that Mexico's marriage equality backlash will ever be as strong as the one that defined the politics of the United States for more than 20 years. Unlike the US, where there is a long history of conservative religious political activism, Mexican politics has historically frowned on religious political participation — priests were not even allowed to vote until the 1990s.
There's also no political party that clearly benefits from the issue the way the Republicans did in the US. The most likely candidate to lead the charge to roll back marriage equality would be the National Action Party. The last PAN president, Felipe Calderón, unsuccessfully fought all the way to Mexico's Supreme Court to block the country's first marriage equality ordinance, enacted in Mexico City in 2009. But now full marriage equality is a reality in one-third of the country's states, and the politics have changed a lot since then. One of the PAN's leading contenders for the 2018 presidential nomination is Calderón's wife, Margarita Zavala, who tweeted on the day President Peña Nieto endorsed the marriage equality amendment, "For a Mexico [that is] more inclusive, without prejudice, and #WithoutHomophobia."
And the US movement surged before the Supreme Court had decided whether marriage was a right for same-sex couples; Mexico's Supreme Court could not have been more clear that same-sex couples have a right to marry. The court almost seemed to taunt the Front in the week surrounding the march, releasing three more rulings on Wednesday that "reiterated the unconstitutionality of ... [state laws] that circumscribe the institutions of matrimony and cohabitation to a union of a woman and a man" concerning couples in three different states. And the day before the march brought a nine-to-one decision by the full court in an adoption case that held states cannot discriminate against gay couples, even indirectly.
But ConFamilia's Dabdoub said they've only just begun to fight to overrule them by amending the constitution.
"Here it is obvious that we are the immense majority of the country," said Dabdoub during the Mexico City march. "If [politicians] vote against the citizens' initiative … we're going to vote against them."