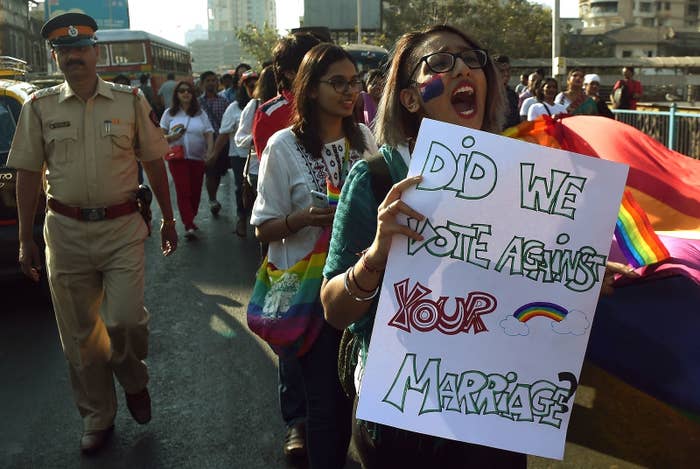 The Indian government introduced a bill on Tuesday to protect transgender rights that would put a system in place to punish those who exploit and harass them, giving hope to the community that has faced continuing discrimination.
The bill was submitted to the Lok Sabha, India's lower house, by the country's minister of social justice and empowerment, Thaawarchand Gehlot.

The "transgender community is one of the most marginalized communities in the country because they do not fit into the general categories of gender of 'male' or 'female,'" a statement accompanying the legislation declared. "Consequently,
they face problems ranging from social exclusion to discrimination, lack of education facilities, unemployment, lack of medical facilities and so on."
The bill states that it is a government obligation to take steps to "protect the rights and interests of the transgender person," "facilitate access" to welfare programs, and provide for medical care including sex reassignment surgery. It would also bar discrimination against transgender people in employment and housing and make it a crime to force them to beg or do any other form of labor. The proposal would punish violations with up to two years in prison.
The legislation would also create "screening committees" made up primarily of medical and government officials along with a "representative of [the] transgender community" to allow transgender people to change their gender listed on official documents.
The legislation is intended to comply with a 2014 ruling by India's Supreme Court recognizing broad rights for transgender people and ordered government to take steps to address longstanding discrimination. India is home to long-established transgender communities — the country's 2011 census puts the transgender population at 488,000 although trans activists say it is higher — that were deemed criminal in the 19th century when the country was under British colonial rule and have faced continuing discrimination since the country's independence. (The ruling came shortly after the court upheld another colonial-era law, which criminalized homosexuality, in a separate case that is now under review.)
The government's proposal is now pending in the Lok Sabha. A different bill to protect trans rights was passed unanimously last year by the legislature's upper house, the Rajya Sabha, a very unusual vote for a proposal that did not have the backing of government.