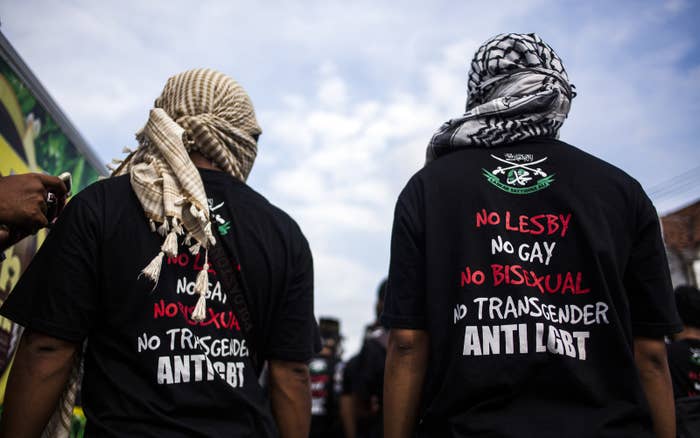 Grindr, Hornet, and a total of more than 80 other apps and websites with LGBT content face a ban in Indonesia, the world's fourth most populous country, following a closed-door interagency summit held Wednesday at the country's Ministry of Communications.
"The participants of the meeting all agree to block websites promoting LGBT," Aidil Chendramata, director of information security for the Ministry of Communications, told BuzzFeed News following the meeting. The panel included representatives from the Ministry of Human Development, the National Police, and the Ministry of Religious Affairs, which was represented by a member of the country's Muslim clerics association. "Most of the contents are leading toward pornography [and have] violated the law on pornography and the law on child protection," Chendramata said.
The move comes several months after the Ministry of Communication announced it would craft a ban on LGBT "propaganda" in March, part of an unprecedented crackdown on LGBT rights in the country. The Constitutional Court is separately considering a petition that could make homosexuality a crime in Indonesia for the first time.

The meeting was initially convened to review a police request to block Grindr and 17 other gay apps they allege were used by a child prostitution ring. But the meeting reviewed a broader list, said Ericson Siregar, an officer with the National Police Criminal Investigations Department who participated in the meeting, because the Ministry of Communication had "previously investigated gay applications" and identified dozens for "promoting LGBT."
"We would be pleased if the communication ministry blocked [gay apps] without hesitation because the smell of pornography is so strong on them, such as exhibiting nudity," Siregar said.
Human rights activists have been alarmed at the impact this has had on the LGBT community, but internet companies and free speech advocates say this crusade is part of a much bigger battle as US-based social media companies have become a major force in the country of 250 million people.
The decision to ban LGBT content is simply the low-hanging fruit, said a representative from one global internet company with offices in Indonesia, and an easy target for conservative figures.
"We should all be concerned when we see these kinds of decisions being made, to ban an entire category of apps," said the representative, who asked not to be named due to his company's sensitive relationship with the Indonesian government. "It's easy to see them starting with gay apps, and then finding a way to censor other parts of the internet… It's easy to see them banning anything that represents the US or American values, as they see it. That's what we are afraid of."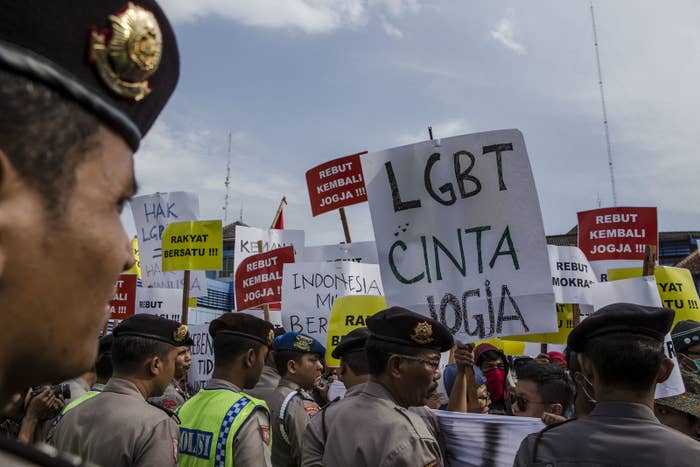 Indonesia's plan could cause an immediate quandary for Apple and Google, because Communications Ministry Head of Investigations Teguh Arifiadi said they will block the apps by requesting they be removed from the Apple App store and Google Play. (Apple and Google did not immediately respond to request for comment.)
"We will ask the stores to take down the apps for Indonesia," Arifiadi said. He told BuzzFeed News on Thursday that the Ministry had written to Google to ask that three apps — Grindr, Blued, and BoyAhoy — be taken down, and specific decisions will be made on all 80 applications "as soon as possible" once allegations against them are "verified."
Indonesia is 90% Muslim, and the call to reign in LGBT content online has been enthusiastically endorsed by the country's largest religious organizations, which have increasingly warned that the internet is bringing toxic influences from abroad.
Said Aqil Siradj, chairman of the Nahdlatul Ulama, the world's largest Muslim organization claiming 91 million members, described the internet as an "oppression against Islam" during a speech delivered in August.
"All news and information is dominated by Westerners, by outsiders — they intentionally aim to influence our mind, our way of thinking," he said, so that "our next generation might not recognize anymore" fundamental aspects of their faith "because their thought have been shaped by Facebook, Twitter, social media, YouTube."
In an interview following the speech with BuzzFeed News, Siradj added that Indonesia's Islamic institutions were also fighting on a second online front — against extremist Islamic groups overseas.
"On Facebook, Twitter, and other sites, there are right-wing extremism, radicalism … ISIS also uses it, Al-Qaeda also uses it, other terrorists such as Jamaah Islam, Jamaah Tabliq Al-Hijrom, Mujahiddin also use it — so it is not only LGBT," Siradj said. "Radicalism is not the nature or role of Islam in Indonesia…. Radicalism in religion all comes from the Middle East."
"It is quite strange to ban people from finding friends."
Grindr did not respond to repeated requests from BuzzFeed News to discuss Indonesia's moves against the service. But Sean Howell, CEO of Hornet, said Indonesia would be by far the largest country to announce a ban on gay apps. Grindr and some other apps are blocked in some other countries, including Turkey, but he was aware of only the United Arab Emirates having a ban that affects so many apps in the single sector.
"There's lots of reasons that [this move] is terrible," Howell said. "How many other Islamic states will follow this? The internet, rather of being a tool of freedom, is becoming a tool of dictator states."
A State Department spokesperson told BuzzFeed News that "the United States believes strongly in Internet freedom and supports the principle that has been recognized in successive multilateral resolutions that the same human rights people have offline must also be protected online."
"We encourage the Government of Indonesia to ensure that any steps it may take that could result in limitations on access to social media sites are carefully considered, openly discussed, and consistent with the Government's international human rights obligations," said the spokesperson.
Yuli Rustinawati, chair of the LGBT group Arus Pelangi, said police should be focusing on the sexual abuse allegations against the child prostitution ring and not use it as a pretense to attack the LGBT community online. If the proposal moves ahead it will make the already embattled LGBT community even more vulnerable, she said.
"If gay applications are closed down, it only makes the community even more isolated as they won't be able to find friends via the virtual world," Rustinawati said. "It is quite strange to ban people from finding friends."