Human Rights Campaign's Move Into International Work Puts Global LGBT Advocates On Edge
Global LGBTI activists worry HRC's new international initiative could run roughshod over local partners and are concerned that it is partly funded by vulture fund money. "It is not money that should used by anyone for LGBTI work any side of the world. It's an insult," said one activist.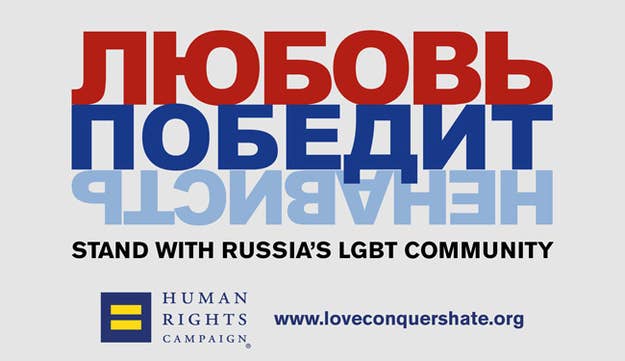 WASHINGTON — The announcement Sunday that the Human Rights Campaign (HRC), the biggest LGBT rights organization in the U.S., is making a major investment in international advocacy was not good news to Wanja Muguongo.
"My reaction … is 'Oh no — as if we don't have enough trouble,'" Muguongo said by phone from Nairobi, where she heads UHAI, the East African Sexual Health and Rights Initiative. Her organization funds LGBT rights work throughout the region.
Muguongo was not alone in her trepidation. While some LGBT activists welcomed the new resources that will be devoted to international work, many questioned whether HRC will get involved in foreign countries with adequate sensitivity to local context. They were also unsettled by the comments one of the major funders to the initiative, hedge fund manager and Republican donor Paul Singer, gave during the rollout that appeared to tie the initiative to making the GOP more gay-friendly and to promoting broader U.S. foreign policy objectives. The fact that Singer has earned some of his wealth from a "vulture fund" that sues economically troubled countries to collect on their sovereign debt further tainted the initiative in their eyes.
"The kind of work that HRC is about to take on will set the global movement for sexual rights (not gay rights) back immeasurably," said Katherine Franke, director of Columbia University Law School's Center for Gender and Sexuality Law.
Franke accused HRC of colluding in "pinkwashing," winning Singer points for supporting gay rights and covering over the fact that he has engaged in what she called "predatory investment strategies." This will ultimately damage HRC's credibility abroad, she predicted, and the credibility of local organizations that decide to partner with the organization.
HRC announced that Singer's foundation and the Daniel S. Loeb Family foundation would provide $3 million over three years to support HRC's work abroad. That amount immediately makes it one of the best-funded American LGBT organizations engaging in international work, and makes it more generously funded than many of the organizations that have been working on these efforts for years.
HRC is launching the initiative with almost no experience in the international arena. It did join with several other LGBT organizations to launch the Council for Global Equality, an organization that works to shape the foreign policy of the U.S. government in support of LGBT rights. And it also did advocacy on Capitol Hill in 2009 to win a firm response when Ugandan lawmakers first proposed the so-called "Kill the Gays" bill.
But direct international involvement is very new terrain — it seemed unlikely even to the organization's newly named director of global engagement, Ty Cobb, that the organization would be making a major push into international work as recently as January of this year.
"I definitely think the domestic work will continue to be our focus," Cobb said in a January interview when asked whether the organization might move into international work if there was a major victory on the marriage issue. At the time, Cobb was senior legislative counsel with a background in federal legislation from a position as staff to the late Massachusetts Senator Edward Kennedy.
And it was certainly a concept the organization hadn't introduced to its large membership base. "Currently we haven't done the membership-level kind of organizing around this work — it's not something we have experience about … quite yet," Cobb said.
Cobb told BuzzFeed by email on Monday that the organization isn't "looking to create a new model of global engagement" with the new initiative, "but rather to bring resources and expertise to bear so that we add value to these critical fights."
It has identified areas that are "within core competencies of our organization," including creating fellowships for foreign LGBT activists in its DC offices, tracking anti-LGBT forces abroad, and using its clout stateside to assist the work of foreign LGBT activists.
On Monday, it launched a campaign to support Russian LGBT activism that may be a model of its actions going forward. It hopes to raise funds for Russian LGBT groups through the sale of T-shirts that read "Love Conquers Hate" in Russian over the HRC's logo.
This "is an example of work that is supported by local groups and will in fact benefit them financially," Cobb said.
Anastasia Smirnova, spokeswoman for a working group of six Russian LGBT organizations, told BuzzFeed she gave the organization credit for asking for a "green light" on this campaign from Russian activists, in contrast to other Western organizations that she said have tried to mobilize around the Olympics and the "homosexual propaganda law" without consulting activists on the ground.
Roberta Sklar, senior strategist with the New York-based International Gay and Lesbian Human Rights Commission, said the HRC had the opportunity to make "a great contribution in the global LGBT movement" by using its leverage with multinational corporations to advance LGBT rights abroad.
"I know of no better western-based organization than HRC that could put pressure on multinational corporations and on the US corporations abroad to fulfill the standards that they hold in the United States for workers," she said.
But, she cautioned that as HRC and other newer organizations enter the international sphere, they need to "approach our mutual work with a certain amount of humility [and] with an understanding that there is a huge learning curve."
HRC's history makes many activists skeptical, however. They are concerned with how HRC clashed with existing organizations on the state level when it expanded its focus from federal issues to including limited involvement in state-level politics. Interactions between the DC-based, insider organization and the more activist state organizations often were tense and sometimes acrimonious, although HRC and the state groups eventually adopted a far more cooperative relationship after several years.
"As far as I understand, [HRC does] not consult," said Sonia Corrêa, who co-coordinates Sexuality Policy Watch from the organization's Rio de Janeiro office.
If Americans really wanted to support international LGBT efforts, she suggested, money would more usefully be allocated to experienced international organizations. Advocates often point to International Gay and Lesbian Human Rights Commission and the Astraea Foundation for their long track record of carefully consulting with advocates on the ground. Working across international borders "is really a minefield," Corrêa said.
This history is especially troubling to activists like UHAI's Muguongo, who sees the initiative as "imperialistic."
"We are not sitting down somewhere waiting for salvation to come from the North," Muguongo said. "Don't come and 'help' us — come and work with us…. There are organizations that are working locally and they have their own ideas about what the struggle means."
The fact that HRC is funded by Singer's money only highlights this worrisome dynamic, activists said.
Singer, founder of the hedge fund Elliott Management who currently has a personal fortune of $1.25 billion, built some of his wealth on "vulture funds." These buy up the sovereign debt of countries in financial crisis, reject the debt restructuring deals negotiated with other creditors, and then seek repayment of bonds through the courts.
When news of the HRC initiative broke, international LGBT activist Scott Long devoted a lengthy post to Singer's vulture funds on his website.
Long, who founded Human Rights Watch's LGBT program, is a controversial figure in international LGBT advocacy for zealously attacking Western advocates he sees as riding roughshod over in-country organizations working in Africa, Asia, and Latin America. He left Human Rights Watch after a personal feud with British activist Peter Tatchell, for which Human Rights Watch ultimately issued a public apology. He is now a visiting fellow at Harvard Law School currently is based in Cairo, and his post critical of the move was circulated widely in LGBT circles.
Included in the list of examples Long provided was a 2006 suit to seize oil exports in order to collect on debts by the government of Congo-Brazzaville, which the Financial Times reported then had one of the highest debt burdens in the world. While some poverty advocates praised the lawsuit for shedding light on corruption in the country's financial management, Singer and other holders of the country's debt profited handsomely from a desperately poor nation.
Long illustrated the post with an image of HRC's iconic equality sign drenched in blood.
In an interview, however, Long pulled back somewhat, saying that the source of the funds may not be "insurmountable" for HRC to effectively build international partnerships. But, he said, "they are going to have some explaining to do."
And, he added, announcing the campaign via an interview between Singer and The New York Times' Frank Bruni for a column about how the donation illustrates Republicans' growing receptivity to LGBT rights, was tin-eared to the global context. Singer did not respond to a request from BuzzFeed for comment.
"I think they've made one [mistake] and they're going to have to fix it," Long said, adding that they should start by raising money for the effort that is "a little bit cleaner."
But the baggage that comes with the funds may be hard for some advocates to move past. It certainly made it unthinkable to UHAI's Muguongo that HRC could ever work in the region using this money. One of her organization's top priorities is to support LGBTI advocates in the neighboring Democratic Republic of Congo, where the Congo-Brazzaville suit is well-known.
LGBT people in poor countries are hurt by poverty as much as because of homophobia and transphobia, she told BuzzFeed. The issues cannot so easily be separated, she explained, and taking money that she views as coming from the poor to advance LGBT rights does exactly that.
"You cannot hurt with one hand and say you're helping with another," she said. "It is not money that should used by anyone for LGBTI work any side of the world. It's an insult."
This story has been updated to clarify that vulture funds are not the primary source of Paul Singer's fortune. They presently account for 2 percent of assets managed by his company, Elliott Management.