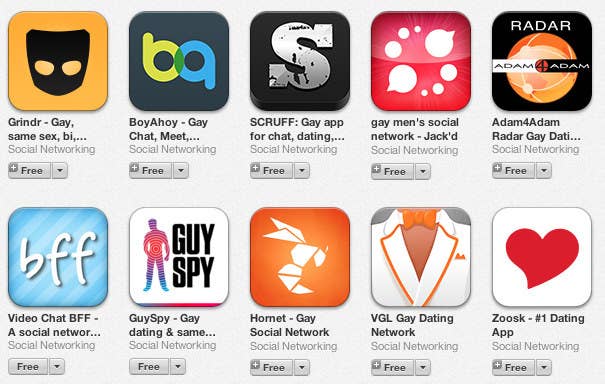 Indonesian police are taking aim at Grindr and other gay social networking apps following the arrest of three men accused of running a "gay prostitution ring" selling underaged boys for sex.

The arrests come amid an unprecedented uproar about homosexuality in the country, where it has never been a major political issue before this year. Members of the legislature announced in March that they would begin work on legislation to ban "gay propaganda" online. The country's Constitutional Court is likewise currently in the middle of hearings on a petition to make consensual homosexual acts a crime, along with all sex outside of marriage.
On Aug. 30, police announced they'd arrested a 41-year-old man identified as Ario Raharjo for allegedly using social media to offer adult men sex with underage boys in Bogor, a city of about 1 million people just to the south of Indonesia's capital, Jakarta. Police say Raharjo has previously been jailed on prostitution charges and has worked as a counselor with an HIV NGO; they have reportedly been unable to identify the organization he worked for. They later arrested two others in connection with the operation — they have been publicly identified only by the initials U and E.
Police have told local media they have identified 148 victims of the network, though only 27 of them are reportedly between the ages of 13 and 17.
Police initially arranged to meet Raharjo through Facebook by posing as a customer, according to reports, and the court reportedly blocked one account Raharjo is accused of using to find customers. But on Thursday the head of the national police's cybercrime unit said Grindr and 17 other gay social networking apps were also being used for prostitution based on the contents of the suspect's iPad. (Grindr and Facebook did not immediately respond to requests for comment.)
On Friday, Indonesian media reported the list of other services under review include Jack'd, Hornet, BoyAhoy, Blued, Romeo, VGL, GROWLr, GayPark, Adam4Adam, Guyz, Scruff, Surge, Gaydar, Krave, Gay Times, Gay Cities, and Maleforce.
CNN Indonesia reported that the head of the national police's cybercrime unit also asked the Ministry of Communications — which earlier this year briefly blocked Tumblr over LGBT content and demanded some messaging apps remove LGBT-themed emoji — to review the use of Grindr in Indonesia. This was followed by a demand from one of Indonesia's largest Muslim organizations, Muhammadiyah, that the ministry immediately ban Grindr in the country.
"Do not wait until case emerges, we cannot let the destruction of the nation to happen," Muhammadiyah General Secretary Abdul Mu'ti was quoted as saying in the right-wing tabloid Republika. "If it is necessary, we must target and trace other sites that potentially destroy moral society."
The Communications Ministry will convene an interdepartmental meeting to consider blocking Grindr next week, a spokesperson told Republika. The panel will include representatives of the Ministry of Religious Affairs along with security and social welfare agencies.
The new prostitution case has not yet been raised directly in the Constitutional Court hearings on criminalizing homosexuality, but it bolsters some of the proposal's backers' primary arguments and they have seized the opportunity it presents to make their case more public.
"More than a few gay communities have been growing and targeting kids as victims," said Asruron Ni'am Sholeh, chair of the Child Protection Commission who testified in support of criminalizing homosexuality on Aug. 23, in a story posted on the website of the Nahdlatul Ulama, a Muslim organization with 91 million members.
"Same-sex indecency has a more serious impact because it causes not only physical but also mental damage," he said.