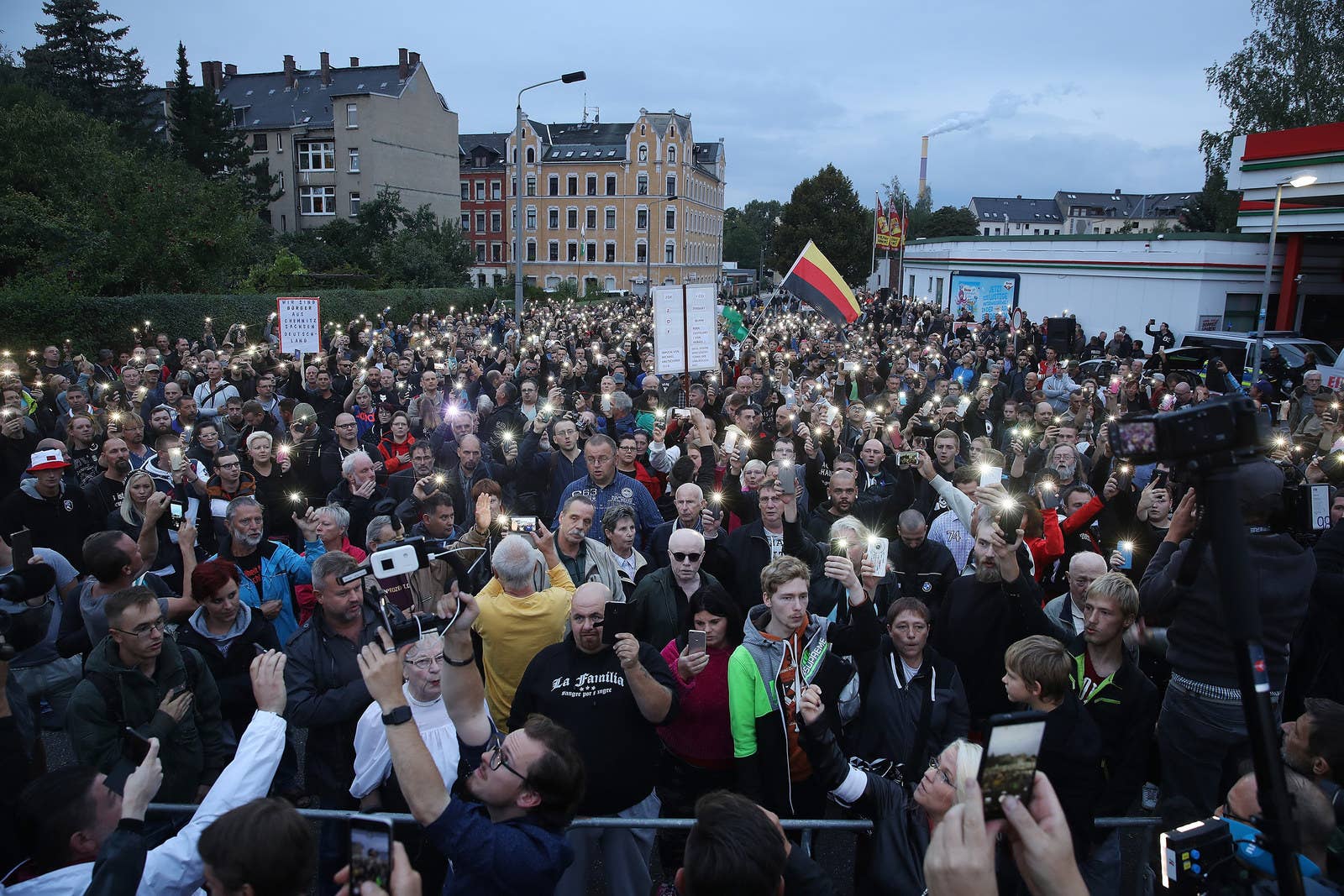 CHEMNITZ, Germany — It didn't take long for the rumors to spread.
Just hours after a man was stabbed in a small east German city last weekend, thousands of people began sharing accounts on social media that he had been killed by immigrants involved in a rape attempt. Within no time, it was being said there were two dead. Pictures were shared of a group of women said to have been beaten by immigrants.
It didn't matter that there was no attempted rape, or that much of the rest of these accounts wasn't true. The anger soon transferred to the real world. Over the next few days, Chemnitz, a town of around 250,000 people in the state of Saxony, would become the center of anti-immigrant protests that produced shocking images of people raising Hitler salutes, and mobs chasing people through the streets.
On Monday, around 7,500 people gathered to protest the death of Daniel H., a 35-year-old German citizen of Cuban descent, in a rally that saw people chant "Chemnitz to the Saxons, foreigners out!" and "We are the people." This part of Saxony, long a hotbed for anti-immigrant groups and a neo-Nazi underground, had seen right-wing protests and occasional violence before. But this time felt different.
What seemed new — and alarming — was that such a broad range of far-right groups had come together alongside overt neo-Nazis. Much like the Unite the Right rally in Charlottesville in 2017, it shook many Germans' faith that certain lines would never be crossed. When authorities and the mainstream press attempted to counter online rumors with facts, many people became convinced there was a coverup — the truth was what they knew from their Facebook timelines.
Local police were quickly overwhelmed on Monday evening and the city center descended into chaos. Many of the town's 20,000 immigrants hid in their homes, scared to go outside, as gangs stalked the streets.
A Syrian refugee who works at a local kebab shop told BuzzFeed News he was chased by a group of 10 or more thugs as he was leaving work. He said his pregnant wife, who wears a hijab, is afraid to leave the house even to go to the doctor. He said he didn't want his name used because he was afraid, and that he now wanted to move out of Chemnitz to somewhere in Germany's west.
A pizza shop owner, who goes by the nickname Momo and moved to Germany from Tunisia 30 years ago, said he even recognized his own customers in the crowd.
"They treat us like [sacrificial] lambs before Eid al-Adha," he told BuzzFeed News, adding that he also didn't want his real name to be published. "They play with us for some years and are all nice, but when the day comes, they have no problem to sacrifice us."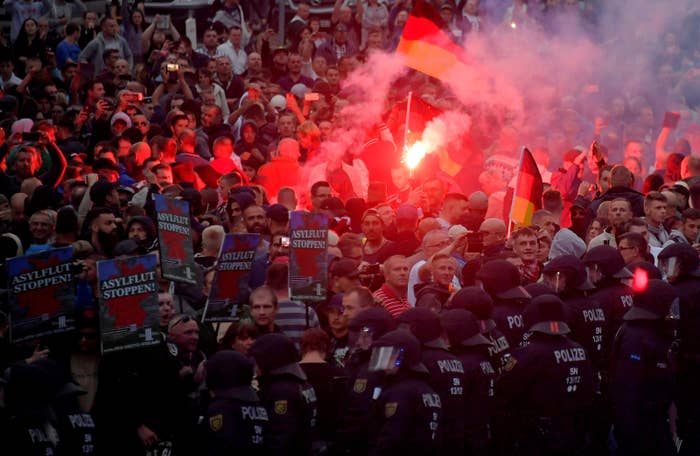 Pictures of these protests made headlines around the world. But what shocked many was the number of average citizens who rallied behind the protesters, saying they were expressing a righteous fury against immigrants that Germany's politicians have tried to sweep under the carpet. Chancellor Angela Merkel suggested the violence was a threat to Germany's post-war constitution, which included provisions designed to ensure Nazism could never return to Germany. "We have video footage of the fact that there was [hunting people down], there were riots, there was hatred on the streets, and that has nothing to do with our constitutional state," she said on Tuesday.
The furor continues to build into this weekend. Police have been deployed from across the country to prevent more violence, with four separate protests scheduled for Saturday alone. One is organized by Alternative for Germany (AfD), the far-right party that now leads the opposition in Parliament. The party's deputy leader defended the rioting by saying, "It's legitimate to go berserk after this kind of crime."
The events of the past week may yet mark a turning point in Germany — a before and after. The left hopes that Germans will recoil in horror at the images of Hitler salutes and thuggish street violence. On the other side, the AfD senses an opportunity: They hope these crowds demonstrate a broader public appetite for their anti-immigrant rhetoric, opening the door for them to make further democratic gains. Crime rates are falling in Germany according to official police statistics, but spokespeople for the AfD push wild exaggerations of the number of murders committed by immigrants, then say that the government is lying about it. Several messages to AfD representatives seeking comment were not returned.
If the German state won't protect its people, they say, then they will have to take matters into their own hands. Many mainstream politicians, fearful of losing voters to the far right, have either stayed quiet, or offered only limited criticism.
During a town hall in Chemnitz on Thursday, the deputy leader of the state government challenged an angry crowd: "If you realize who you're actually standing next to, and at last when hatred, fear-mongering, and violence are involved, every single one of you has to decide whether you're still standing on the right side of the street."
"How long will this [violence] go on?" shouted back someone from the audience. Another yelled, "Your voters are sitting here — think about it!"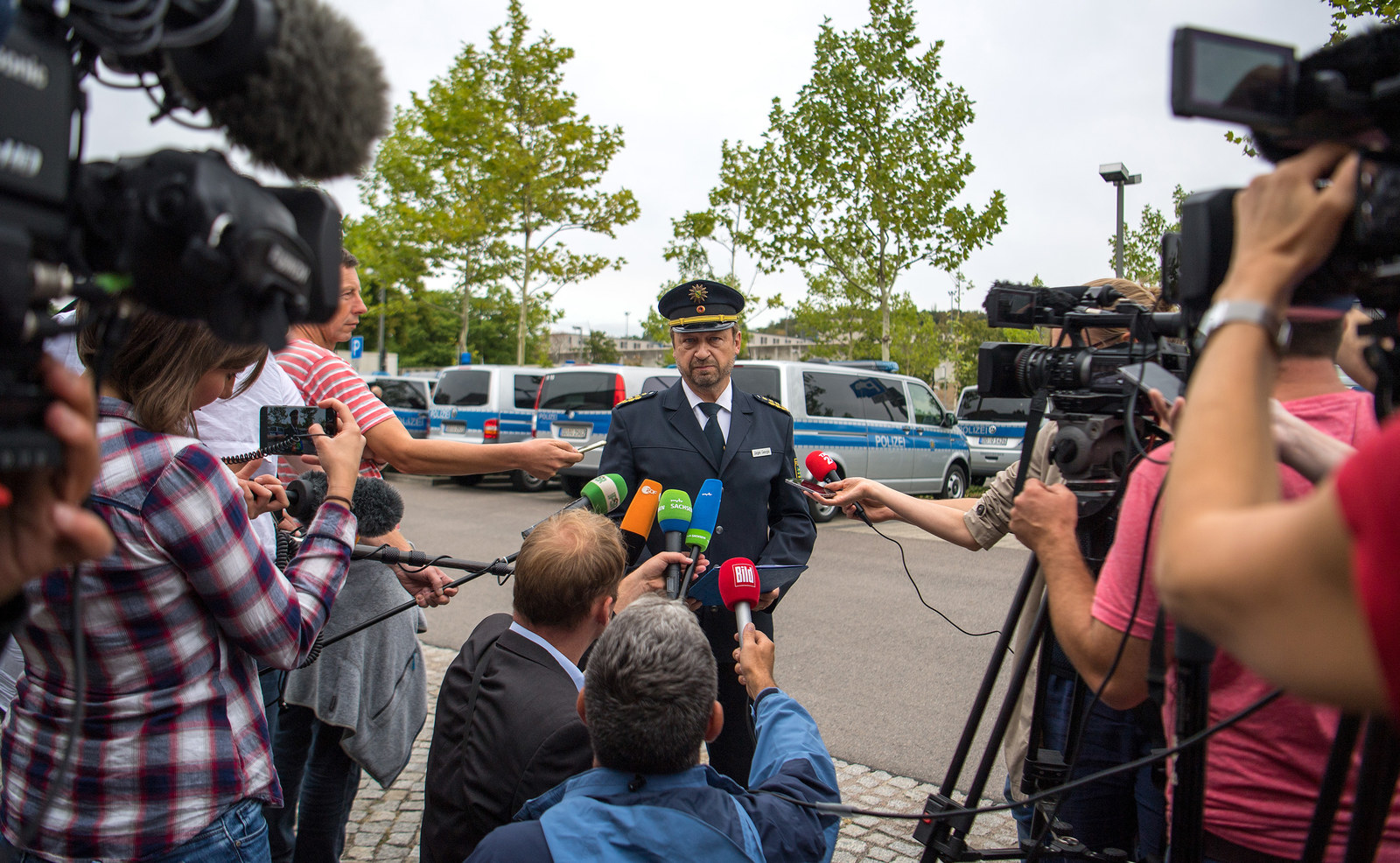 Under Angela Merkel, Germany welcomed more than 1.2 million refugees in 2015 and 2016. Many Germans felt a certain pride in this openness, a stark contrast to rising nationalist movements across the continent. There were even jokes that it was a surprising third act in a global play, in which — after two world wars and the horrors of the Holocaust in the 20th century — Germany was riding to the rescue of liberal democracy.

But, after the events of the past week, there is a growing fear that the backlash against these immigrants could rapidly push the country back toward its darkest past. And this could happen faster than ever before, because false reports whip up fear online at a speed almost impossible to stop, playing into the fears of many voters. It doesn't seem to matter that the rumors are often broadcast by neo-Nazis and far-right groups that would have repelled the average German just a few years ago.
At the town hall in Chemnitz, many complained that they were being tarred with the brush of Nazism, simply for standing up for their fellow Germans — as they see it. "I was at this demonstration and I was called a Nazi," said one man. "8,000 people were not Nazis, but the press called those 8,000 people and all Germany Nazis!"
Saxony's premier, Michael Kretschmer of Angela Merkel's center-right Christian Democratic Union, began his remarks that evening by addressing voters just like this man.
"I've met so many people who feel misjudged and come up to me to say, 'But we're no Nazis!' And I know that," Kretschmer said.
Though he criticised the protests, which he conceded had "got completely out of control," and pleaded with the audience to wait for the police to release the full account of Sunday's killing, Kretschmer told BuzzFeed News he felt obliged to respond to people's perceptions — even if they weren't based in reality.
"For me it's the fact that when you walk through the city center, or you go home after work as a [woman] shop assistant, some people say they feel unsafe," he said. "That wasn't the case three or four years ago. And now it's not about the question of what actually is or isn't, but how people perceive the situation."
Official statistics say most violent crime is down in Chemnitz, as in the rest of Germany. It's true that more people are being charged with sexual assault, but that's because the sexual assault laws were tightened in 2016, not because the country has grown more dangerous for women.
Social media is partly to blame, said Chan-jo Jun, a lawyer who brought a landmark lawsuit against Facebook on behalf of a Syrian refugee smeared online. His litigation helped lead Germany to pass one of the world's most aggressive laws targeting hate speech last year, but even now false information can still whip up hate online at blinding speed.
"People don't trust the media; they only believe what they see in their timeline," Jun said. "Until we get control back of our timeline, people will keep believing fake news. There's no point in having fact-checkers in the regular media, because people don't believe them."
Facebook did not respond to a request for comment for this story.
One of the engines for pumping out false information about the Chemnitz killing was the Facebook page of a group called Pro-Chemnitz, which has three seats on the local city council and organized the protest on Monday that ended in mob violence. In calling for the protest, it claimed the victim in Sunday's stabbing was "a brave helper who lost his life trying to protect a woman." The post is still online.
The group knows just how important Facebook is to its political fortunes. "We are completely social-media based," said Benjamin Jahn Zschocke, the group's spokesperson. "If our Facebook page were to be deleted, we would disappear completely."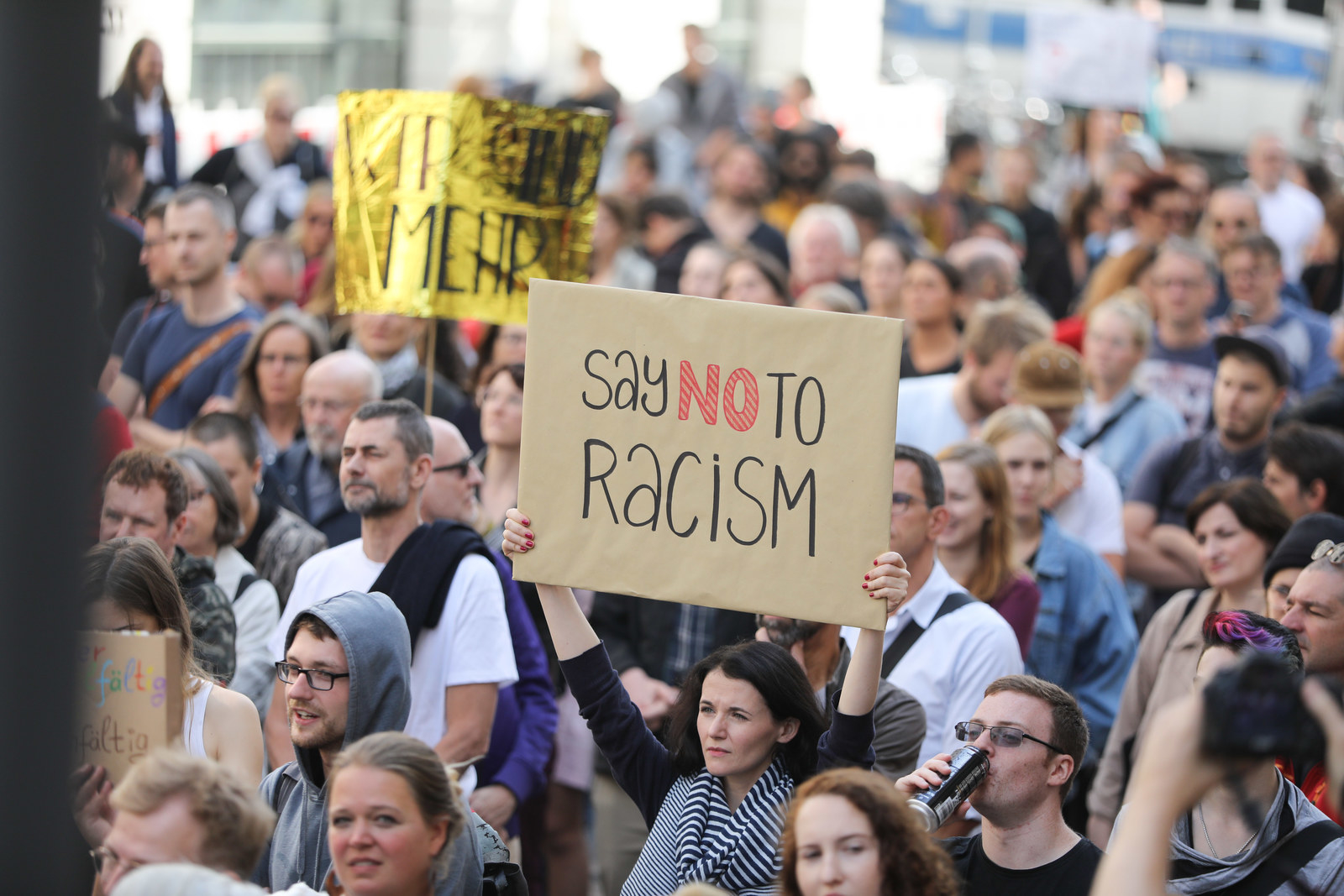 Even in death, Daniel H. has become caught up in a vicious online battle.
Nationalists have tried to turn him into an anti-immigrant symbol. But as a Cuban German, he is a poor poster child for the far right's cause, and in another time might have been held up as a product of multicultural Germany.
Daniel H. — German media customarily does not name victims to protect their privacy — appears to have stopped updating his Facebook page some time ago, but it suggests his politics leaned left. One of his last posts was about a protest that began on Turkish social media, in which men wore miniskirts to protest the rape and murder of a 20-year-old woman. He shared posts endorsing decriminalizing weed and mocking critics of Chancellor Merkel. He once shared a post that said, "Nationality doesn't matter, an asshole is an asshole."
After he died, people took to Facebook saying they were his friends and pleading for others not to heed the far right's message. "I'm asking you for one thing: Don't let your grief turn into anger and hatred," one wrote. "Those rightists using this as a platform are the ones we got into fights with because they didn't consider us German enough. Everyone who has known Daniel H. knows, that this can't possibly have been his will. Don't let yourselves be instrumentalized, just mourn."
The police have released information slowly, but many people have wanted answers at the speed they've grown accustomed to online, forcing officials to play a kind of game of whack-a-mole.
Daniel H. was one of three people injured in an altercation early on Sunday morning, they confirmed, but was the only one who died. There was no sexual assault. Two men in their early twenties, one from Syria and the other from Iraq, were arrested on manslaughter charges later that day.
It quickly emerged that one of the accused had been due to be deported because his asylum application was denied, but he was still in the country while this decision was under appeal. One of the accused also had a criminal record that included assault charges and narcotics violations, the German newspaper Die Zeit reported.
Their full names are also publicly known, though only because a prison official in the state capital leaked them illegally. Right-wing figures including a member of the AfD and Pro-Chemnitz immediately posted them online.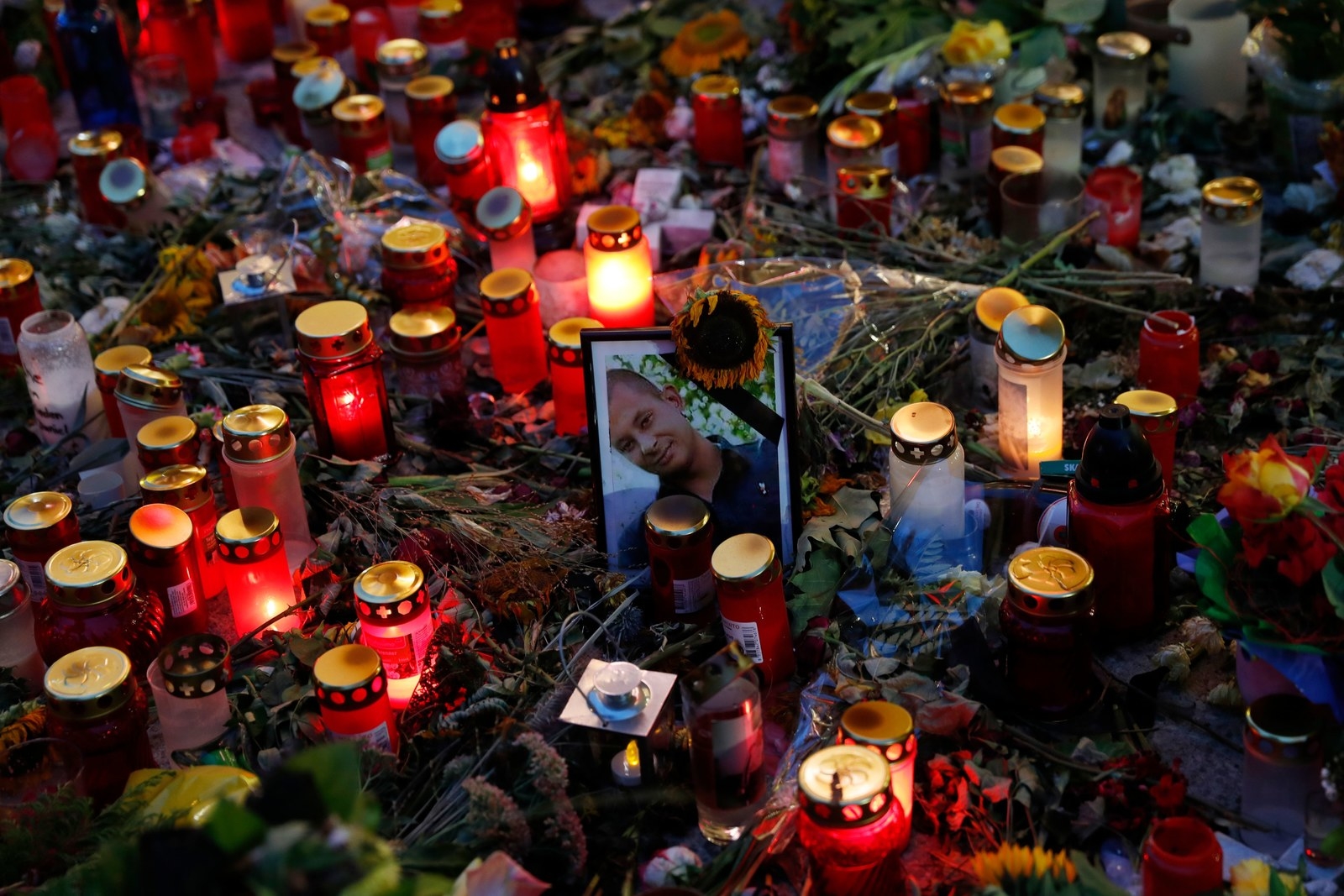 No one knows what will happen next in Chemnitz.
Federal authorities and neighboring states have sent police to Saxony to deal with the next protests organized by both the right and left. The showdown in Chemnitz could continue into next week with a concert organized by a left-wing band on Monday night.
But an AfD march on Saturday evening may be the most politically significant, with the party poised to make big gains in Saxony when the state holds elections next year.
In the statement announcing the march, the AfD called Daniel H. "the next, avoidable victim of an irresponsible government policy that accepts the multiple deaths of natives with icy coldness."
The statement continues, "we want to mourn for Daniel H. and all the dead of forced multiculturalization in Germany," instructing participants to march silently, dressed entirely in black.
"The cartel media have tried to make Chemnitz, the city of the victims, into a city of the perpetrators," the statement said. "They will leave no stone unturned to discredit the peaceful protest. Do not give the press representatives the pictures they are waiting for."

Florian Franze contributed reporting from Chemnitz.