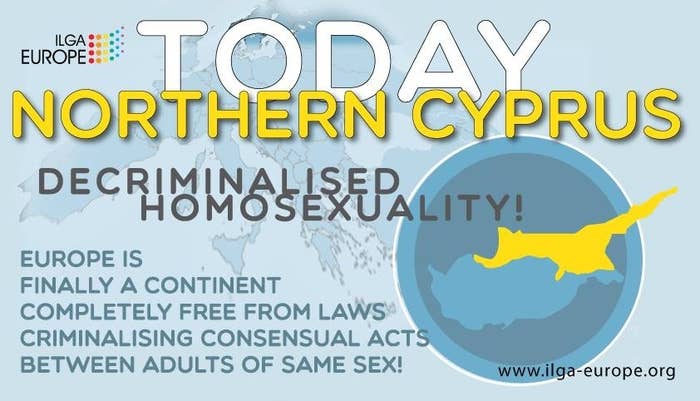 The parliament of the Turkish Republic of Northern Cyprus voted Monday to repeal the last law in Europe criminalizing same-sex intercourse.
The bill repealing the sodomy law, passed with 28 votes in favor, one opposed, and 21 abstentions, now heads to the territory's president, Derviş Eroğlu, but LGBT activists tell BuzzFeed they have assurances that he will not veto the legislation. The move comes partly in response to a complaint against the law filed in the European Court of Human Rights, which ruled in 1981 that sodomy laws were a breach of human rights accords in the case Dudgeon v. the United Kingdom.
Cyprus, which lies in the Mediterranean between Greece and Turkey, is a former British colony now divided into Greek and Turkish sections. Northern Cyprus is officially known as the Turkish Republic of Northern Cyprus, and its government is recognized only by Turkey.
The International Lesbian and Gay Organization's European branch marked the vote in Northern Cyprus as an end to the decades of activism since that ruling.
"It took Europe 33 years to completely free the continent from these unjust and discriminatory laws," said ILGA-Europe co-chair Paulo Côrte-Real in a statement. "[We] can finally call Europe a continent completely free from laws criminalising homosexuality."
Though the law had only been used in cases of consensual sex a handful of times in the past few years, its repeal removes a cloud of fear and enables new visibility for LGBT people in the territory, said Filiz Bilen with the Queer Cyprus Organization.
"It is a big step," she said. "It is a milestone in the struggle for LGBT rights."