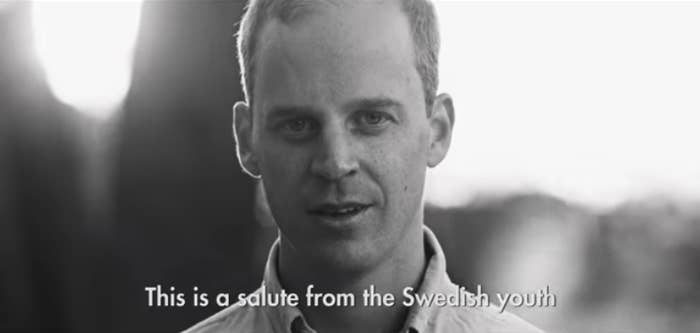 A new party that formally launched in Stockholm on Monday hopes to capture the anti-immigrant vote in Sweden, potentially sparking a civil war on the far right that could derail support for its largest nationalist party.
Sweden's elections in September will likely attract close attention from immigration opponents around the world. The number of immigrants Sweden accepted during the refugee crisis — 240,000 new arrivals to a country of just around 10 million between 2014 and 2015 — and Sweden's progressive reputation has made it a favorite subject for right-wing media in the United States. That fervor broke into the mainstream media with the frenzy last spring began by President Donald Trump's apparent allusion to a terrorist incident "last night in Sweden" that never occurred.
Inside Sweden, the immigration backlash created an opening for the Sweden Democrats (SD), a party that originally began out of skinhead and neo-Nazi circles in the 1990s. But it has purged many members who were caught flirting with neo-Nazism or white nationalism in a deliberate effort to break into the mainstream. Polls last year put the Sweden Democrats in second place, though it has now slipped into third with 16% of Swedes supporting it in recent polls as the center-right Moderate Party has also begun campaigning against immigration.
The new party's name, Alternative for Sweden, echoes the German party Alternative für Deutschland. Last October, the AfD became the first far-right faction to enter Germany's parliament since World War II. The leaders of Alternative for Sweden come from a faction ousted from the Sweden Democrats in 2015 after being accused of anti-Semitic comments and relationships with white nationalists. And the party's launch is a sign that factions the Sweden Democrats are now shunning are organizing to stay players in nationalist politics.
"After eight years in parliament it is clear that SD is paralyzed — SD politicians are well-fed, comfortable and tired," said the new party's leader, Gustav Kasselstrand during the launch event, which was attended by around 200 people and major Swedish news outlets at a dive bar in Stockholm. "I have paid a price for my convictions — I have been maligned and treated badly but I will never stop fighting..... Together we are an alternative for Sweden."
Kasselstrand told BuzzFeed News that the accusations against him and his allies were trumped up to prevent them from becoming rivals to the Sweden's top leaders. But, he said in an interview before the party's official launch, he believes the Sweden Democrats had grown too soft on immigration in the hopes of being acceptable to other right-wing parties in a governing coalition.
He specifically faulted the party for not pushing for a policy of deporting immigrants who entered the country illegally. He also called for an end to allowing foreigners to seek asylum in Sweden.
"They less focused on really speaking out on Sweden's problems," Kasselstrand said. "They don't want to speak anymore about the repatriation of illegal immigrants."
A spokesperson for the Sweden Democrats did not immediately respond to a request for comment.
Kasselstrand was one of many kicked out in the SD's 2015 purge, which also led the party to shut down its youth wing. Party leaders alleged Kasselstrand and other youth wing leaders had relationships with the white nationalist Nordic Youth, who had espoused anti-Semitic conspiracy theories and "expressed admiration for Adolf Hitler."
Kasselstrand said these charges were made up, but he and others of the ousted members appeared in a 2014 video that showed solidarity with the Identitarian movement, an effort to rebrand white nationalism that began in France but has now found support across Europe and the United States such as Richard Spencer.
Titled "Salute to the European Youth," the black-and-white video appeared directly modeled on a "Declaration of War From the Youth of France," and declared that "our insane experiment with multiculturalism and mass immigration is tearing apart our previously united nations."
Among those in attendance at the kickoff Monday night was Ingrid Carlqvist, the leader of a new effort called the Free Sweden Association to bridge diverse far-right factions that is also a sign of new organizing efforts of the radical fringe.
Carlqvist is a former journalist who used to write for the Gatestone Institute, a US-based anti-immigration group. She now promotes a conspiracy theory that Jews were behind bringing Muslims to Sweden and collaborates with the white nationalist website RedIce. Her partners in this group reportedly include Magnus Söderberg, the former leader of the Nordic Resistance Movement, which is running this year as a Nazi political party, and Robin Holmgren, who fought in Ukraine with the Azov Battalion, a nationalist faction with neo-Nazi links.
Carlqvist's collaboration alone is a "game changer in the Swedish far right," said Daniel Poohl, the CEO of the Swedish anti-racist organization Expo, bringing together far-right factions that have resisted cooperation in the past and have not been able to find homes within the Sweden Democrats or the small neo-Nazi Nordic Resistance Movement.
Poohl seems less concerned about the new Alternative for Sweden effort, writing last month that it will have an uphill climb against the Sweden Democrats. But Katerina Janouch, a popular right-wing writer with a large following in Sweden who attended the kickoff Monday, told BuzzFeed News she thought Alternative for Sweden could tap into the anger the Sweden Democrats no longer speak to.
"The Sweden Democrats are getting to be like the mainstream politicians. They are not radical enough," Janouch said. "People are really fed up, so disappointed and angry, bitter and afraid .... So [Alternative for Sweden] stands a good chance if they handle their position with care."