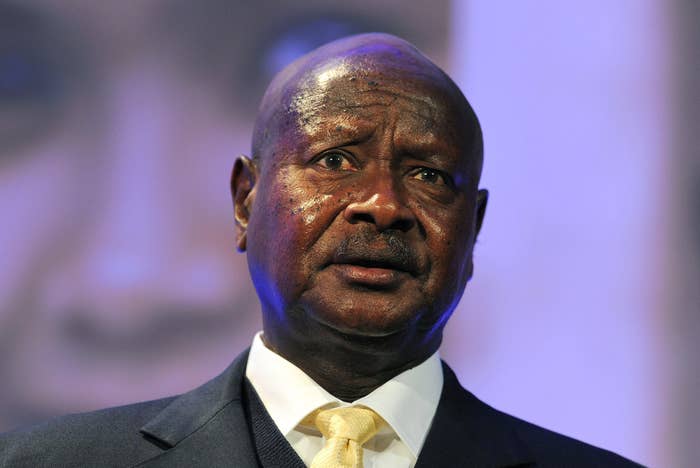 KAMPALA, Uganda — Facing criticism over the U.S. response to Uganda's harsh new anti-gay law, the Obama administration has sent a team from several agencies to review aid to Uganda.
That team includes representatives from the Centers for Disease Control and Prevention headquarters, USAID, and the State Department's Office of the Global AIDS Coordinator, according to sources who participated in discussions in the Ugandan capital.
Administration officials have said that the administration has been "reviewing" aid since the enactment of the Anti-Homosexuality Act, which imposes up to a life-time prison sentence for homosexuality, but has only specified a handful of concrete steps since the law was passed over a month ago.
One of the discussions' attendees, Kikonyongo Kivumbi, said he welcomed comments during the meeting from Ambassador Scott DeLisi, who said that "values form the DNA of the American-Uganda relationship."
But Kivumbi, the executive director of the Uganda Health and Science Press Association, suggested that U.S. actions since the Anti-Homosexuality Act became law haven't sent that message clearly.
On the same night the United States announced four actions last week on the anti-gay law, U.S. officials also announced an enhanced military mission to hunt for warlord Joseph Kony. That military mission, which boosts support for the Ugandan military, muted the severity of U.S. actions in response to the law, Kivumbi argued.
"It was not the right time. It appeared like they were giving in" to Ugandan President Yoweri Museveni, Kivumbi said. "There is a sense among the Ugandan political class that these are petty threats" coming from the Americans.
One of the steps the Obama administration took was to cancel a Center for Disease Control study that was to be conducted with a Ugandan university, examining high-risk populations, specifically men who have sex with other men (a group known as MSMs in public health lingo). Kivumbi also said that actually sent exactly the wrong message. The move, he said, implied that Ugandan officials could have veto power over U.S.-funded HIV interventions as they implement the anti-gay law.
The U.S. government "cannot put on hold MSM support programs [in Uganda] under the pretext that they are waiting for guidelines from government on how the act is going to implemented," he said. He said he felt like this was a throwback to a fight Ugandan activists had to get the U.S. to invest in interventions with MSMs in the first place, which he said were resisted because of bilateral agreements about how the program would operate.
"They are still stuck to observing bilateral agreements with the host countries even if those host countries are in direct violation with nondiscrimination and a number of American values like human rights," he said.
National Security Council spokesman Jonathan Lalley said the study was suspended because "it could pose a danger to respondents and staff."
But Julie Dorf of the Council for Global Equality, which advocates for LGBT rights in foreign policy, echoed Kivumbi's sentiment.
The U.S. "message has been confusing and their actions have been insufficient," she said, noting that a U.S. Embassy statement issued Friday that said there had been "no change in U.S. assistance to Uganda" undercut the impact of the adjustments that had been announced the week earlier.
At stake is a more fundamental question than just the U.S. commitment to LGBT rights in Uganda, Dorf said. "I think what the U.S. government is not taking seriously enough is much bigger than the Anti-Homosexuality Act, is the extent of corruption and the way our actions are supporting a dictator. It's missing an overall human rights policy."
The Obama administration insisted that the mission to get Kony and support human rights in Uganda were not "mutually exclusive."
"We will take additional steps to demonstrate our opposition to the Act and our support for LGBT persons in Uganda," Lalley, the NSC spokesman, said.
"We know there are many people who share our concerns about Ugandan President Museveni's recent enactment of the Anti-Homosexuality Act. Ensuring justice and accountability for human rights violators like the LRA and protecting LGBT rights aren't mutually exclusive. We can and must do both," he added.
Sen. Chris Coons, a Delaware Democrat who chairs the Senate Foreign Relations subcommittee on Africa, told BuzzFeed that while he was very supportive of the mission to get Kony, that work "cannot prevent our also holding the Museveni administration responsible" for the anti-gay law and said he "expected and hoped" more would be done to do so.
"I think there has to be action beyond what has so far been announced in order to send that message clearly not just to Museveni," Coons said, "but to other countries around the world that may otherwise be tempted to think that a strategic partnership will also blind us to the importance of also being aligned on values or holding accountable our allies where we have fundamental differences in values such as this."