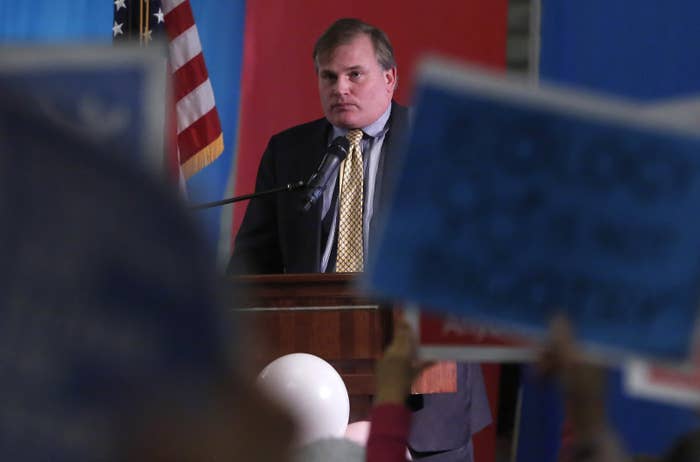 Brian Brown, longtime leader of the National Organization for Marriage, announced Tuesday that he is currently in Moscow to "promote" a manifesto for the global organization he now leads, the International Organization for the Family.
This is the first public indication that collaboration between Russian and US social conservative activists could regain steam under President Donald Trump, who has said he wants a closer relationship with Moscow. Social conservatives in the two countries had been building alliances following passage of Russia's ban on so-called "gay propaganda" in 2013, but many conservatives in the US backed away from this push after Russia invaded Ukraine the following year.
"For whatever geo-political differences might exist with some countries in eastern Europe, we have a strong common bond with these countries of reverence and appreciation for the natural family and the importance of a child enjoying the love of his or her married mother and father," Brown wrote in an email, which he said was sent from Moscow Tuesday afternoon, soliciting donations for the International Organization for the Family.
Brown's International Organization for the Family was known as the World Congress of Families until November 2016, when he rebranded it as part of an apparent effort to make it a more focused advocacy organization. The World Congress of Families had spearheaded tighter ties with Russia before the Ukraine crisis, including planning a global summit to be held inside the Kremlin in 2014 that was billed as the "'Olympics' of the international Pro-Life movement supporting the Natural Family."
But these efforts were disrupted when Russia seized Crimea from Ukraine and became locked in a protracted standoff with the US and EU. The World Congress of Families ultimately pulled its name from the Moscow event after several allied US organizations withdrew their support. But several World Congress of Families leaders remained involved in organizing the conference, which was held under the auspices of foundations funded by close Putin allies, one of whom also is linked to Russian-allied rebels in Ukraine.
Russian business newspaper RBC suggested last week that officials in Moscow are eager to restart this collaboration. The report quotes an unnamed member of parliament from President Vladimir Putin's United Russia party saying a group of lawmakers are already working to "build tight relations with those American colleagues who will be ready to be in contact with Russian deputies" hoping that "a program of cooperation will be worked out, including on family values."

One Russian lawmaker, chair of parliament's budget committee Andrei Makarov, attended the National Prayer Breakfast in Washington where President Trump spoke on Thursday, where he was pictured with at least one member of Congress. RBC reported that Makarov was there in place of another MP, Duma Foreign Relations Committee Chairman Leonid Slutsky, who was originally invited but unable to attend. (Slutsky is one of several officials barred from entering the US after the invasion of Ukraine.)
Spokespeople for the two senators who co-chaired the National Prayer Breakfast, Delaware Democrat Chris Coons and Arkansas Republican John Boozman, told BuzzFeed News they were not involved in the invitations and were not aware of who had invited the Russian lawmakers.