Joshua Hughes and his brother were among the first to enter the Capitol on Jan. 6. One kick wasn't enough to break through the locked door keeping hundreds of other rioters from entering the building, according to federal prosecutors, so Jerod Hughes joined the kicking, forcefully opening the gateway to chaos.
Capitol rioters caused damages whose repair costs are estimated at $2.5 million, but according to the office responsible for maintaining the building, that estimate is a small fraction of the costs necessary to restore the historic building.
On the day of the insurrection, rioters kicked doors, smashed windows, and ruined shutters. Some rioters used chemical irritants and fire extinguishers, which damaged statues and paintings in the Rotunda, the Crypt, and the National Statuary Hall, the office of the Architect of the Capitol said in an email.
In February, the congressional Appropriations Committee approved a $30 million request for the Capitol architect's team of "highly specialized professionals" to treat and maintain damaged fabric and artwork and fund the National Guard's temporary perimeter fencing. But according to Brett Blanton, the architect of the Capitol, those funds are not enough to cover a campuswide security assessment.
In testimony to members of Congress, Blanton said that before the attack, his team was outside preparing the inauguration stage and painting the stands white and blue. Within hours, rioters destroyed the platform, damaged and stole sound systems and photography equipment, ripped two historic Olmsted lanterns from the ground, and tracked wet paint all over the stone balustrades and Capitol hallways.
A BuzzFeed News analysis of court documents in the Capitol riot cases shows the range of damage and theft caused by rioters on Jan. 6, from breaking windows to stealing police gear. Many wanted souvenirs or trophies to bring home with them, including a member of Congress's bottle of wine, a Fox News–branded football, and more.
Of the more than 350 people charged so far in connection with the riot, 35 have been charged with destruction of government property and 21 are charged with theft of government or private property, according to a review of court records.
The estimated value of the damage has consequences for defendants — if it's less than $1,000, the charge is a misdemeanor with a maximum penalty of one year in prison. But if the government estimates the damage at more than $1,000, the crime becomes a felony that carries up to 10 years in prison. The same goes for people charged with stealing government property.
The Damage
Door to the Speaker's Lobby: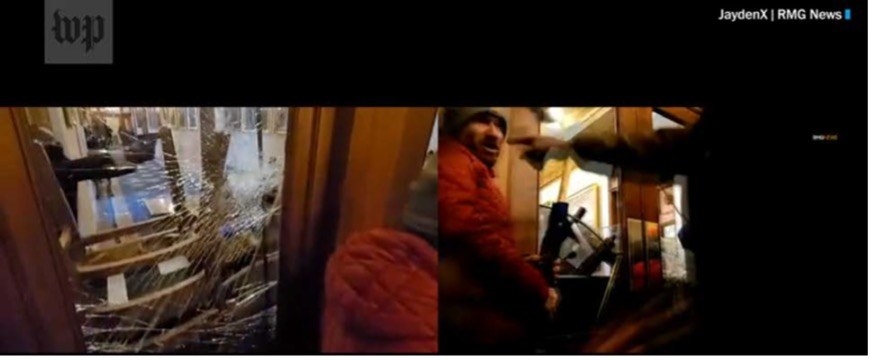 Just outside the House chamber, Chad Barrett Jones, of Coxs Creek, Kentucky, allegedly used a flagpole to break the glass of the door. Prosecutors claim Christopher Grider, of Waco, Texas, tried to kick and push the door open. He then allegedly gave Zachary Alam, of Denver, Pennsylvania, a black helmet to assist Jones by breaking the windows of the door.

Gateway into the Capitol: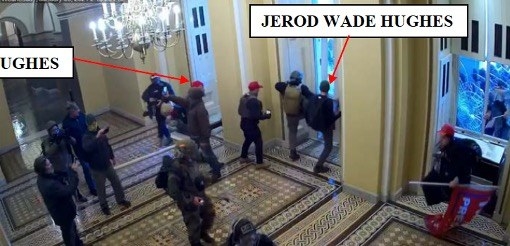 Jerod and Joshua Hughes, of Montana, allegedly helped kick a door from the inside of the Capitol until the lock broke, allowing more rioters to enter the building.
Multiple windows: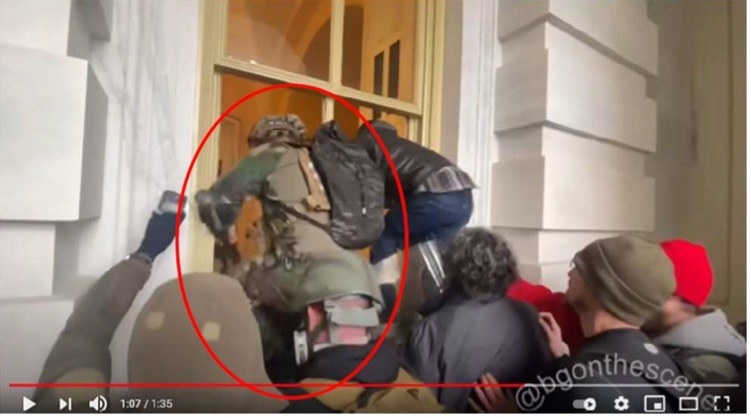 Robert Gieswein, of Woodland Park, Colorado, held a baseball bat while allegedly encouraging Dominic Pezzola, as he broke through a window into the Capitol using a police riot shield. Ethan Nordean, of Washington, and Jerod and Joshua Hughes are also accused of being at the scene and becoming some of the first people to break into the Capitol.

Troy Faulkner, an Ohio man wearing his company jacket with his phone number on the back, allegedly kicked a window, breaking into the Capitol.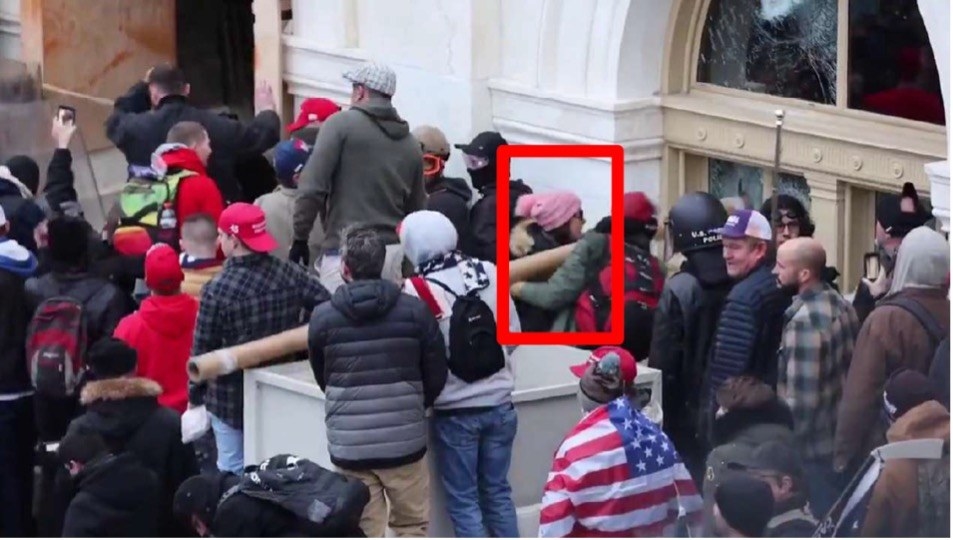 Rachel Powell, a Pennsylvania woman, allegedly used a large pipe to violently ram into a window at the Capitol and used a megaphone to give detailed instructions to rioters on how to break in further.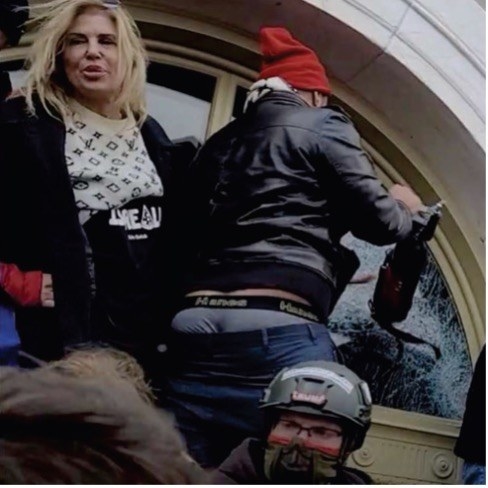 Gina Bisignano, a Beverly Hills salon owner, allegedly encouraged the crowd to go in through a broken window. Jordan Mink, a Pennsylvania man, was accused of smashing a window with a baseball bat. Ryan Nichols and Alex Harkrider, both of Texas, posed for a photo in front of a broken window, Nichols with a crowbar in his hand; they're not charged with breaking it.

Items stolen (or attempted to be stolen)
Speaker of the House sign:
A sign reading "Speaker of the House Nancy Pelosi" was allegedly stolen by Emily Hernandez and William (Bill) Merry, an uncle and niece duo from Missouri.
Police vest and helmet:
William Norwood III, of South Carolina, allegedly stole a police vest and helmet he found outside of the Capitol and said he left the gear at his hotel before heading home.

Lamps, chairs, and drawers: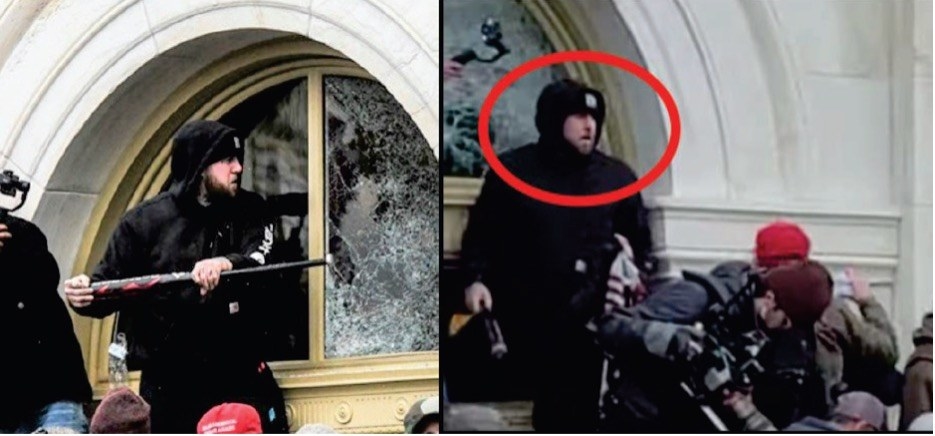 Jordan Mink allegedly used a baseball bat to break a window, and he and others removed chairs, a lamp, and drawers from the Capitol through that window.

Police riot shield and bulletproof vest: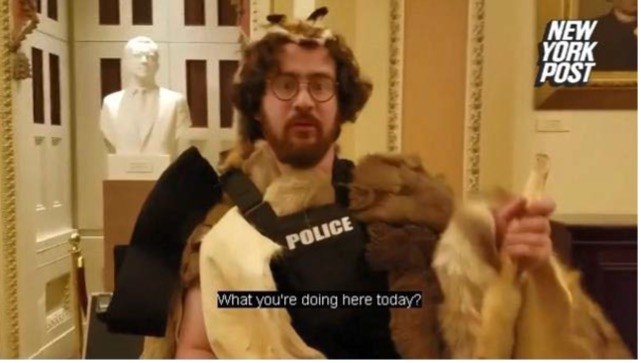 Aaron Mostofsky, the son of a Brooklyn judge, was caught wearing a police bulletproof vest and holding a riot shield inside the Capitol. He told the New York Post he found them lying on the ground. Prosecutors have said their total value is more than $2,100, making the alleged theft a felony.

"Members Only" sign: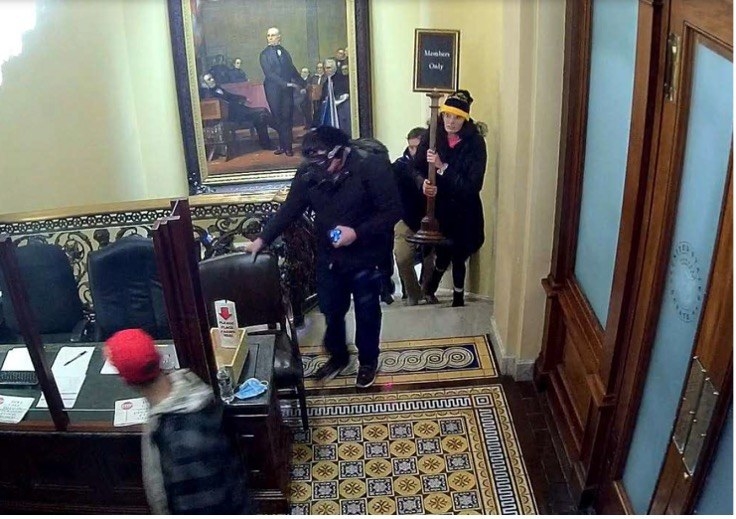 University of Kentucky student Gracyn Courtright allegedly posted a photo of herself (that's since been deleted) holding a "Members Only" sign (meaning members of Congress), but it was confiscated as she left the Capitol.

Documents from Mitch McConnell's desk: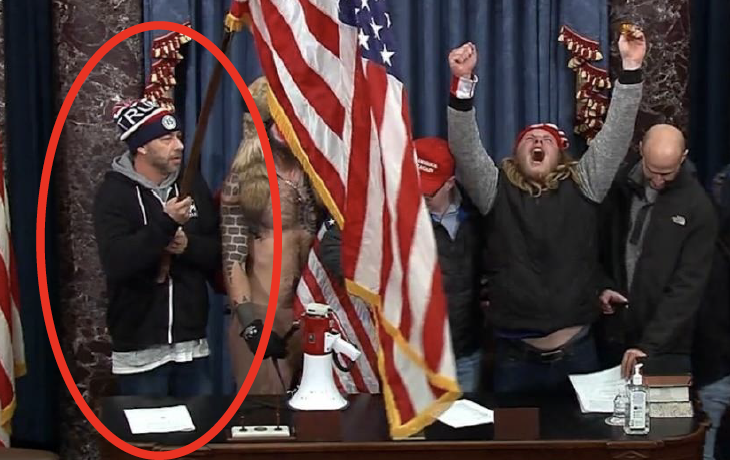 Tommy Allan, of Rocklin, California, allegedly entered the Senate chamber and stole documents. He said on camera that one item was signed by Trump, and a special agent reviewing the footage recognized Trump's signature at the bottom of the document.
US flag in the Senate chamber: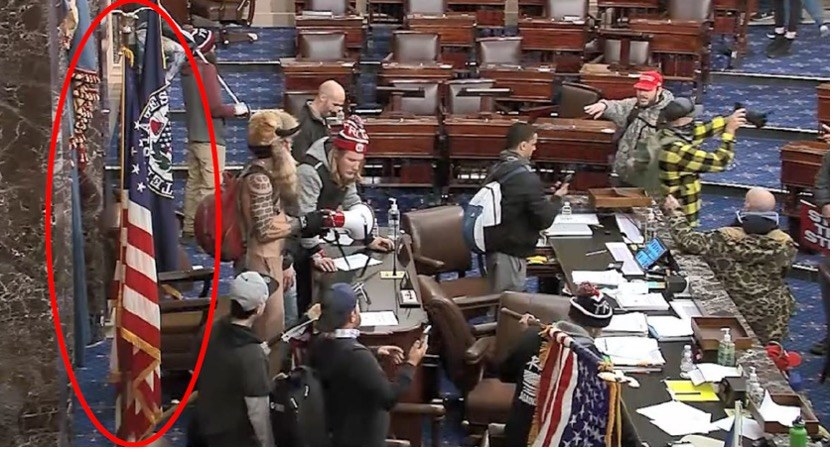 Allan allegedly tried to leave the Capitol with the flag but was unsuccessful. In a video, he said, "They took my flag," to an off-camera person.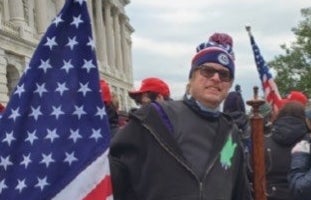 Ohio men Dustin Thompson and Robert Lyon were allegedly approached by the police as they waited for an Uber to leave the scene. Police told Thompson to put down the coatrack, and he complied but fled on foot, according to prosecutors, while Lyon complied and stayed with police officers. After allowing police to search his bag, where they found and confiscated marijuana, two pipes, and an open bottle of bourbon, he was allowed to leave.
Bottle of bourbon: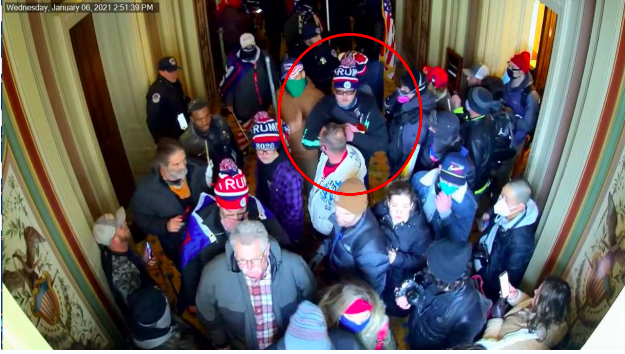 Dustin Thompson allegedly stole a bottle of bourbon from inside the Capitol.

Bottle of wine: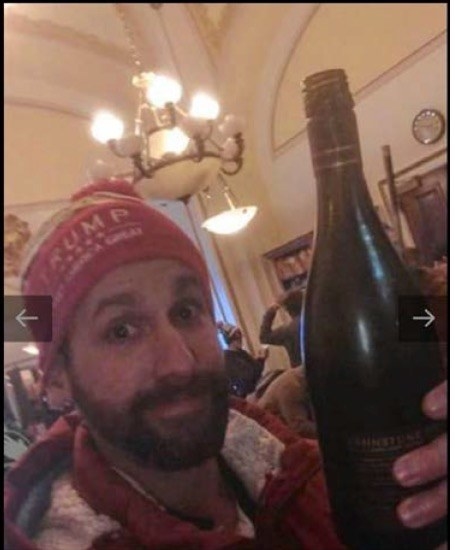 Jason Riddle, of Keene, New Hampshire, allegedly took, opened, and drank a bottle of wine from the Office of the Senate Parliamentarian.

Senate Procedure book: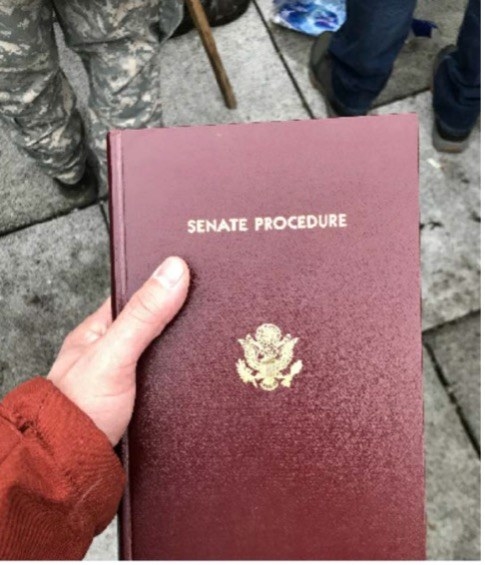 Riddle allegedly stole the book and sold it outside the Capitol for $40 before departing Capitol grounds.
Fox News football: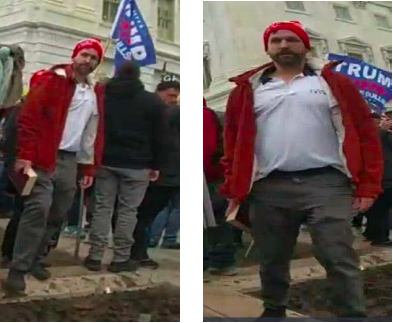 Riddle told the FBI he stole a small Fox News–branded football from a congressional office, but that he tossed it aside on his way out of the building.

Portable power station: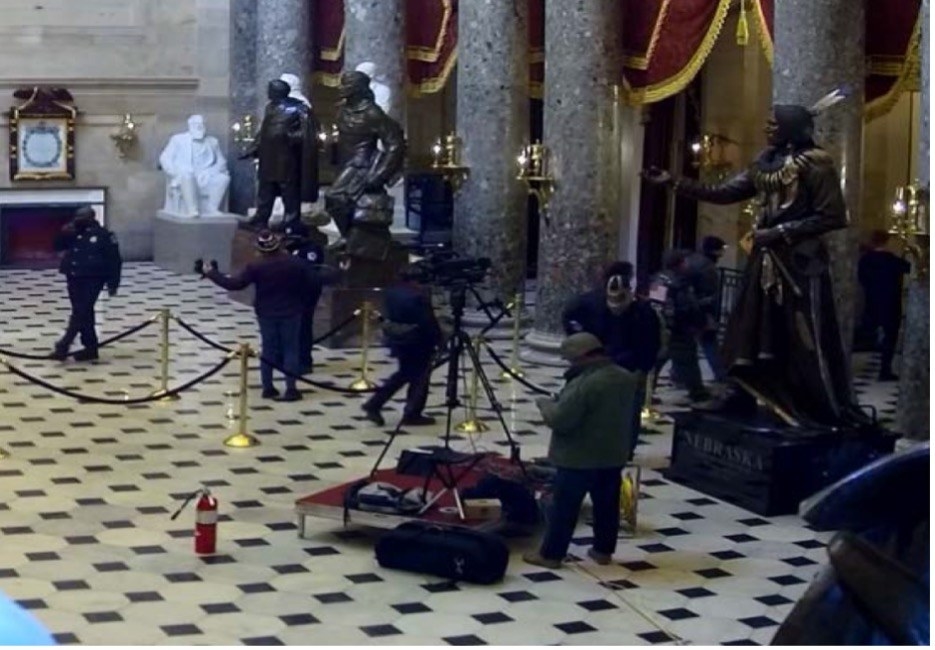 Former Parkersburg City, West Virginia, council member Eric Barber allegedly stole the power station that charges an iPad from a C-SPAN media stand.

Speaker's podium: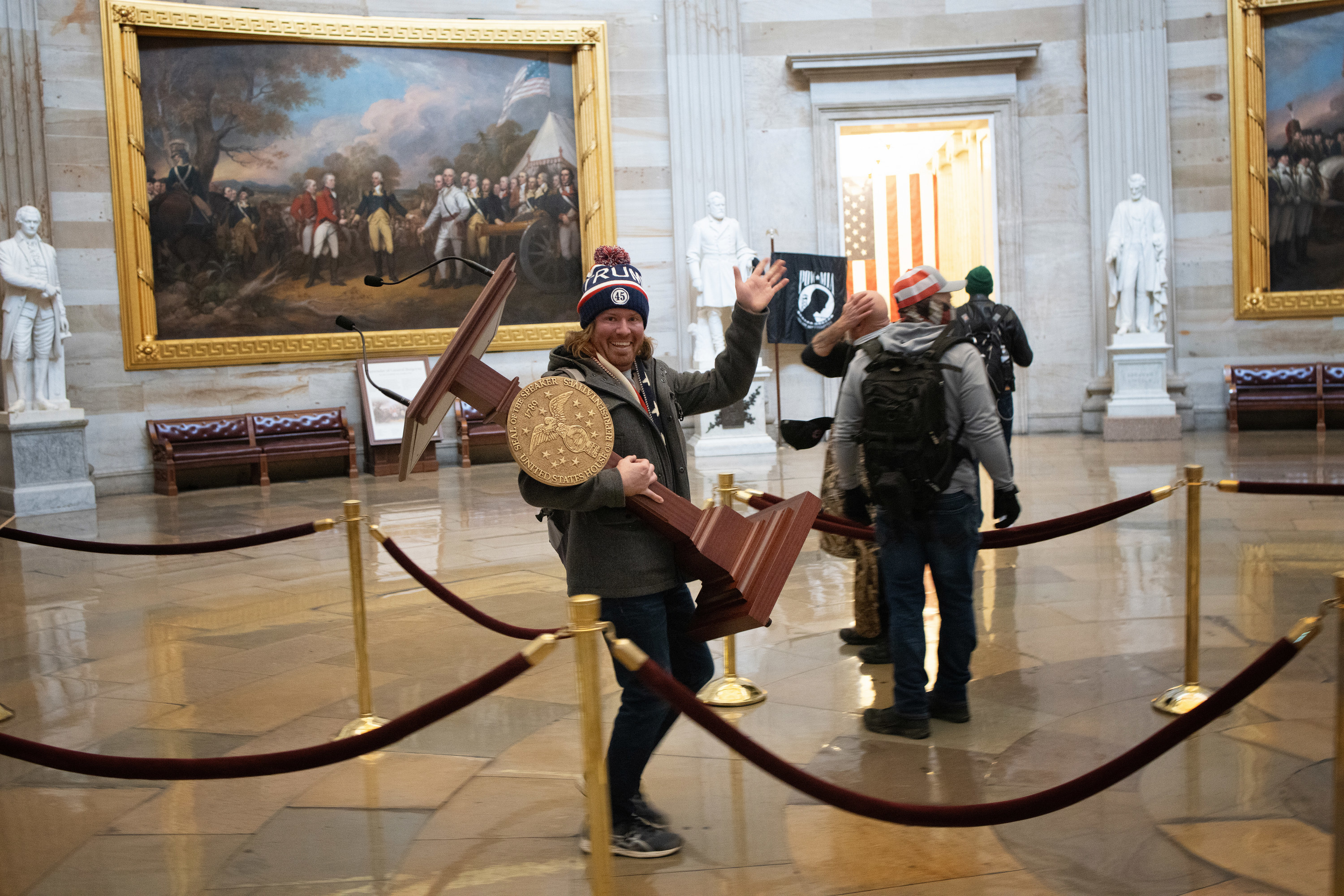 Adam Christian Johnson, of Florida, smiled for cameras while carrying House Speaker Nancy Pelosi's lectern through the Rotunda.

Escape hoods:

Philip Vogel II and Debra Maimone, both of New Castle, Pennsylvania, allegedly picked up a bag marked "POLICE," rummaged through it, and took silver packages from the bag. Security video shows Vogel and Maimone carrying silver packages. According to Capitol Police, the silver packages contain escape hoods, which are a form of personal protective equipment designed to protect the wearer from chemical agents, biological agents, nuclear or radiological particles, and toxic industrial chemicals for a short period of time.
Zoe Tillman contributed to this story.