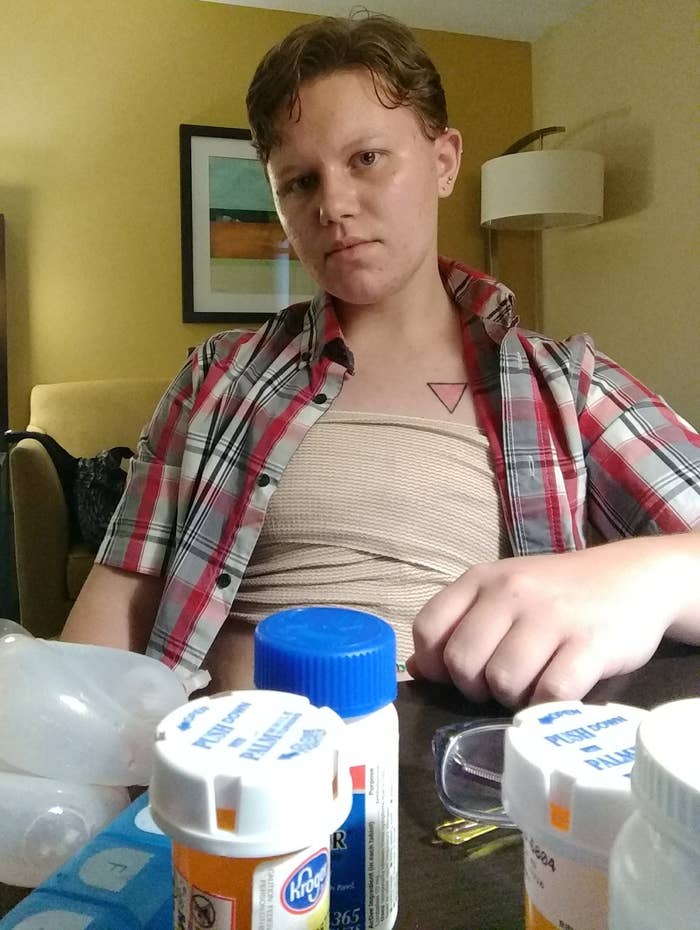 A transgender man in Tennessee was suspended from his Christian college just hours after getting top surgery because he's transgender.
Yanna Awtrey, 21, grew up in the Free Will Baptist Church, the son of missionaries. When it came time to pick a college, the choice was basically made for him — he'd attend Welch College, a private Free Will Baptist school northeast of Nashville.

"There was never another option for me to go to, and every time a new, non-Christian college was brought up, my parents would react negatively," Awtrey told BuzzFeed News. His parents are currently on a long-term missionary trip in Bulgaria.
"Of course, it helped my parents to know that the college was equipped with cameras, curfew, regulations against alcohol, clothing restrictions, and many more potentially broken rules that they could be informed of, even while living outside of the USA."

Awtrey started at Welch with a secret. He'd been experiencing gender dysphoria since puberty and had first heard the word "trans" when he was 15. He has only told a few people that he is transgender, including his parents, who aren't supportive of his transition.

Earlier this year, Awtrey (who also goes by a male name but wanted to be identified by his birth name for this article) was able to start hormone replacement therapy. He also, with little support, was able to arrange to get top surgery Aug. 2.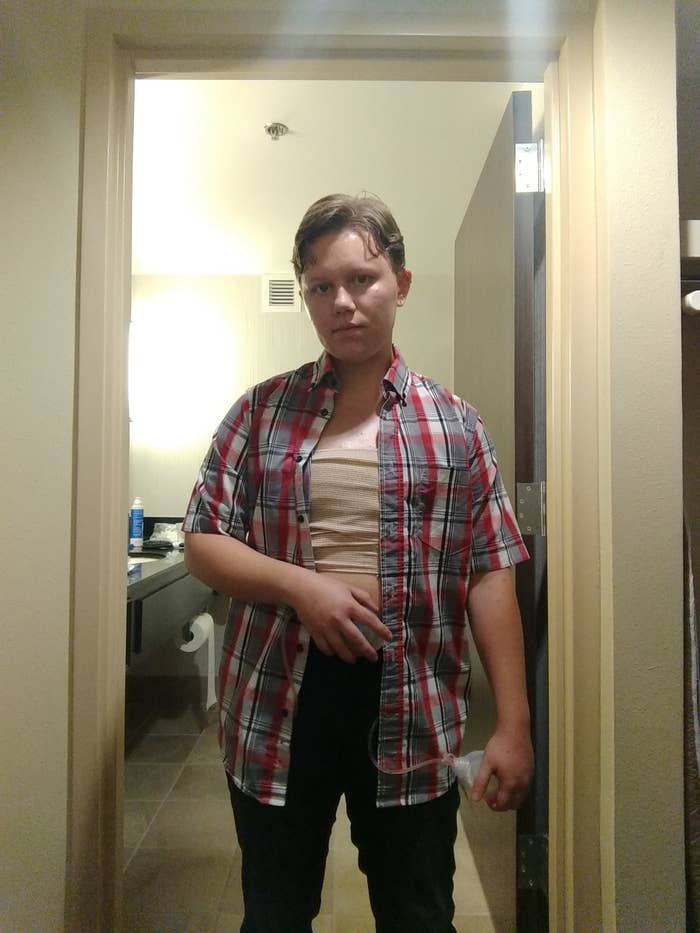 Since patients can't be alone after the procedure, Awtrey decided to stay with a couple who knew his parents. He told them he was getting an unspecified surgery in a note left on the morning of the procedure.
"I did everything on my own in secret from the people around me," he said.
The day of the surgery brought a surge of relief.
"When I was wheeled out of the operation, I was still on anesthesia, and I asked the nurse if it was done, and I started full-on bawling and sobbing," said Awtrey.
What he didn't know is that while he was in the operating room, the couple he planned to stay with figured out what was really going on. They contacted Awtrey's parents and Welch College.
Just hours into recovery, he got an email from the school's vice president for student services, Jon Forlines, telling Awtrey he wasn't welcome back on campus.
"Please be aware that because of the choices you have made we will not be able to allow you to come back to the dorm," the email, which was reviewed by BuzzFeed News, said.
The school offered him temporary housing at a local hotel, as well as money for food. Awtrey was also told he'd need permission before coming back to the dorms to collect his things.
"We're praying for you that the love of Christ will speak to your every need in the coming days," the email concluded.
Awtrey was suddenly homeless and couldn't stay in the hotel by himself postsurgery. Thankfully, an acquaintance from a local support group was able to take him in for a few days.
He posted about the incident on social media, prompting the school to send another email, which BuzzFeed News also reviewed. The email told him to edit the post or else the school would withdraw the offer of a hotel.
"I have nowhere to permanently stay, and I can't work for money for at least two months because of the recovery process," said Awtrey. "It's the best and worst day of my life."

He said the school initially tried to get him to voluntarily withdraw as a student, but he refused, which pushed the issue to a disciplinary committee.
That hearing took place Aug. 7, which Awtrey recorded and shared with BuzzFeed News.
The committee was clear as to why Awtrey was there. After an opening prayer, Forlines cited the student handbook, which forbids "any kind of sexual immortality, impurity, including the use of pornography" and "engaging in acts of sex immorality, including premarital and extramarital relations, sexual advances and sexual perversion in any form."

"There was a post that you posted, and among other things listed in there, you mentioned that you were transgender and had an operation to start the process of that," Forlines says in the recording. "So that is, according to the expectations of the college, that is what caused the meeting to take place."
Awtrey defended himself, telling the committee that he hadn't done "anything sexual of a nature that disobeys the college handbook and the Bible."
"So I guess what would you, for lack of a better word, try me for?" he asks the room. A committee member replied, saying that the "sexual perversion" rule was the "trigger phrase."
Ultimately, the committee decided to suspend Awtrey for two semesters, but Awtrey said he very much doubts he'll be welcomed back after that.
In a statement, Welch College told BuzzFeed News that it could not comment on an individual student's case, but made clear its stance on transgender identities.
"The College holds that God created humanity in two distinct and complementary sexes: male and female. The College acknowledges that the Fall of humanity into sin has introduced brokenness into God's good creation, including in the realm of human sexuality," the statement said.
"Welch College believes that individuals experiencing such confusion — and the distress that usually accompanies it — should be treated with love and compassion. The College also believes that attempting to alter one's bodily identity constitutes a rejection of God's design for humanity."
Welch's president, Matt Pinson, added that all students are informed of the school's beliefs.
"We will continue to pray for all people experiencing gender confusion while also honoring the values of this institution and its sponsoring denomination, which are shared by the Christian tradition over two millennia," he said.
Under Title IX, schools in the US are forbidden from discriminating against students on the basis of sex. However, private schools run by religious organizations are allowed to apply for an exemption. It's unclear if Welch has obtained an exemption.
Awtrey is currently living in the provided hotel and says he's recovering well from surgery. The school is providing the accommodation until Aug. 12, after which Awtrey is going to stay with family friends in North Carolina for the remainder of his recovery. After that, who knows.

"I've actually had homeless scares before two times, both related to my gender identity, so I've been planning for something like this to happen again," he said. "I'm just taking it one step at a time."
He added that his parents have checked in with him, but it is unclear if they'll provide him with any financial support.
"I just feel really powerless right now, and I just want people to know that these things happen," said Awtrey.
"There's just a lot of people that say everything's all right now for transgender people and LGBT people, and my situation very much says that that is not the case."
CORRECTION
This article has been updated to clarify exemptions under Title IX.