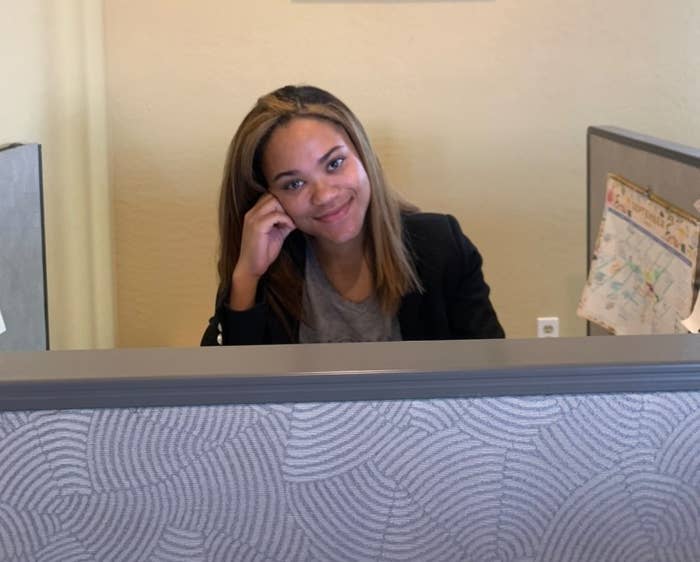 Parents have been coping with their kids doing school from home in many ways, but these siblings in Arizona have a mom who is a straight-up genius.
Jaala James is an 18-year-old college student who, like many others, is doing her first semester remotely. As one of eight siblings, six of whom still live at home, she's not alone in trying to get some studying done. But it's hard to do that without getting distracted.

"I have ADD, my sister has ADD, my brother has ADD, and all of us are super talkative," she told BuzzFeed News. "We cannot stop talking to each other."
There was also a space issue. Even the family's large dining table can't accommodate everyone when you add laptops and textbooks into the mix.
Thankfully their mom had an amazing solution — cubicles.
"I was like, 'Mom, people don't sell cubicles,'" said James. "She was like, 'How do you think businesses get them?' And I was like, 'Good point.'"

They ended up finding six for sale online and after a couple of hours setting them up, they had transformed their entertainment room into a cozy office.
James posted about the cubicles on TikTok, and people were so impressed.
James and her siblings actually love them. They each have a dedicated space and the dividers keep the noise down. Plus, there's still room for a couch for the family's three dogs to hang out on while the kids are learning.
"The cubicles are great for sectioning off sound and my grades have been fantastic," said James.
She later followed up with a little tour on TikTok.
Her mom has also gotten really into it.
"She ordered school lunch trays and ordered a bunch of those little milks, just as a joke, just to mess with me. She comes in there one day, and I'm in the middle of the class," said James.
"I was like, 'Mom, I am on camera. Get out of here!' And she was just laughing. She just thought it was the funniest thing."
The kids have been having fun too, though — James and her sister even re-created a scene from the office.
Her mom also made a "student of the week" board, but the recipient is always one of the dogs.
"She thinks she's a comedian."