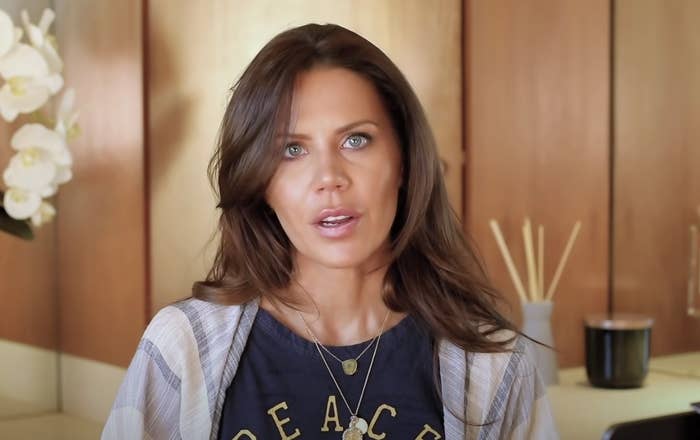 Beauty YouTuber Tati Westbrook and her husband are being sued by their business partner, who alleges fraud, negligence, and breach of fiduciary duty in how they handled Westbrook's company, Halo Beauty.
The couple are being sued by Clark Swanson, the third partner in the company that launched a line of beauty vitamins in 2018. In the suit, Swanson alleges that he initially owned 50% of the company, but shortly before launch, the Westbrooks came to him asking for a greater share.
The deal was, according to the suit, that Swanson would give both Westbrook and her husband 33.33% each, giving them majority control and leaving him with one-third of the company. In exchange, he alleges, Westbrook told him she wanted to expand Halo Beauty to include skincare, cosmetics, and other products. She wanted to build a "whole big thing," according to the suit filed in California.
That's not what happened. Although Westbrook did go on to launch makeup, including an eyeshadow palette and beauty blenders, she did it outside of Halo Beauty, under the name Tati Beauty. This left Swanson out of the deal, the lawsuit states.
This, Swanson claims, was a breach of their agreement, and the Westbrooks went on to "neglect" Halo Beauty. He is seeking unspecified damages from Westbrook and her husband, Tati Cosmetics, and Halo Beauty.
Neither Swanson nor the Westbrook's lawyers have responded to requests for comment from BuzzFeed News. Westbrook's lawyer, Douglas Fuchs, told E! News in a statement that Swanson's claims are "meritless" and "absurd."
"Swanson's claim is not only baseless, it is offensive and defies common sense," Fuchs told E! News. "This is particularly true given that Swanson has received millions in profit distributions from Halo Beauty, almost exclusively due to the Westbrooks' efforts. Tati and James will vigorously defend this lawsuit and are confident that the truth will come out and they will prevail."

The lawsuit also contains interesting tidbits and allegations about the dealings of Westbrook, who has been a central figure in the ongoing beauty guru drama that also involves James Charles and Jeffree Star.
The suit alleges that when Westbrook came up with Halo Beauty, she assured Swanson she could use her network of beauty guru YouTubers, as well as her own star power, to promote her products. He claims she said that her followers were so loyal, she could sell them a "shit product."
The lawsuit also alleges a get-together with Westbrook, Star, Charles, Laura Lee, and Manny MUA. It claims that Star revealed Halo Beauty's top competitor, SugarBearHair, had offered him $200,000 to promote their product, which he ultimately shot down.
SugarBearHair was also at the center of the scandal that kicked off the drama between Westbrook, Charles, and Star. During the Coachella music festival in 2019, Charles promoted SugarBearHair in an Instagram story. That led to Westbrook posting an emotional video accusing him of not only betraying her but of being a sexual predator. The drama, which continues to be a mess, now includes Shane Dawson.
As for Halo Beauty, Swanson alleges that the Westbrooks allowed the company to "coast" while they pursued the cosmetics line, launched under Seed Beauty. And contrary to Westbrook's videos, the suit also claims the venture was a "turnkey" situation, with Seed handling the formulations and promotion of the products.
Swanson also claims that Westbrook's husband "distributed hundreds of thousands of dollars in operating income" from Halo Beauty in an attempt to devalue it in case of a lawsuit.
Westbrook has not publicly addressed the allegations, filed on Oct. 20.