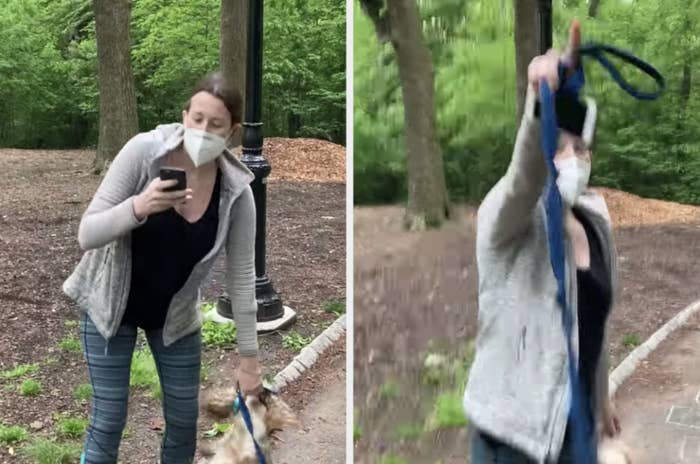 A white woman has lost her job in New York City after she was filmed telling police "there's an African American man threatening my life" after the man requested she leash her dog.
Christian Cooper posted a now-viral video on Facebook showing the latter end of the Monday morning confrontation. He wrote that he was in New York's Central Park in an area called the Ramble when he came across the woman and her unleashed dog.
"Ma'am, dogs in the Ramble have to be on the leash at all times. The sign is right there," he said he told her.
According to his post, the woman said her dog needed the exercise and she declined to leash the animal, saying a nearby off-leash area was "dangerous."
"Look, if you're going to do what you want, I'm going to do what I want, but you're not going to like it," Cooper said he told the woman. He then went to get some dog treats he was carrying when, according to his post, the woman shouted, "Don't you touch my dog."
That's when he said he started recording.
In the video, the woman tells Cooper that she's going to call the police.
"I'm going to tell them there's an African American man threatening my life," she says in the video.
"Please tell them whatever you like," he replies. Meanwhile, the woman struggles with her now-leashed dog.
She then picks up her phone and pleads for police to send help, repeating the line she threatened to say.
The video also picked up traction on Twitter, where it was shared by Cooper's sister, who described her sibling as an "avid birder."
New York police told BuzzFeed News they arrived on the site around 8 a.m. but there was no report taken.
Cooper did not immediately respond to a request for comment, but he told NBC New York he was not intimidated.
"We live in an age of Ahmaud Arbery, where black men are gunned down because of assumptions people make about black men, black people, and I'm just not going to participate in that," he said.

CNN identified the woman as finance worker Amy Cooper (no relation). She told CNN she is sorry for what happened. "I'm not a racist. I did not mean to harm that man in any way," she told the network.
According to a tweet from her employer, Franklin Templeton, she's been terminated from her position.
A cocker spaniel dog rescue also said she had returned the dog.