A bunch of women named Nicole at the University of Calgary are forging beautiful friendships, all thanks to one guy trying to find a girl he met at a bar.
This all starts with a guy named Carlos Zetina.

He met a woman from Holland named Nicole while at a bar last week. She gave Zetina her number but, alas, it turned out to be the wrong number.
That's when Zetina got the bright idea to find every single Nicole in the University of Calgary's directory and email all 246 of them.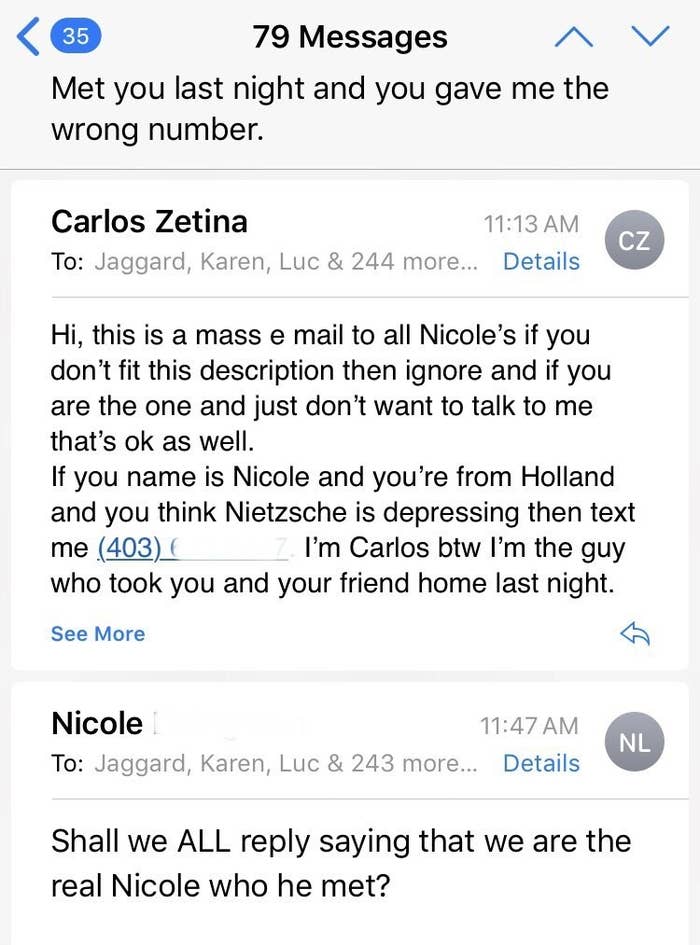 "Hi, this is a mass email to all Nicoles if you don't fit this description then ignore and if you are the one and just don't want to talk to me that's okay as well," he wrote.

"If [your] name is Nicole and you're from Holland and you think Nietzsche is depressing then text me," he added, including his number.
He was so thorough, he didn't just get the Nicoles — his email also included the Nicolettes and Nickies and pretty much any variation of Nicole. In addition to students, faculty and even associate deans ended up on the list.
"At first I was pretty confused and didn't know what it was," Nicole Maseja, a University of Calgary employee, told BuzzFeed News. "Pretty soon after that some Nicoles started replying to each other."
Jokes were tossed around like "Should we all say we're the real Nicole?" and "Will the real Nicole please stand up?"
Quickly, the Nicoles decided to get together, and a bunch of them met up at a bar that night. They now also have a "Nicole From Last Night" Facebook group.
Nicole Manaog, a communications student, was in class when she got the email. She was also really confused after reading the subject line, considering she hadn't met a Carlos the night before.

"Before this I didn't really know any Nicoles but when I met people yesterday, we're all from different faculties, but we all have similar personalities and we all kind of clicked," she told BuzzFeed News.

"We joked that we should have a Nicole network within the university."
Some of the Nicoles were concerned the Nicole that Zetina was looking for gave the wrong number on purpose, but thanks to the new Nicole network, the truth came out.
It turns out the original Nicole was in Calgary on exchange and hadn't memorized her Canadian number properly. She didn't even receive the mass email because she doesn't have a university email.
But she did find the Facebook group and managed to find Zetina, saying, "the powerful network of Nicoles helped me get in touch."
It's a happy ending for the other Nicoles too, who are planning on meeting up again this Friday.