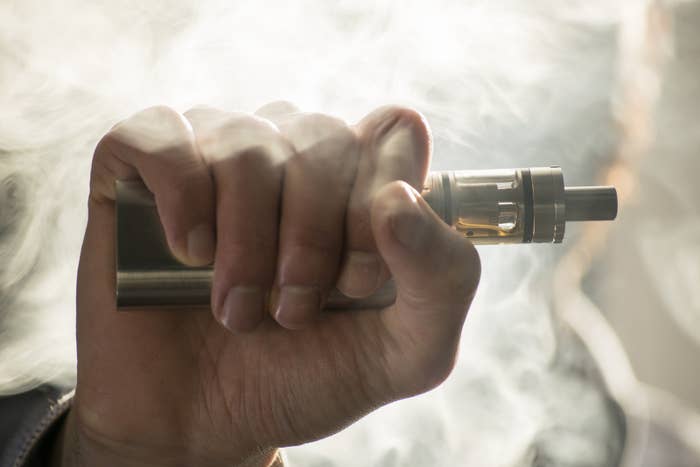 A Florida man is dead after his vaping device exploded and pieces of the e-cigarette struck him in the head.
Tallmadge D'Elia's body was found May 5 in his family's home in St. Petersburg, Florida. The explosion also caused a fire in the bedroom where his body was recovered.

The medical examiner's report determined the cause of death was a "projectile wound of the head." Two pieces of the e-cigarette device were found in D'Elia's head, including one that traveled through his upper lip and into his skull. He also had burns over 80% of his body.
His death was ruled an accident.
According to his obituary, D'Elia was originally from Maryland and had worked in television for most of his career.
The vape was a "mod" type made by Smok-E Mountain, the Tampa Bay Times reported. "Mods," as the name suggests, are modified e-cigarettes that contain customized components like more powerful batteries and larger tanks for the nicotine-containing liquid. For enthusiasts, that can mean bigger clouds of vapor and more intense flavor.
E-cigarettes use lithium-ion batteries, which can explode if overheated. Glen Stevick, a mechanical engineer and failure analyst at Berkeley Engineering and Research (BEAR) in Berkeley conducts research on lithium-ion batteries.

In 2016, Stevick told BuzzFeed News that the problem is that many e-cigarettes available for sale are unable to prevent dangerously high- and dangerously low-voltage charging. Both scenarios can lead to overheating and explosion.
A report last year from the US Fire Administration found at least 195 separate e-cigarette fire and explosion incidents in the United States. Of those, 133 led to injuries, 38 of which were classified as "severe" and required hospitalization. One man, a family therapist in Orange, California, lost his eye when his e-cigarette exploded while he was vaping at home.
D'Elia may be the first person in the United States to die as a result of an e-cigarette explosion.

A 2014 report by the US Fire Administration said e-cigarettes are particularly dangerous due to their shape. If an explosion occurs, they can act almost like a bullet.

While other devices that have lithium-ion batteries can explode, such as smartphones or laptop computers, the cylindrical design of e-cigarettes means they can be propelled across the room like a small rocket if there is an explosion.