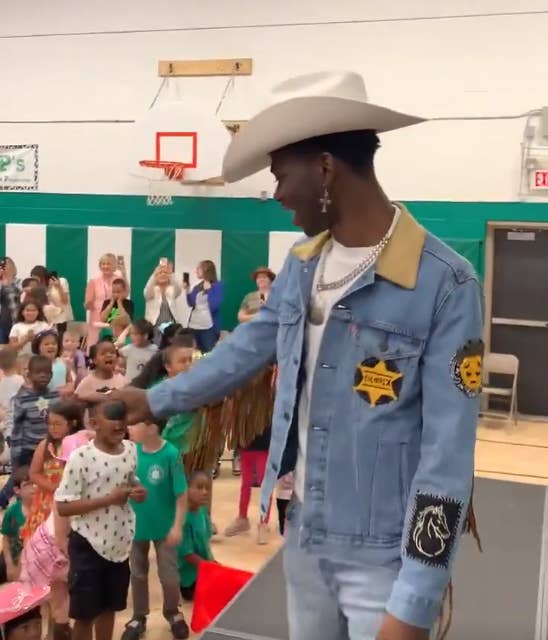 Some very lucky students in Mayfield Heights, Ohio, lost their collective little noggins when Lil Nas X popped by for a surprise performance of "Old Town Road."
It all started last week when Lander Elementary's principal, Felecia Evans, tweeted an adorable video of her students jamming to "Old Town Road" after a talent show.
Lil Nas X saw the video and tweeted: "when they want a free show."
After seeing that, Evans sent him a direct message to see if he was serious. He totally was. The two exchanged information and Evans got down to planning.
"It was completely a secret," Evans told BuzzFeed News. She even tricked local media outlets to keep rumors at bay.
"The day before, the media had contacted me and I said, 'Unfortunately, we're not going to make it work,'" she said.
Even most of her staff was in the dark as she coordinated with select staff members and local police.
Finally, at the end-of-year magic show, Evans appeared onstage and said, "I have one more magic show for you. Do you want to see it?"
That's when Lil Nas X popped out. Complex captured the moment in a video.
"The kids just lost it," said Evans. "It was incredible."
In the video, the kids can be seen dancing their butts off and singing along to every word of "Old Town Road."
This clip has been liked more than 200,000 times.
This kid in particular has been made a star.
People truly just love it.
Evans said Lil Nas X didn't just want to perform, he wanted to take some time to meet the kids.
So, after his performance, the whole school lined the hallways. And Lil Nas X walked through, high-fiving and taking selfies with each and every kid. He even went out to the playground after to chat with parents.
"Never in million years did I think tagging him on Twitter would result in this," said Evans.