While trying to speak out against LGBT activism, a far-right political party in Spain accidentally made a star out of a little rainbow ghost.
It all started with this tweet from Vox, a party known for opposing immigration, abortion, same-sex marriage, and Islam, among other things.
In the tweet, Vox's logo was placed over Aragorn from The Lord of the Rings as he faces off against an army. Except, instead of orcs and whatnot, he's facing images symbolizing feminism, Marxism, anti-fascists, and other typically lefty ideologies.
Aside from just being generally ripe for mockery, the tweet also, for some reason, chose to represent LGBT issues with an adorable, smiling rainbow ghost.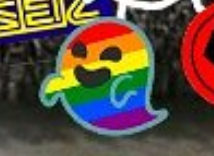 In the grand tradition of LGBT folks finding unlikely queer icons (see: Babadook), the gay ghost has been dubbed Gaysper and is now a social media star.
Gaysper has now been animated.
Gaysper has been immortalized by Netflix Spain.
Gaysper has a Twitter account with 5,700 followers.
Gaysper has a host of friends from across the LGBTQ+ community.
Gaysper has been crocheted.
There's nothing not to love about Gaysper.
There's no situation Gaysper can't make better and gayer.
If you want your own Gaysper, Spanish newspaper El País traced Gaysper's original design back to a Redbubble store run by a user named Baiiley.

At their shop, you can buy items like mugs and stickers with Gaysper and his friends on them.