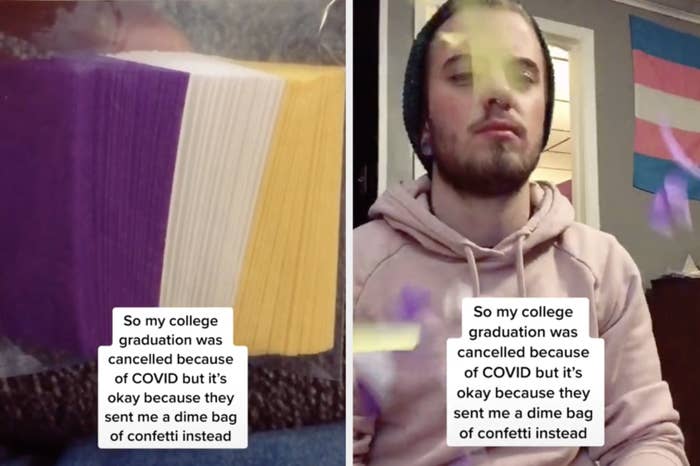 College graduation ceremonies are a lot different this year in that they pretty much aren't happening.
Due to COVID-19, gathering for a big event is off the table. That's disappointing for graduates looking to celebrate, but one college attempted to fix that.
Elliott Kunerth just graduated from Minnesota State University with a bachelor's degree in psychology. To mark the occasion, the school sent him a package of goodies, including an individual bag of confetti.
Kunerth then posted a TikTok that truly captures the energy of 2020.
In the video, he throws his small bag of confetti up in the air before it falls sadly around him.
"I thought it was pretty much the epitome of how 2020 is going," he told BuzzFeed News.
"I definitely got a kick out of expecting a big celebration for my college graduation and instead receiving a bag of confetti to throw in the air while I'm at home in lockdown."
People on TikTok were very amused.



"I figured other college students who are also graduating during the pandemic would get a kick out of it," he said.
A spokesperson for Minnesota State University confirmed to BuzzFeed News that the confetti was a new addition this fall for graduating students.
"Graduates received the confetti in a box with a diploma cover, graduation programs, and other small gifts," the spokesperson said.