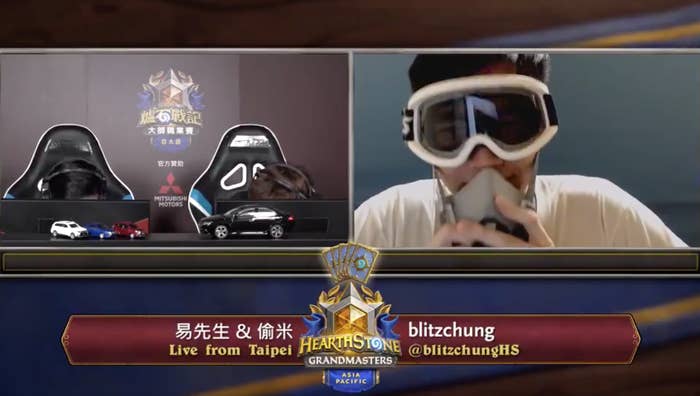 Players are boycotting games like World of Warcraft, Overwatch, and Hearthstone after a user was punished for supporting pro-democracy protests in Hong Kong during a tournament.
All those games are made by Blizzard, more formally known as Activision Blizzard.
It all started on Oct. 6 in Taiwan during the Asia-Pacific Hearthstone Grandmasters, a tournament for the card-based game. Two casters were conducting a post-match interview with Chung Ng Wai, known by his screen name Blitzchung.
"Liberate Hong Kong, revolution of our time," Chung said during the interview, while also wearing goggles and a face mask. Chung is based in Hong Kong, and the phrase he spoke has become a rallying slogan for pro-democracy protesters.

On Tuesday, Blizzard announced that Chung's prize money had been rescinded and that he was suspended from competitive play for a year. The two casters interviewing him were also fired.
According to Blizzard, Chung violated 2019 Hearthstone Grandmasters Official Competition Rules section 6.1, which forbids any act that "brings you into public disrepute, offends a portion or group of the public, or otherwise damages Blizzard image."
"Grandmasters is the highest tier of Hearthstone Esports and we take tournament rule violations very seriously," said a statement from Blizzard. "After an investigation, we are taking the necessary actions to prevent similar incidents from happening in the future."
Blizzard also took down video of the interview, but it's still being shared on social media.
Chung told esports website Inven Global that he knew his comments could get him in trouble, but he felt it was his duty to say something.
"As you know there are serious protests in my country now. My call on stream was just another form of participation of the protest that I wish to grab more attention," he told Inven Global.

Now, people who play Blizzard games have started a boycott movement over what's being called a cowardly act of censorship in favor of the Chinese government.
Social media and forums like Reddit are now being taken over by pro-boycott memes and promises from players that they're done with the company.
One popular meme has been edits of Mei, a Chinese climatologist character from Overwatch.
One of Mei's lines in the game is, "Our world is worth fighting for."
Over at Blizzard's campus in Irvine, California, there are also signs that employees are not happy with Chung's punishment. There's a statue on the grounds with the phrase "every voice matters" that has been covered with paper.
On Tuesday, a small group of Blizzard employees walked out in protest, according to The Daily Beast. An employee told the website that between a dozen and 30 people gathered at various times at the statue, which depicts an Orc warrior. A photo posted on Imgur and verified to The Daily Beast showed 20 employees gathered around the statue holding umbrellas, which have become a symbol of the protests in Hong Kong.

Among the people boycotting Blizzard are people who've worked on their games. Mark Kern, a developer who worked as a team lead for World of Warcraft, tweeted screenshots of himself canceling his subscription.
Politicians are now weighing in as well, including Republican Sen. Marco Rubio and Democratic Sen. Ron Wyden.

The Blizzard controversy comes the same week that the NBA struggles with the fallout from a team manager's tweet supporting the Hong Kong demonstrators.
But if Blizzard's goal was to squash pro–Hong Kong sentiments in its expansive foothold in esports, it's backfiring. In Tuesday's Hearthstone collegiate championship, American University players held up a "Free Hong Kong, boycott Blizzard" sign.
The controversy also has other gaming companies weighing in. Epic Games, which makes the hugely popular game Fortnite, told the Verge they wouldn't do what Blizzard did.

"Epic supports everyone's right to express their views on politics and human rights. We wouldn't ban or punish a Fortnite player or content creator for speaking on these topics," an Epic Games spokesperson told the Verge.

BuzzFeed News has reached out to Blizzard for comment.