Annie Clark was reconfiguring some older material for her upcoming tour when she realized how alien it felt to play it. She could adapt the arrangements to her harsher new sound — the sleazy, acid aesthetic of Masseduction, her upcoming fifth solo record as St. Vincent — but the writing's proggy complexity was cockblocking the emotion. "In so many ways, I thought I was being completely transparent and brave in every record, only to realize that they are very oblique," Clark told BuzzFeed News. She cackled and looked delighted. "Who knew! I had no idea."
Clark is much too self-aware for this to be completely true. But the difference between her polite, guarded Texan past and confrontational present is colossal. When I first interviewed Clark in 2009, she nervously pressed her pendant against her lips and face, leaving a red lipstick pox on her insane cheekbones. By 2014's St. Vincent, Clark's public persona would be imperious.
But these days, she's a playful freak who revels in showing the tightness of her grip, a disposition aided by long, straight eyebrows that dance like Memphis squiggles. In late July, she appeared in the lobby of New York City's Marlton Hotel, her temporary home during the making of Masseduction. She had come from pilates — which she likes because it makes her sing better and "come a lot harder" — and disappeared to change out of her leopard-print gym shorts. When I mentioned a recent paparazzi photo of her looking like a sexy detective in another skintight leopard-patterned getup, she asked twice, with predatory delight, whether I'd looked at her camel toe. (No! Okay, maybe!) The only time her control slipped was when the hotel's stereo started playing "Who," a knotty song from the album she made with David Byrne, and she shriveled like a salted snail at hearing her own voice.
"I told you more than I would tell my own mother."
Self-possession like hers is often interpreted as pretentious, or pathological. But over time, the confidence that the younger, anxious Clark had to fake has become bracingly real. You can hear it in Masseduction, a record of pop fluidity and queer possibility. It's the best thing she's ever done, and there are no bad St. Vincent records. It's partly harsh, heady, erotic synth-pop visions steered by her diamond-sharp guitar, and while Clark has written plenty of ballads, there have never been any as brutal and gorgeous as these. Its lurch between apocalypse and ecstasy mirrors how it felt to be kicked in the head by the past couple years.

In a way, Clark was right about the obscurity of her past work, filled with archetypes and distanced observations — emotions through a stained-glass window. If not a clear pane, then Masseduction is at least a peep show on heartache, fucking, addiction, destitution, and suicide. And her relatively new life as a very public figure, thanks to relationships with Cara Delevingne and Kristen Stewart, gives it an extra frisson. Tabloids will rush to find the former, the famed British supermodel, on an album littered with wasted bodies, especially on "Young Lover," where Clark finds someone overdosed in the bathtub. She recounts the night with terror but also arrestingly ugly indignation. "Oh, so what / Your mother did a number / So I get gloves of rubber / To clean up the spill," she sneers.
"Scenario has to rhyme, babe," is all Clark said about its veracity. She was bemused at being asked to explain the lyrics. To her, this record is butt-naked. "I told you everything," she stressed. "I told you more than I would tell my own mother. It's right there."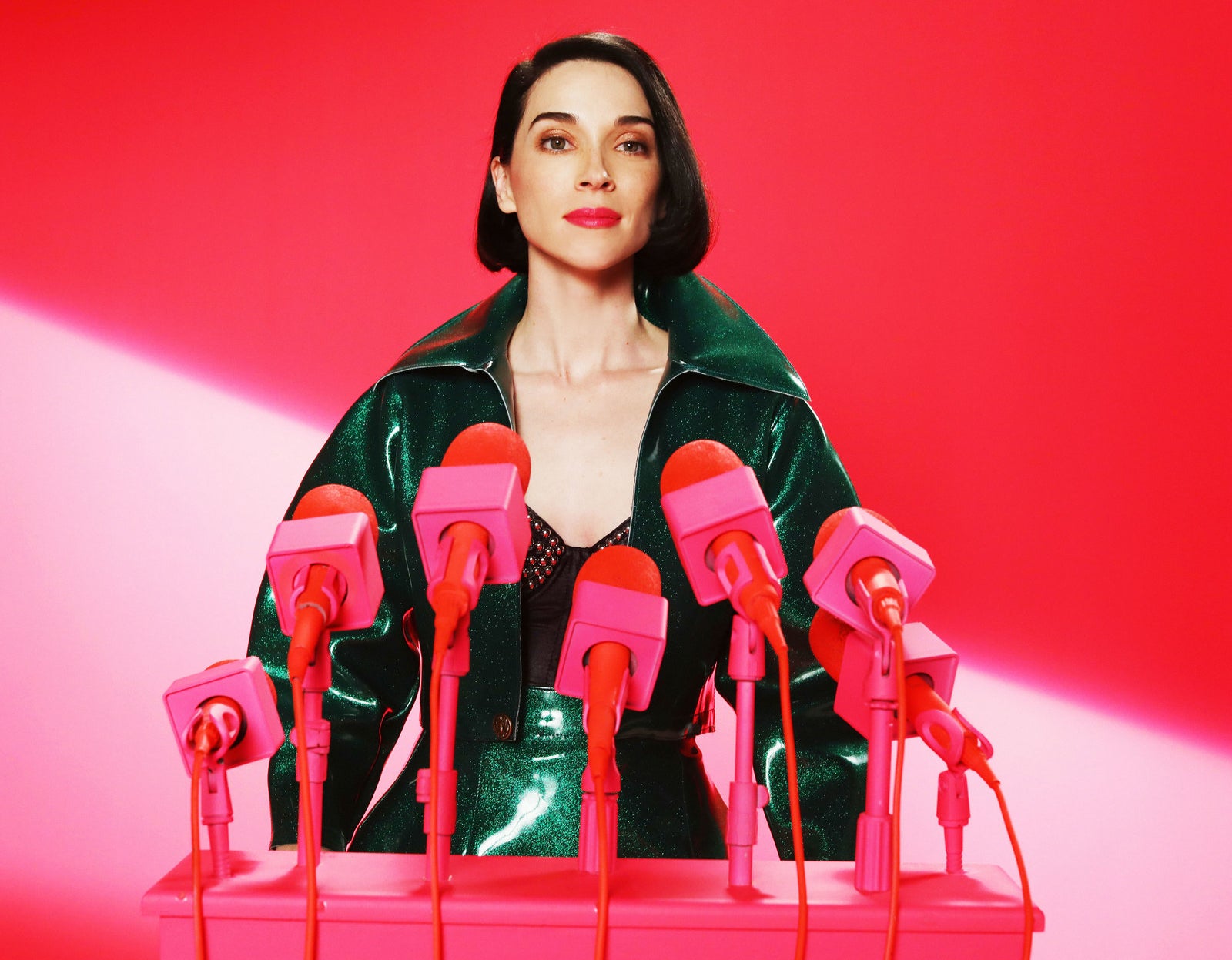 Masseduction started out with three tenets: It would feature programmed beats and pedal steel guitar, and examine power and seduction. "What does power look like, who wields it, how do they wield it — emotionally, sexually, financially?" Clark ticked off her fingers.
The album was properly born over a creative first-date dinner with Jack Antonoff, the Bleachers frontman who also recently produced and wrote with Lorde and Taylor Swift. Clark was looking for a teammate; they told each other everything that was going wrong in their lives and decided that total oblivion was the only way out of their heads. "It wasn't, 'Hey, let's make a record together, that'll be fun,'" Antonoff told me. "It was, 'Let's absolutely go all the way and find the absolute best thing that exists here,' which is really the only way to work on things."
That grit is Clark's MO. Until recently, she claimed to have taken approximately 36 hours off in between returning from touring 2011's Strange Mercy and starting work on 2014's St. Vincent. The concerts for the latter were bonkers, starting the run as avant-garde, meticulously choreographed deconstructions of a traditional rock show, and ending it with exorcisms that entailed Clark crumpling down a 10-foot pink plywood pyramid like a drunken horse. She often stole objects from the crowd: a pair of crutches, someone's dinner. The spectacle of her murdering the thing she'd trained for was addictive.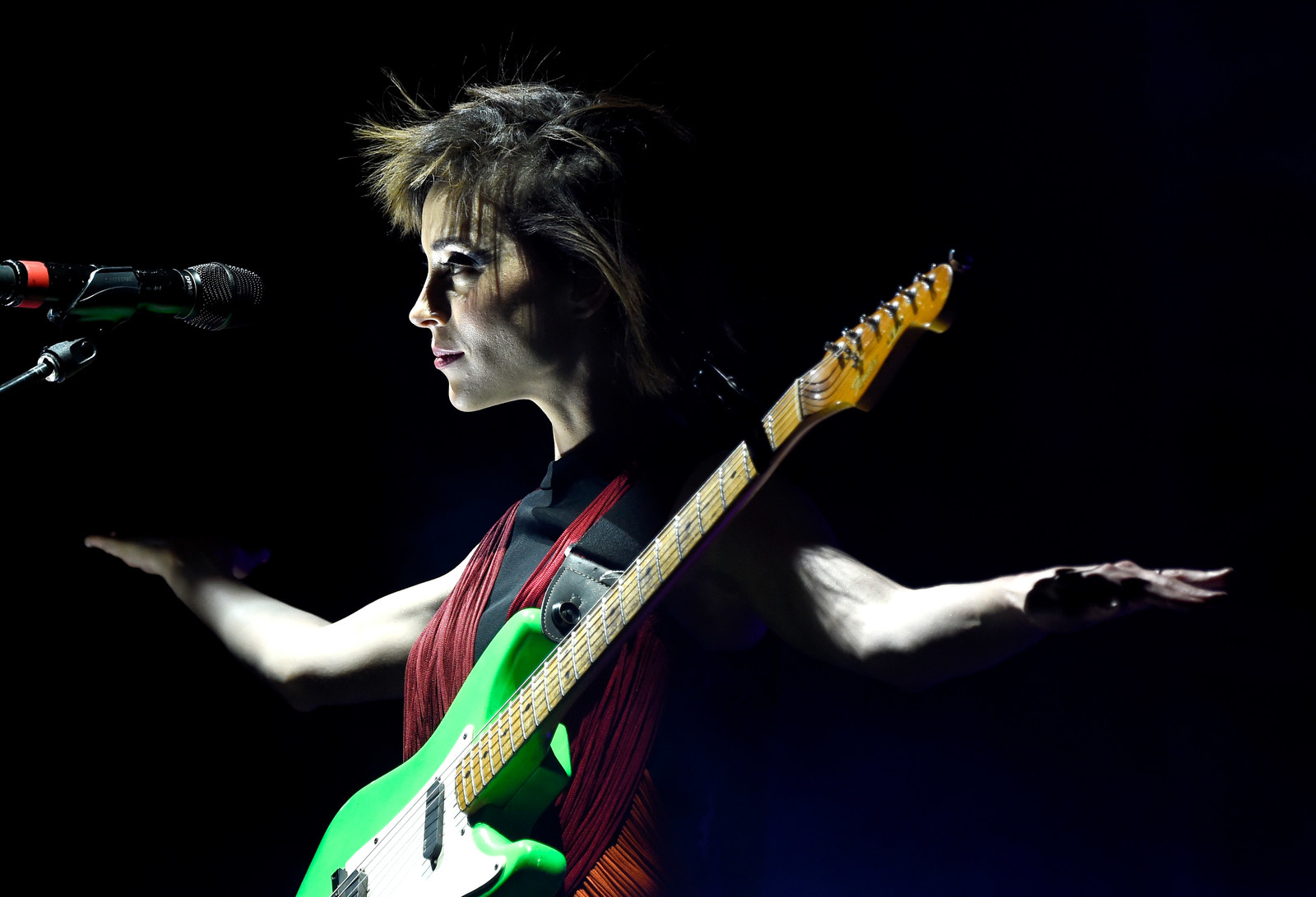 "Touring became a blood sport for me. I mean, I was born with a whip anyway, and touring became this self-flagellating exercise," she said, clenching her jaw and lashing each shoulder with an imaginary strap. "And I was seeking that kind of physical exhaustion; I was seeking the pain."
She doesn't know why, and she's okay not knowing why, though eventually she did accept that her relationship to touring was a form of delirium. On the new album's "Sugarboy," a dystopian, post-Moroder disco banger, she describes herself as a "casualty hanging on from the balcony." (She literally climbed rafters in some theaters, kicking away security guards.) This hysteria is one of the reasons she considers Masseduction her saddest record. "I lost my mind, I lost people, I gained people, I stopped touring," Clark said of that period between 2014 and 2017. "It was just a lot of a lot, you know."
After the St. Vincent tour dates ended, Clark had to learn to construct and value life away from the road — she had been on tour since age 16, when she worked as an assistant for her aunt and uncle's jazz group. "And I still love that," she said of touring, "but it's more like a component of my life now rather than…my life." Back home she indulged in a "period of bacchanalia," and briefly got into self-medicating, an experience she turned into the lunatic track "Pills": Imagine the Stepford Wives lost in Willy Wonka's chocolate factory (Kamasi Washington guests on saxophone; Delevingne sings on the chorus).
She's transfixed by the forces that can swallow us — "You know, drugs, sex, and rock 'n' roll," she winked. "So corny. Kill me! Kill me dead!" Though sometimes she uses those themes to dress up more mundane relationship dynamics. "Savior" explores the unhealthiness of mutual projection through a funny S&M parable involving nurses and nuns and our tediously prosaic concepts of kink: "You put me in a teacher's little denim skirt," Clark moans on the song. "Ruler and desk so I can make it hurt / But I keep you on your best behavior / Honey, I can't be your savior." The album's self-destructive dynamic comes out on the title track — "I can't turn off what turns me on," she wails over twisted guitar — and her protagonists never stop annihilating each other for their own benefit, whether for carnal kicks, or for the mothers who "milk their young" in the song "Los Ageless."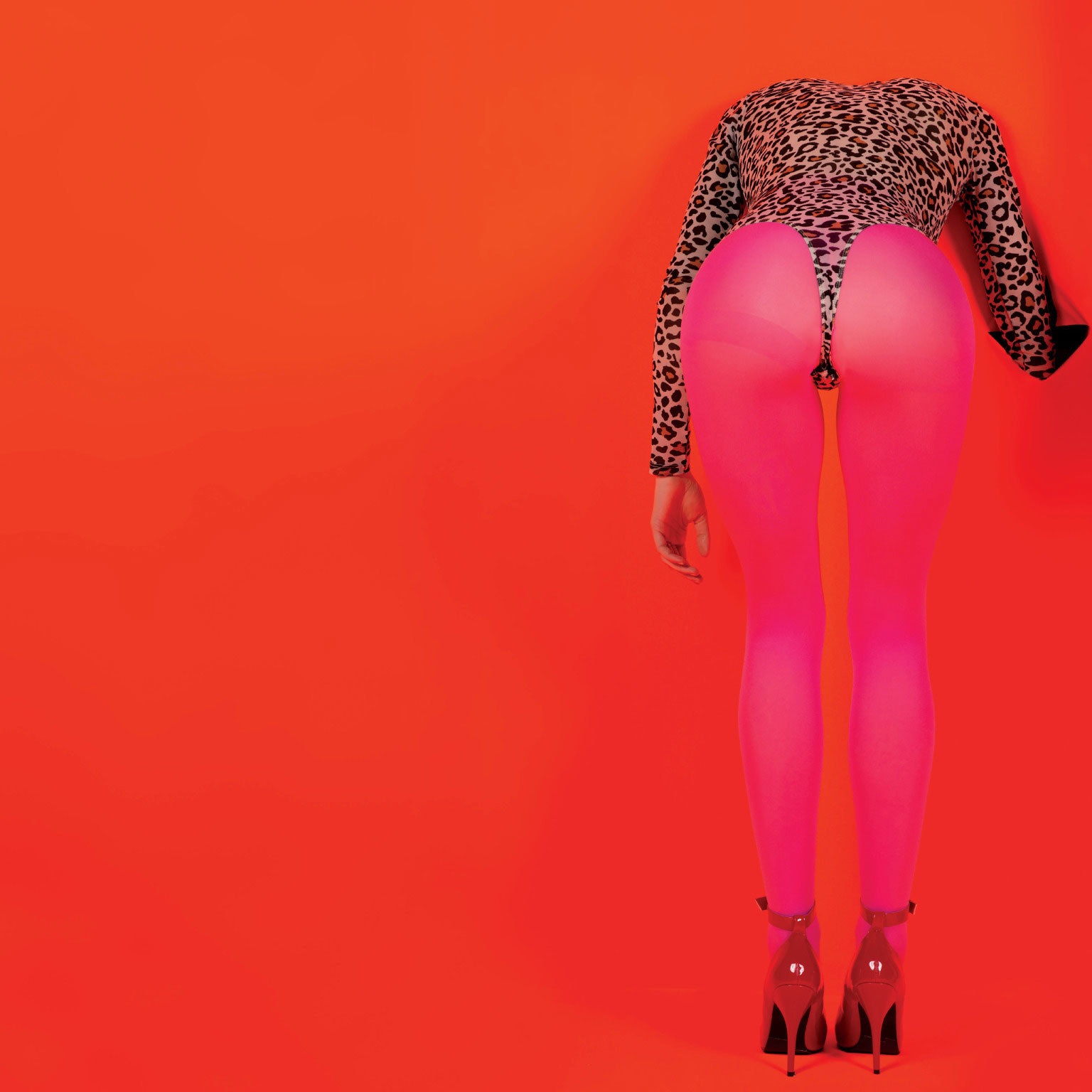 And then there's the heartbreaking "Happy Birthday Johnny," which sounds like a snowflake but crushes like an anvil. It calls back to the title track of her 2007 debut Marry Me, about "John" who's "a rock with a heart like a socket I can plug into at will"; and to "Prince Johnny," the decadent downtown royal from St. Vincent. She said she feels compassion and hopelessness for his self-destruction, but can't judge because she's just like him. Maybe he's also a cipher for the way humans use each other — Clark flatly refused to talk about him. "One thing I have learned in six records and 10 years is that I'm not obliged to answer any questions — a lesson I more or less only recently learned." She stared into the bar, fixing a grim expression through her orange aviators. "Next question."
At any rate, the song is a whole story. Once conspirators, her and Johnny's literal fire-starting days are behind them, and now he lives on the street, calling up Clark at New Year's for "dough to get something to eat." She demurs, and he calls her a queenly miser who's sold out for fame. "But if they only knew the real version of me / Only you know the secrets, the swamp, and the fear," she pleads. It is deeply tragic, being shamed — perhaps rightly — by the person who once understood your shame.
Antonoff theorized that she's mourning a past on the record. On the forthcoming Fear the Future Tour (named after a new song, and to resemble a Jenny Holzer maxim), Clark said she probably won't be flinging herself around stages as much because "I think I'm emotionally throwing myself around a lot more."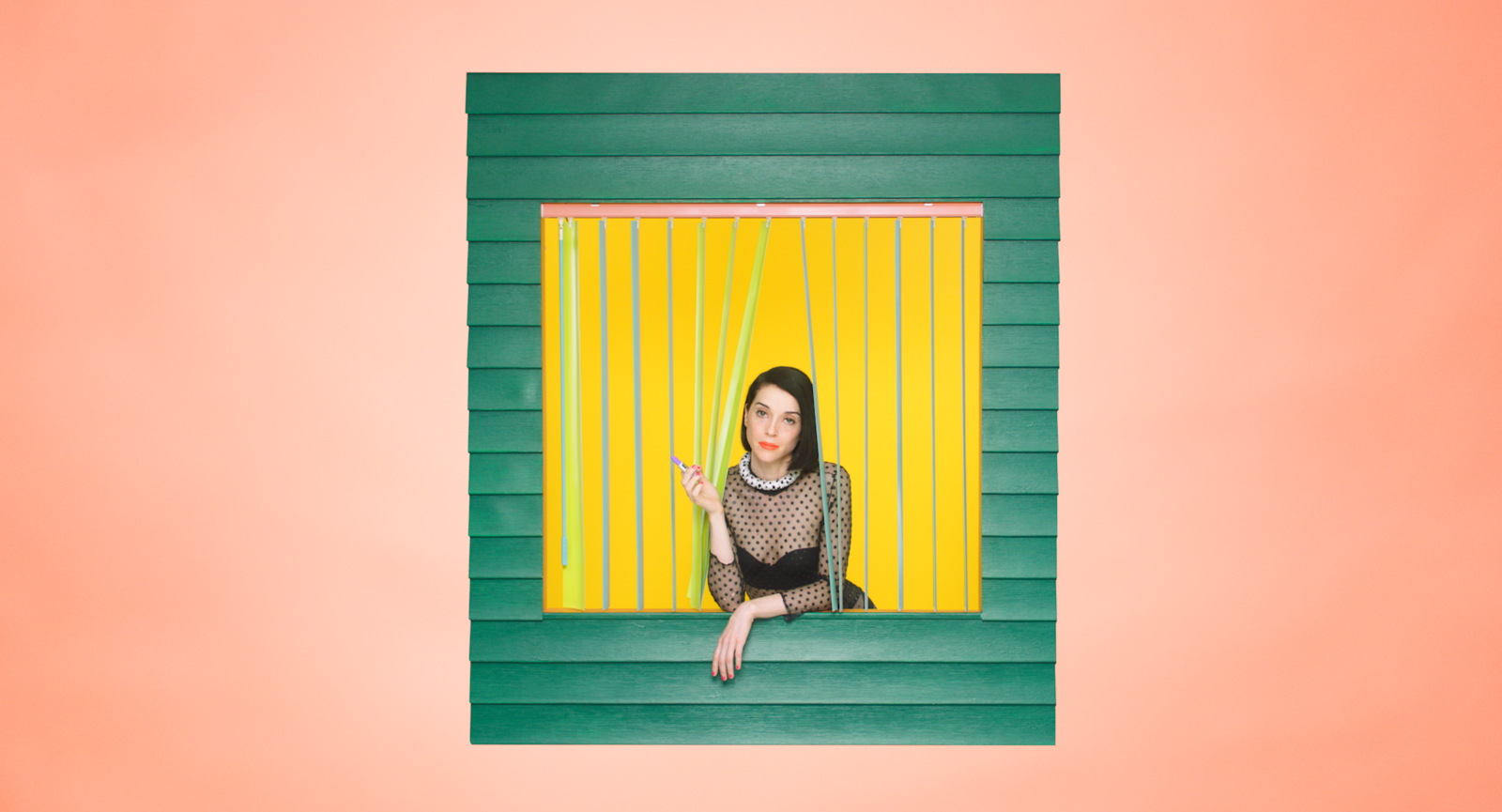 In late July, Tiffany & Co. announced Clark as one of the faces of its fall advertising campaign. Diamonds and waspy Americana are a weirdly prim contrast to the freaky propaganda aesthetic that Clark is calling "manic panic" — the Masseduction album cover is a photo of a nice ass in a leopard-print thong bodysuit. But like any savvy propagandist, Clark's image will be everywhere this year. Having directed a short film, The Birthday Party, as part of the horror anthology XX, she's now due to direct a feature-length, female-led adaptation of The Picture of Dorian Gray. ("The most rich text I have ever read: transgression, modernity, society, repressed queerness.") There's also a multimedia performance as part of October's Red Bull Music Academy in Los Angeles, and an upcoming art exhibition in New York. A coffee table book. Essays. (She calls art "a fountain of youth" that's given her everything and everyone in her life, hence her urge to make everything.) And that's just the exposure she has control over.

Celebrities like to pretend that their success is the result of some cosmic fluke, but Clark has said quite openly that the best part of becoming more famous thanks to her love life is "just getting the opportunity to do more work in different fields," which nobody ever admits! (Though her 2015 Grammy for Best Alternative Album and overwhelming critical acclaim probably helped, too.)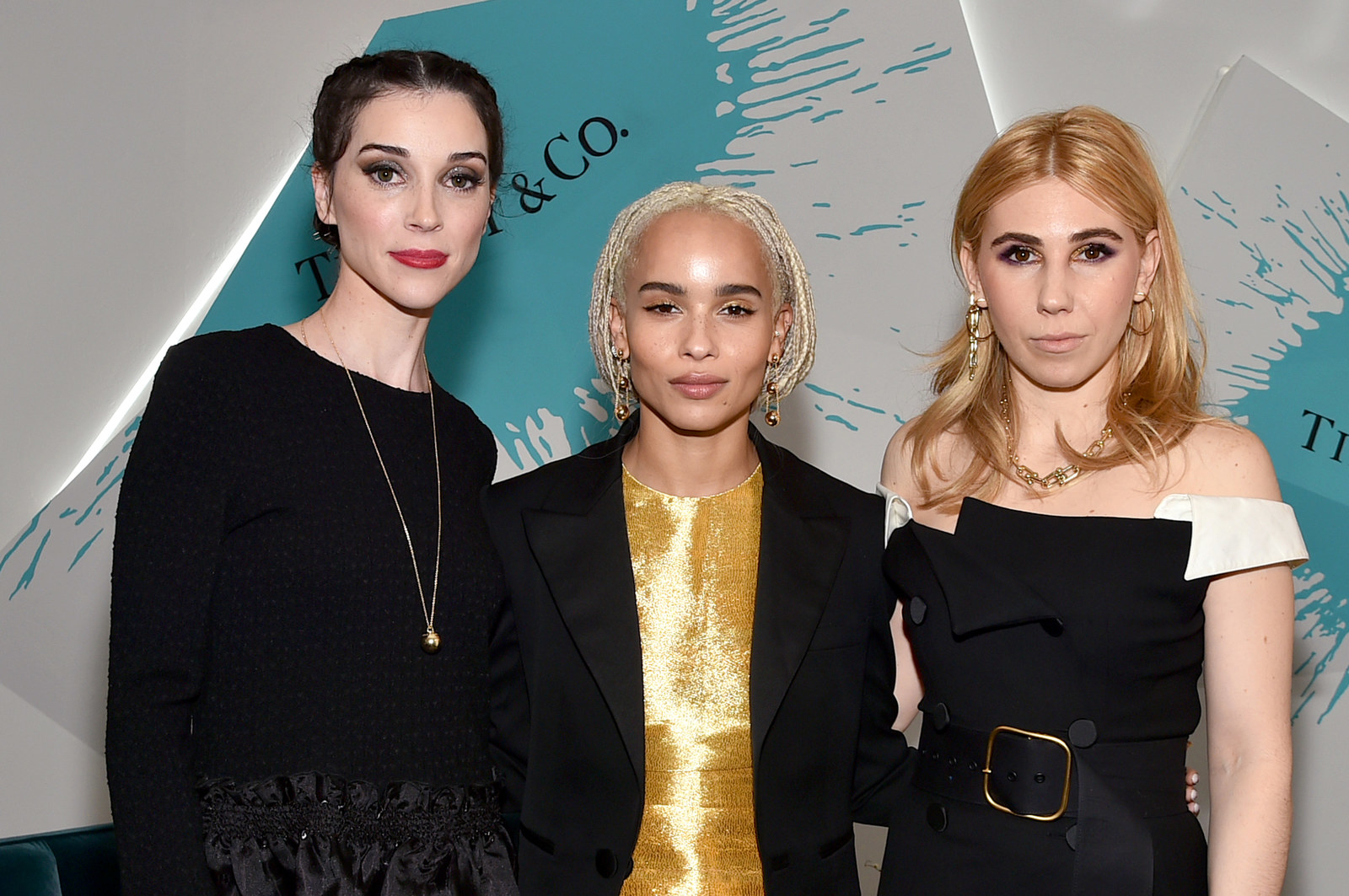 One of Clark's best-known songs, 2014's "Digital Witness," is about social media voyeurism. "I wonder if, in the future, privacy will be something that only the 1 percent can afford," she told Rolling Stone that year, which now seems beautifully naive. From the second she and Delevingne were spotted together at the 2015 BRIT Awards, the UK's pervy yet ever-scandalized tabloid media went nuts that their hottest young model was dating a woman, and pursued them so staunchly that the couple once took revenge by firing water pistols at the paparazzi.
"She really is so famous!" Clark said of Delevingne, feigning hammy disbelief at the attention they received. "That shouldn't have been shocking to me, but it was shocking to me in the sense that she's such a sweet, really, deeply kind, unspoiled person. She has more compassion in her little finger than—" She waved her hand around her torso with a grim laugh. (The pair reportedly split last fall, but Clark would only say they were "never not close.")
Clark's self-assurance helped her to perceive the tabloid aggression and celebrity weirdness as baffling rather than distorting. She was too classy to run with my suggestion that attending that Taylor Swift 4th of July party must've been an interesting anthropological study. "That was, I think, in the midst of a game of Celebrity," she said of a photo of her wearing the same stars 'n' stripes onesie as Gigi Hadid, Karlie Kloss, and Ruby Rose. She took a long pause. "I was very bad at it!"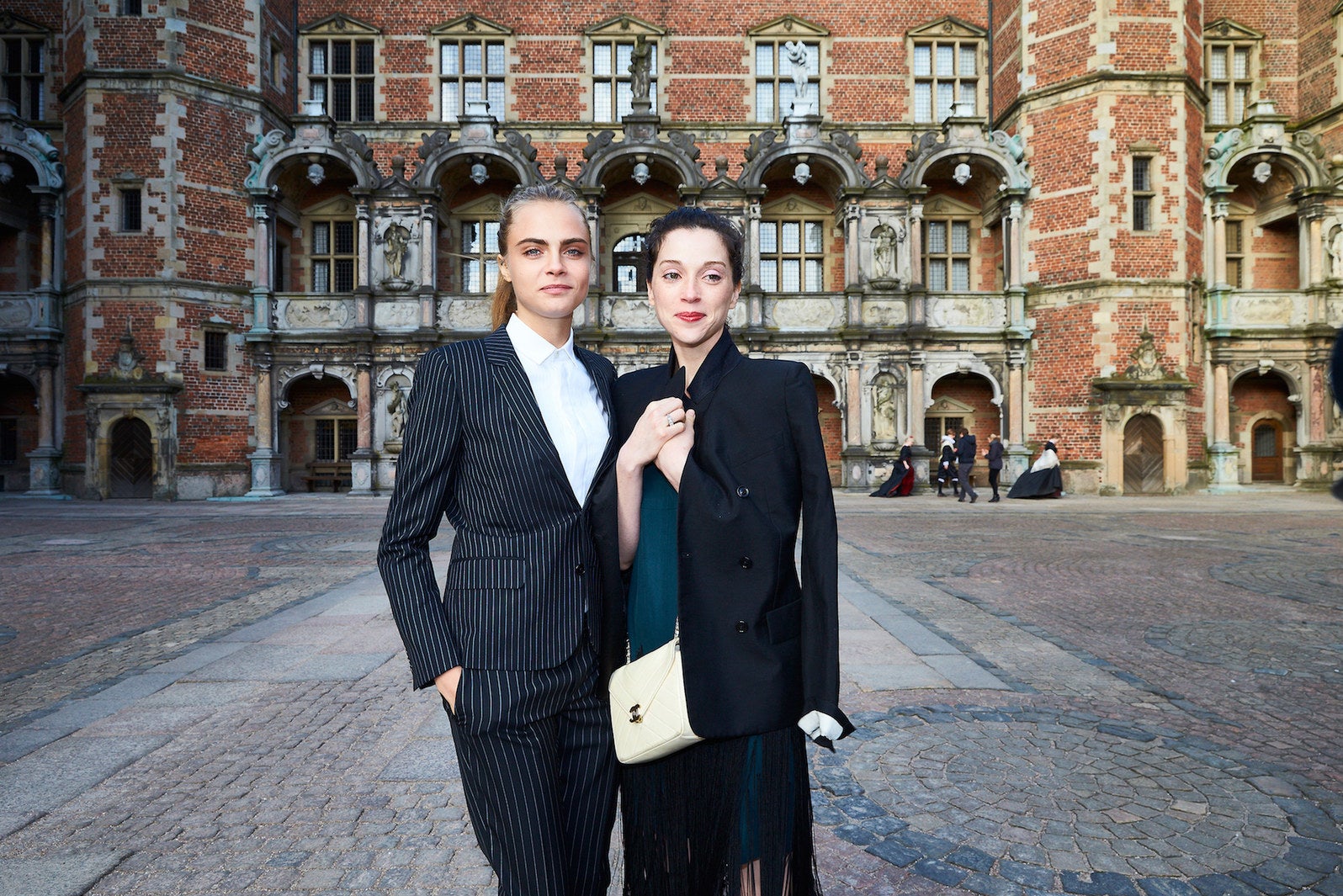 But she was disturbed by dangerous high-speed car chases from paparazzi in pursuit of photos of the couple; she thinks the gossip industrial complex relates to a wider societal disparity. "The biggest problem was that the value system of it is all based on aspiration," she said with genuine concern. "It's wealth aspiration, fame aspiration. But if the government, if the world was just generally a more compassionate, empathetic place, people wouldn't be aspiring to…that. They would be more fulfilled with their own lives if the wealth gap in general wasn't so insane." Admittedly, it was hard not to want to look at them, in matching sharp suits and laser-cut Burberry, queering the archetype of the male rock star dating the young supermodel, watching the context around an established artist mutate in front of you.
There is the kind of halfway-benign personal invasion where paparazzi follow you and your girlfriend around an airport. But then there is the kind where the never-not-creepy Daily Mail doorsteps your older sister at home in Texas and calls up your well-meaning uncle to sandbag him into revealing that your father went to prison in 2010 for participating in multimillion-dollar stock fraud. Although it is grotesque to treat the paper's muckraking as a puzzle piece, it did illuminate part of the story behind Strange Mercy, which Clark had — understandably — only ever vaguely attributed to an overwhelming period of loss. "Suitcase of cash in the back of my stick shift," she sang on "Year of the Tiger." "I had to be the best of the bourgeoisie / Now my kingdom for a cup of coffee." (She cowrote the song with her mother, Sharon, who split from Clark's father when she was three.)
"Everybody has their personal tragedies and their crosses to bear."
"Everybody has their personal tragedies and their crosses to bear," Clark said in a clipped tone. She calls her father's 12-year prison sentence "a horrible tragedy. On so many different levels. So absolutely heartbreaking." She — an adult — could handle it. But her younger half- and stepsiblings on her father's side are still teenagers. "And I specifically would never talk about that or have ever mentioned that in a myriad of questions about Strange Mercy because it seems like an incredible betrayal of my family. But most specifically, my youngest siblings who are innocent children. They were kiddos."

She described the Daily Mail story as "faux concern," and reiterated that the paper couldn't find any dirt on her, no matter how outrageously they tried. "I'm not ashamed of my family," she said. Then I asked her whether her father going to prison had spun her own moral compass, or made her reconsider any values of right and wrong that he may have instilled in her. She was momentarily confused, and then let rip a massive, absurd, demonstrative laugh. She kept going. "I love my father," she said eventually, still tickled. "I love my father very much, as any child loves their parent. He's very intelligent and erudite and a good writer and incredibly well read, and those are all things that I value and I'm glad that he instilled in me." She paused, and kept on laughing.
In the run-up to announcing Masseduction, Clark was Instagramming absurdist junket-styled videos, in which she wears a hot pink skirt and a transparent rubber top the color of ash, and takes questions from an off-screen interviewer. Her answers were scripted by the musician and comedian Carrie Brownstein, who is also her ex-girlfriend. One video poses the question of whether Annie Clark and St. Vincent are the same person. She pauses to consider. "Honestly, you'd have to ask her." What's it like being a woman in music? "Good question," she muses, as the camera zooms to her black and yellow fingernails, which spell out "FUCK OFFF."
These films might factor into her upcoming tour, but the answers were also written for journalists. Earlier in July, in London, Clark found alternative ways to conduct interviews for hours at a time. She invited some female journalists to get massages with her (too weird with men, even though she was face-down on the table the whole time, avoiding eye contact). Other writers were invited into a 10-by-10-foot pink wooden box that was constructed in a North London studio especially for the occasion. Her interrogators had to duck through a low door to enter the blacklit space. "Not full-on crawl, because that's a little heavy-handed," she clarified. Inside, she looped a pedal steel recording and lit a Diptyque candle that struggled to mask the paint fumes.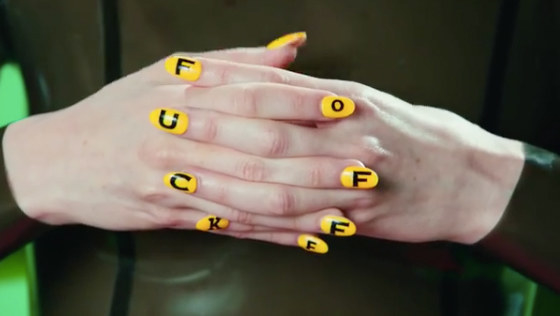 If anyone asked her an obvious question — like where the name St. Vincent came from — she planned to play prerecorded answers and "check my email, or stretch, or zone out for a second," she said, sounding almost disappointed that she didn't get a chance to enact her schemes. She insisted she wasn't being antagonistic. But sitting opposite Annie Clark for two hours is often intimidating enough without the added fear that she's about to make fun of you to your face: It is a gigantic power play! "Oh, deeply so," she said, affecting a wryly elegant tone. "But then also not at all because I was the insane person stuck in a box for eight hours!"
If critics and fans are bored of this sort of thing — see Arcade Fire's recent album campaign — they are clearly not as tired as the artists who have to smile politely at writers who don't know how to use Google. Plus, Arcade Fire's hijinks felt cynical; Clark's feels like a rejection of the idea that women artists are meant to be relatable, having endured a career's worth of inane juxtapositions between her pretty face and gnarly shredding like it means anything.
The point, she said, was that putting ourselves in a totally different, slightly strange context can produce interesting results. (She and I were meant to do Pilates together — before an oversold class spared me the indignity.) Why not make everything thoughtful and curated? If the stakes are already high, why not aim even higher and put yourself in extreme circumstances to see what happens? If Clark has done two things for the cerebral indie-rock world that she's long outstripped, it's teach about sex (thank god), and expose its low-risk complacency for a con.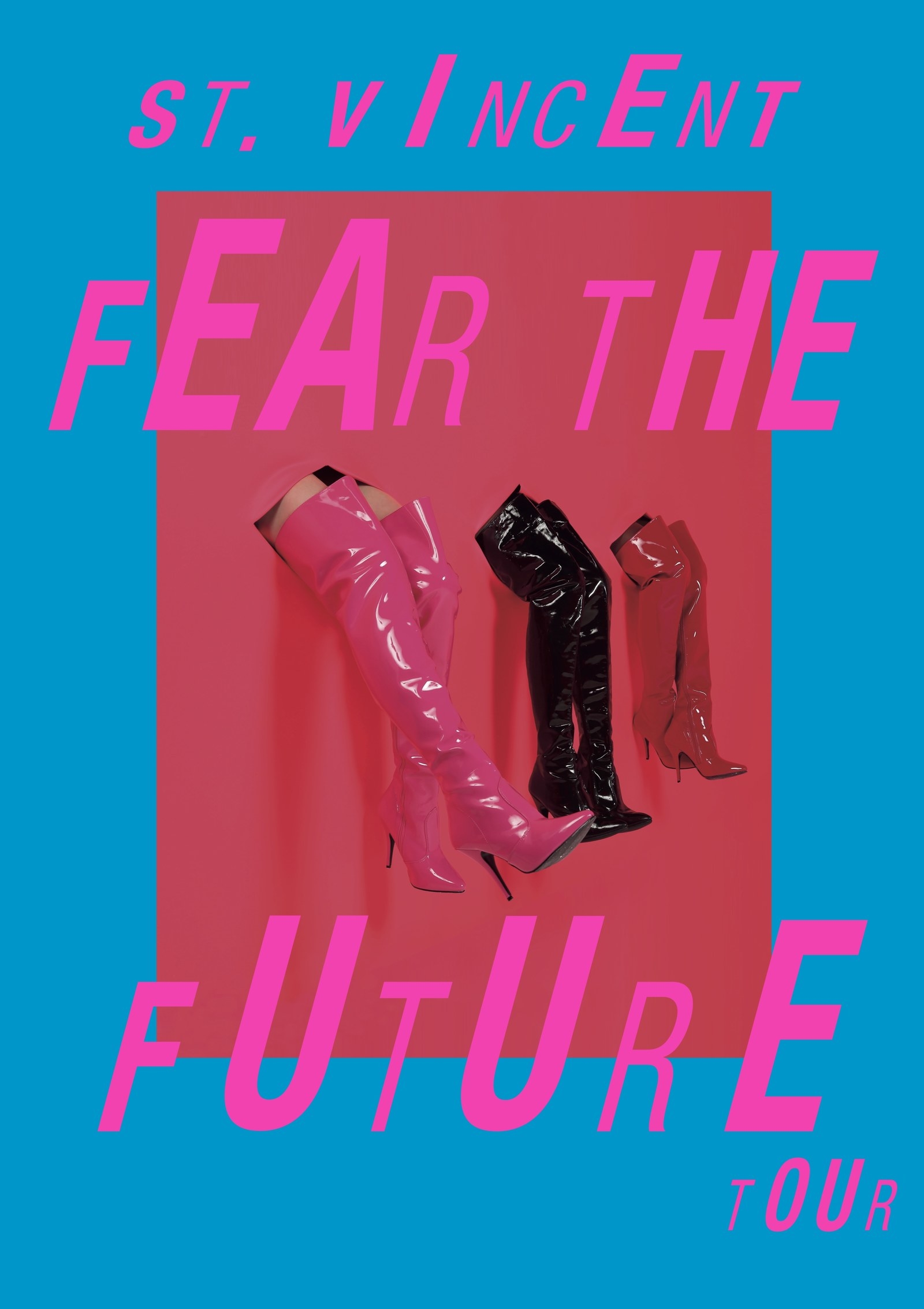 Of course, in some people's eyes, this makes her a phony, a manipulator. Earlier this year, legendary cultural critic Greil Marcus wrote an admirably dim-witted column for Pitchfork where he compared Clark to the slippery Father John Misty, aka Josh Tillman, claiming that they "perform as artists of such pretentiousness you couldn't possibly figure out how to talk to them. ... There's no way to address a saint: To be a saint you have to be dead … Such characters allow themselves to appear as if touched by God, which is what they're selling, and laugh at you if you're so square not to know who they really are: to join their club."
If Marcus had read any of the million interviews that Clark is parodying in her high-concept clips, he would know the name is rooted in humiliation and squalor — the hospital where Dylan Thomas died — rather than divine aspiration. "And I have never, nor would I ever, put the kind of trapdoors and booby traps in my music to make the listener feel dumb," Clark told me in response to Marcus's theories. "I have enough hubris not to kill myself, but I actually have such a deep respect for the listener that I have never tried to pander. Songs and arrangements were complex and convoluted at times, but they were sincere attempts at connecting."
She hoped there will be no mistaking her intent with her new record, which "is so first-person and sad." But if anyone does, she knows it's not her job to correct them.
If you want to use Masseduction as a treasure map, then this is what it tells us about Annie Clark's personal life. She experienced a complicated kind of heartbreak. Sometimes that makes her crazy and neurotic: "I won't cry wolf in the kitchen," she swears on woozy opener "Hang on Me," but threatens to jump off her roof "just to punish you" on the vengeful, cracked opera of "Smoking Section," the last song. Sometimes a mental safety net stretches out when she might otherwise get hurt. "Slip my hand from your hand / Leave you dancing with a ghost," she sings on "Slow Disco," the most tender song she's ever written. "Don't it beat a slow dance to death?" a forlorn and disembodied voice repeats as it fades out.
Her world is changing, and that's unsettling. "Too few of our old crew left on Astor," she sings on "New York," a song about lost heroes. On "Fear the Future," she belts the title as the song reaches a pyrotechnic cataclysm that sounds like a truckload of fireworks being dumped inside a volcano.
"Ultimate freedom is not caring whether you are liked."
But if you respond in kind to Clark's vulnerability, then these are the more meaningful revelations that we can take from Masseduction into our lives: Relatability is a crock, and sincerity doesn't take a single form. "I refuse to seem less threatening, if that's how I'm perceived," said Clark. "Ultimate freedom is not caring whether you are liked, because you are making something you really love and believe in." On Masseduction Clark tells us that all the good forms of desire — love, sex, art — are self-destructive. But at their best, they create just that little bit more than they consume, and can eventually alchemize anxiety into total power. ●