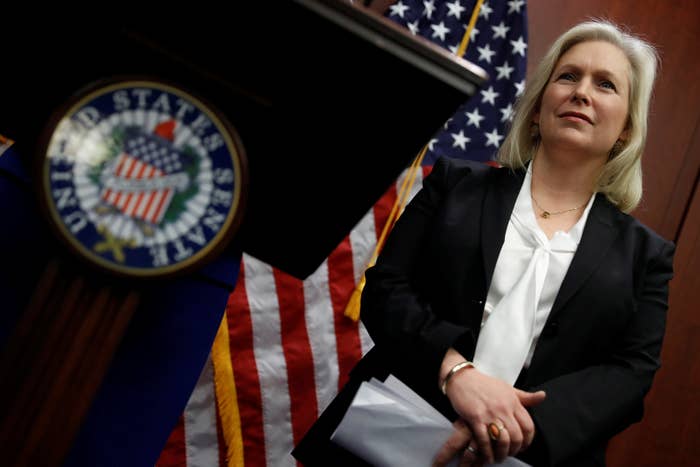 Four top Democratic senators are demanding that two arms of the federal government investigate the effect sexual harassment has on the "nation's workforce and on the US economy," BuzzFeed News has learned.
Sens. Kirsten Gillibrand, Patty Murray, Diane Feinstein, and Elizabeth Warren sent a letter on Tuesday to the Comptroller General of the US Government Accountability Office (GAO).
In January, the same four senators alongside 18 others wrote a letter to Labor Department officials, demanding more and better data concerning sexual harassment after reading a BuzzFeed News article examining the prevalence of sexual misconduct in different industries.
The article had featured previously unpublished data of sexual harassment charges filed with the US Equal Employment Opportunity Commission, which is available for download.
The Bureau of Labor Statistics responded to the senators in April, saying it would be too hard to compile the data.
The agencies wrote that "collecting this information would be complex and costly" and that employers may have "difficulty providing the data ... as such information may not always be reported by victims and the release of such information may be subject to privacy or other restrictions."
"Harassment can inhibit a worker's ability to do their best work, excel, earn a promotion, or even stay employed," Gillibrand told BuzzFeed News in an email. "The effects of harassment can stay with workers for their entire careers and destroy trust and morale in an organization. It's very clearly a drag on our economy, but we don't know by exactly how much in part because the Bureau of Labor Statistics has refused our request to compile this data.
"We need to calculate the real economic cost of workplace harassment, and I'm going to keep fighting for this data until we have it."

In Tuesday's letter, the four senators are trying to get other agencies to look into the issue of sexual harassment in the workplace, which has had a nationwide reckoning after Harvey Weinstein was exposed and the #MeToo movement began in earnest on social media.
The senators asked the GAO to track and gather data on the prevalence and costs of sexual harassment in the workplace. They also want the GAO to compile expert recommendations to help improve and understand the costs associated with the issue.
"While employers tend to focus on direct costs to a business, such as legal fees or settlement amounts, the true cost of sexual harassment includes indirect costs such as decreased productivity, increased turnover, and reputational harm," the letter reads.