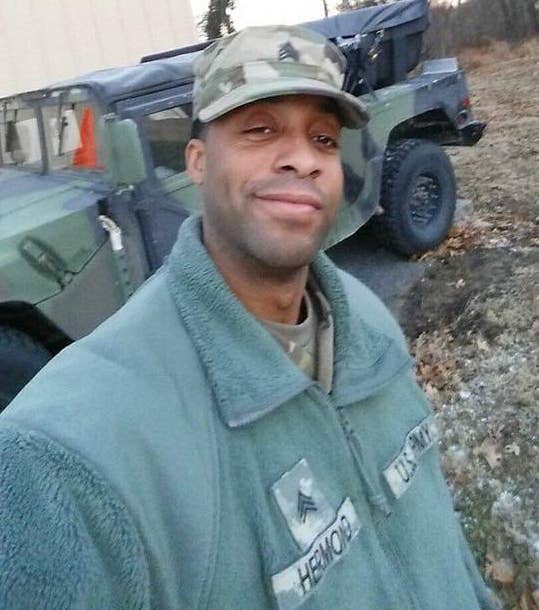 An Air Force veteran and current Maryland National Guard member, Eddison Alexander Hermond, 39, was swept away in Sunday's devastating flash floods in Ellicott City, Maryland, officials said.
Long-term friend Joseph Lopez, who knows Hermond through the Air Force, told CNN that Hermond was at a restaurant when the water began to rise and that he left to help a woman with a cat carrier trying to cross the waters.
"We're all yelling at him to stop, come back," said Lopez on CNN. "The current runs him into the river and he floats away."
Shop owners also told Bonnie Hoppa, 31, a Navy veteran who helped put together a Facebook post about Hermond's disappearance, that they saw him trying to cross the waters.
Authorities said they had conducted around 300 rescues of people trapped in buildings and vehicles and that they sent out teams and dogs to search for Hermond and other victims. Hours later, authorities said they still hadn't found him and that they were still "actively searching in the river."
"He was in the water in the first place because he saw a woman who needed help," Hoppa told BuzzFeed News. She said that while she's one degree removed from Hermond, she runs in his circles and spoke to eyewitnesses. "He's got a big heart and everybody loves him and is very worried."
After a mutual friend reached out, Hoppa put together this post with details of Hermond's disappearance.
Ellicott City's Main Street was also hit by flash floods in July 2016.
Hermond was last seen in the parking lot near a local restaurant around 5:20 p.m. Sunday afternoon, a Howard County official told BuzzFeed News. Around 12:30 a.m. Monday his family reported him missing.
Hoppa wrote in the Facebook post that the last witnesses to see him said he was being swept toward Patapsco River and that local search teams "have been deployed and looking."
He was last seen wearing black shorts and a white T-shirt, the post reads.
County government officials and the local police are asking the public for any information they may have on Hermond.
The governor of Maryland has expressed concern.
Hoppa said that she wrote the post to help a friend of Hermond's who was concerned that initial reports indicated no one had gone missing.
Since she published the post, Hoppa has been receiving messages from eyewitnesses and countless friends of Hermond's, who are "heavily invested in helping him." She said that dozens of people, including some from his unit in the National Guard, are standing by waiting until it's safe to join the rescue effort.
"This is one of our own," she said. "Once you're in the military you're family."