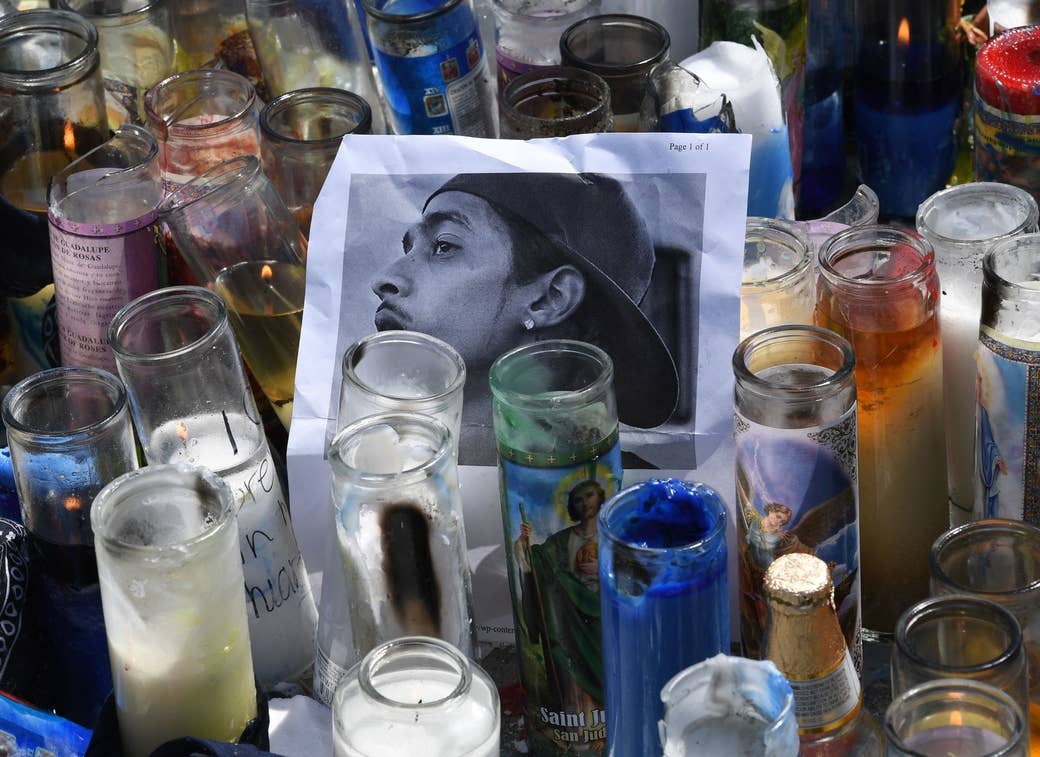 When Nipsey Hussle dropped his 2013 mixtape, Crenshaw, I was teetering toward depression while cooped up in my dismal bedroom on the other side of the world. That summer I'd moved to Shenzhen, China, to teach for a year, and Nipsey's cooly assured voice was one of the only things that could curb my aching yearning to be home. Where I'm from in Philadelphia, the blocks aren't lined with palm trees and it isn't eternally summer like in some of the South Central LA enclaves that Nipsey rapped about. But his lyrical portraits of his city were affirming as I longed for mine. The unpretentious storytelling about his origins, life experiences, and the systems that informed them left an indelible impression. His ability to connect through his authenticity made him seem like a friend or a favorite wise cousin — and that's why his passing feels so unbelievably raw to me.
Nipsey, who as we now know, was shot in broad daylight outside his store in LA on Sunday evening, had causes he'd undoubtedly sacrificed a lot for. But I can't accept that he was supposed to go the way that he did. Over nothing. I know I'm not God, and even though I believe in one, I can't wrap my mind around divine order being involved in such a heinous departure. But as so many of us stumble through this heavy mourning, the stories Nipsey left behind illuminate his essence and legacy.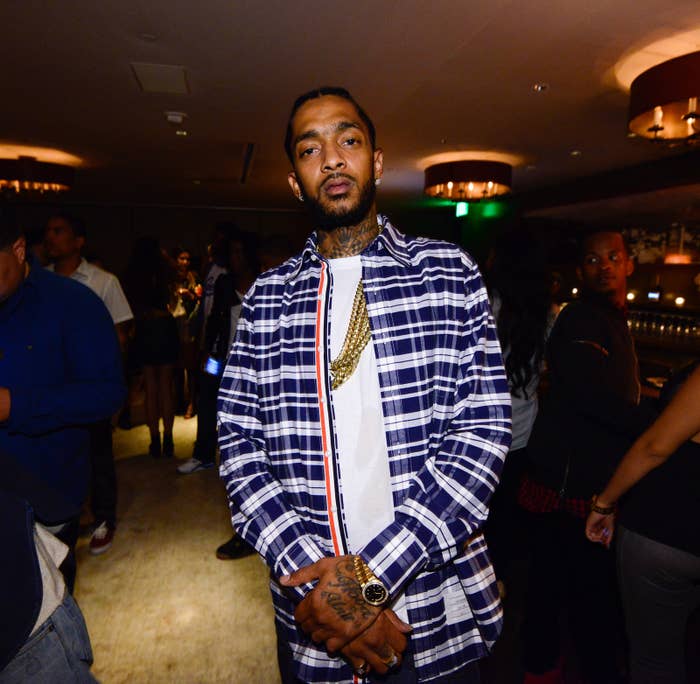 In November 2014, five months after I'd moved from China to New York, a friend had an extra ticket to a YG and Nipsey Hussle concert that night and she'd wanted me to come. I obviously assented, and as the packed Midtown theater formed into what felt like a massive cloud of weed smoke, Nipsey strolled out from stage right to cheers from the crowd. He was wearing a sheened black fur coat, had his hair in pristine cornrows, and wore a crop circle–shaped arrangement of thick, 14-karat gold Cuban links around his neck. He was regal. It's a strange, sad coincidence that the song he opened with that night ended up being the one I cried to after he died. "I'm Nip Hussle the great, middle fingers in your face, uh / Turn off the lights, turn up my mic / Roll up some flight, let's all get right," he rapped over a soulful sample of "Who Am I" by the O'Jays from Crenshaw's "All Get Right" featuring J Stone.
I know what grieving a close loved one feels like, I've done it too many times. But this is the first time I've deeply missed a person I didn't know. It's a new kind of void. I have learned to accept that death is inevitable, but the waves of grief crash harder because Nipsey's life was taken away. His energy was omnipresent and he always showed up. I never thought he would leave us like that.
I've been thinking about his use of the "marathon" theme in his life and work. (His first mixtape was called The Marathon and so was his clothing store.) It was an ingenious marketing concept, but also embodied Nipsey's real-life traits of patience and endurance. From The Marathon to his debut studio album, Victory Lap, he was on a steady, unhurried ascent toward becoming a household name. Nipsey's gradual momentum was in line with his focus on "not skipping steps," as he once talked about in an interview.
Nipsey boasted this spirit of manifestation on the Mailbox Money track "That's How I Knew." He proclaims, "I seen it, I thought it, I dreamed it / I said it, I did it, I meant it." His accrual of achievements and riches on the song bespoke blessings and hard work. It meant a great deal for me and other black and brown people to see and hear Nipsey refusing to sign to a major label and using unorthodox business models, like selling Mailbox Money for $100 a copy, to build his wealth as well as his commitment to living in and giving back to the Crenshaw District.
For heroes who stay in the hood though, there's always the looming risk of running into a faux nemesis or a mega-hater who can't see past their contempt and who believes there are stripes to earn from taking down the good guy. What does it take to stand in the face of that very real possibility, daily, without folding? Meek Mill, Philly's utmost paragon for redemption, prison reform advocate, and good friend of Nipsey's tweeted his sentiments about this sinister phenomenon in peril:
"I know they'll kill me in my hood, but I just keep on coming thru…. still wit it…. the graveyard throwing a party for all the real niggas," he wrote. In another tweet he asked: "Can you imagine trying to fight for niggas you know will kill you?"
I feel selfish for being concerned about how Nipsey's death could be fodder for people clinging to the low-hanging fruit of the black-on-black crime narrative. I worry that people who don't look like me, or Nipsey, or Meek, won't understand the layers of this conundrum. And it's eerie and disheartening to know that there are people you advocate for who want to harm you. In the world Nipsey was crafting, there was space for more than just him to prosper.

In the world Nipsey was crafting, there was space for more than just him to prosper.
Two years ago, days before Thanksgiving, Nipsey braved the chilly New York fall again and stopped by the office of a magazine where I was employed for an interview. I was thrilled since I'd been pitching him as a profile subject for most of the year, but things never worked out due to timing. He came just after he'd announced a partnership between Atlantic Records and his independent imprint All Money In, which had released and funded most of his previous mixtapes. As he explained what inspired the decision to finally link with a major label, he spoke with self-integrity and kept his goals at the center of the conversation. For Nipsey, it wasn't about an industry bigwig cosign. It was simple. Victory Lap was going to be stellar and it deserved the capital that a mega-label like Atlantic could provide.
"I'm not going to be operating in a space less than what I'm capable of," he told me during that visit. "If it takes three years, two years, or a year, I'm not going back out until I have the music that I know is going to represent my level."
Although Victory Lap was his first mainstream release — it even nabbed a Grammy nomination for Best Rap Album — I think it resonated so much with his audience because of his drive and visceral account of his evolution from gang member to Crenshaw philanthropist. Though I wish before he had passed he could have been more inclusive in reaching out to queer black men, he was evolving, and now that he's gone, it's painfully evident how rare and coveted that kind of art and existence is. My best friend reminded me that with the massive success of this album, in many ways, we did give Nipsey his flowers while he was here.
The song "Blue Laces 2" hits differently now. In the last verse, Nipsey remembers a beach shootout, where one of his partners was shot three times. Keeping calm and collected, his friend asks Nipsey if he's dying. And on the way to the hospital, they joke that, since he's taken bullets, he'll finally be respected. In this case, there's a glimpse of peace in having witnessed how many people loved, valued, and appreciated Nipsey when he reigned earthside. I pray he knew that. Even though he had so many plans, he did what he was sent here to do: "Hussle & Motivate." ●
Lakin Starling is a creative, music, and culture writer based in Brooklyn.