Donald Trump on Friday cancelled a scheduled rally in Chicago after the event devolved into violence as protesters clashed with Trump supporters.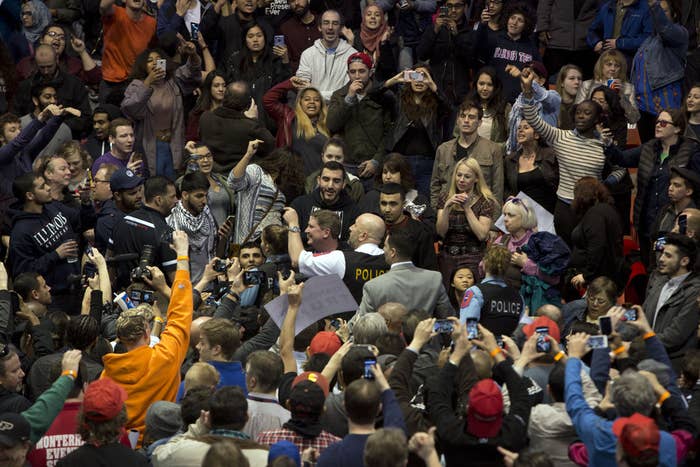 Tension at Trump's events has been increasing for some time. This week, a Trump supporter in North Carolina was charged for punching a protester in the face at a Trump rally. A Breitbart reporter also this week filed a police report alleging Trump's campaign manager violently grabbed her at a Trump event in Florida.
None of Trump's Republican rivals, when given the chance at the last debate, would directly condemn Trump for the actions at his rallies.
However, in the aftermath of the Chicago protests, all three of them — Ted Cruz, Marco Rubio, and John Kasich — directly attributed the violence to Trump.
Ted Cruz said Trump "bears responsibility" for creating a violent environment.
Asked on Saturday if he would still support Trump as the nominee, Cruz said, "I will support the Republican nominee whoever it is."
Cruz told reporters in Ballwin, Missouri: "My answer is the same, I committed at the outset, I will support the Republican nominee whoever it is."
Pressed on how he could still support Trump as the nominee despite saying last night that he encourages a culture of violence, Cruz said "I am encouraging every candidate and every campaign to appeal to our better angels."
"It's a choice every candidate makes," Cruz said. "I understand people are angry." Cruz said he understands that Trump "feels like a vessel for that anger" at Washington, but that "Donald Trump is Washington."
Cruz did not answer follow-ups about why he would still support Trump as the nominee despite all he's said about him.
Marco Rubio said the words of a presidential candidate have consequences, citing examples of Trump encouraging violence at his events.
Rubio, on Saturday morning, said "it's getting harder every day" to imagine supporting Trump as the Republican nominee.
Asked if he could still support Trump as the nominee, Kasich told reporters, "It makes it extremely difficult."
On the Democratic side, Hillary Clinton released a statement deploring the "divisive rhetoric" and calling for unity in both parties. She cited South Carolina in the aftermath of a mass shooting as an example to follow.
​"The divisive rhetoric we are seeing should be of grave concern to us all. We all have our differences, and we know many people across the country feel angry. We need to address that anger together. All of us, no matter what party we belong to or what views we hold, should not only say loudly and clearly that violence has no place in our politics, we should use our words and deeds to bring Americans together. Last year in Charleston, South Carolina an evil man walked into a church and murdered 9 people. The families of those victims came together and melted hearts in the statehouse and the confederate flag came down. That should be the model we strive for to overcome painful divisions in our country."
She had stronger words for Trump on Saturday in a series of tweets: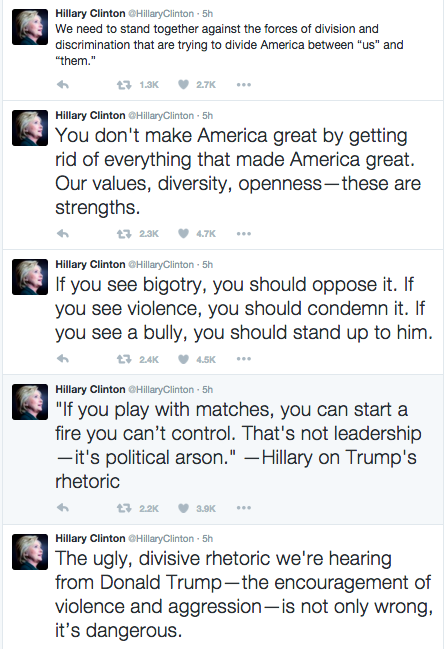 Bernie Sanders, whose supporters were vocal and visible in Friday night's Chicago protest, told reporters on Saturday his followers were "responding to a candidate who has in many ways encouraged violence."
"The issue now is that Donald Trump has to be loud and clear and tell his supporters that violence at rallies is not what America is about and to end it," Sanders said.
Rosie Gray contributed to this report.