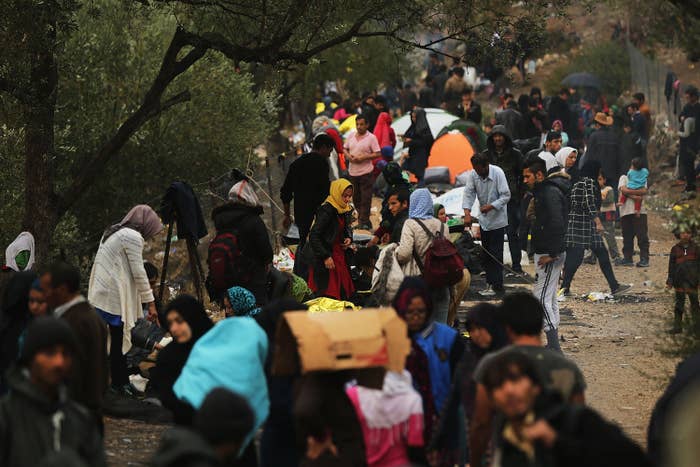 The U.S. has one of the most robust security screening processes in the world for potential refugees.
Many European countries will accept a refugee application based simply on a case file. The U.S. system works much differently.
Fewer than 2,000 Syrian refugees have been admitted to the United States since the start of the Syrian civil war. Though the Obama administration said the United States will accept 10,000 refugees in 2016, the complex process takes an average of 18 to 24 months.
Many of those refugees who would be approved in 2016 are already going through the security-screening process and upon completion will enter the U.S. next year, according to a senior State Department official.
Some have raised concerns this fall that even the level of security that the United States applies to the process is not sufficient enough to actually keep extremists from entering the country.
Secretary John Kerry told Congress earlier this year that the plan was to engage in "super vetting, I mean an extraordinarily level of vetting." He added that if the FBI wasn't satisfied, he was "quite confident that people aren't going to be allowed in."
To gain admittance into the United States, a Syrian must clear all these steps:
* Multiple high-level security checks
* Biometric screening
* A mandatory interview with the Department of Homeland Security
* A medical screening
* A cultural orientation program (which consists of videos on housing, employment, education, and hygiene, among other topics)
Several of the checks remain current for only a certain period of time, but to qualify for entry into the United States, a potential refugee must have approved status for each step at the same time.
For instance, the medical screening is valid for only six months, and most security checks expire after 15 months.
U.S. officials have emphasized a specific concern about accepting refugees from Syria: the lack of on-the-ground intelligence in Syria that could be used in the vetting process.
JOHNSON: Chairman, I am concerned that we do the proper security vetting for refugees we bring into this country. We've committed to 10,000, and I've committed that each one will receive a careful security vetting.It is true that we are not going to know a whole lot about a lot of the Syrians that come forth in this process, just given the nature of the situation. So we are doing better at checking all the right databases in the law enforcement and intelligence communities than we used to, and so it's a good process and it's a thorough process. But that definitely is a challenge.COMEY: I don't think I have anything to add to Jeh. I think he describes it well. We see a risk there. We will work hard to mitigate it. Our challenge will be, as good as we have gotten ourselves at querying our holdings to understand somebody, if the person has never crossed our radar screen, there won't be anything to query against, so we do see a risk there.