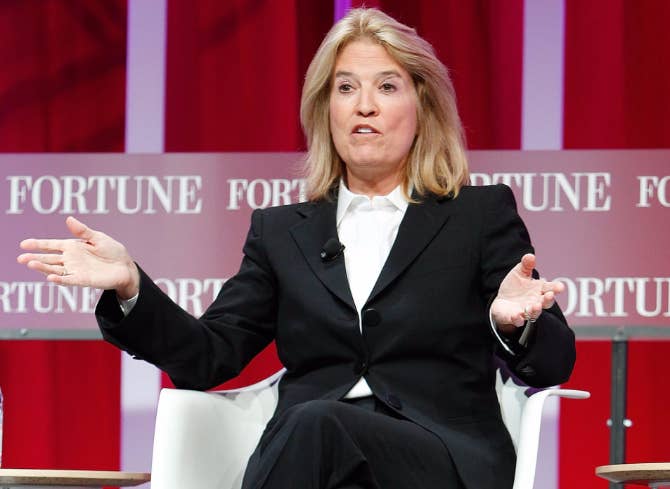 Greta Van Susteren is leaving Fox News after 14 years at the network — invoking a clause in her contract that allowed her to exit after former Fox News CEO Roger Ailes resigned.
Fox News announced the move on Tuesday, in a statement that briefly mentioned Van Susteren and instead focused on her replacement — longtime Fox News political analyst Brit Hume. Hume will begin hosting On The Record immediately.
"As one of the best political analysts in the industry, Brit is the ideal choice to host a nightly political program while the most dynamic and captivating election in recent history unfolds," said Fox News co-presidents Jack Abernethy and Bill Shine. "Having Brit at the helm of this show will enable FOX News to continue on track to have its highest-rated year ever as the network dominates the cable news landscape."

"We are grateful for Greta's many contributions over the years and wish her continued success," they added.
Van Susteren wrote on Facebook on Tuesday, "Fox has not felt like home to me for a few years and I took advantage of the clause in my contract which allows me to leave now. The clause had a time limitation, meaning I could not wait."
"I hope to continue my career in broadcasting," she added.
A source close to the situation told BuzzFeed News Van Susteren, who had a long-term contract with the network, made the decision to exit after a "financial disagreement." Fox News media correspondent Howard Kurtz reported that after Ailes resigned amid sexual harassment allegations, Van Susteren attempted to renegotiate her contract. According to the Fox News report, those negotiations stalled and she invoked what is known as a "key man" clause which allowed her to exit after Ailes's July departure. A source close to Van Susteren told New York magazine that Van Susteren made the decision to leave because she was upset with the culture at the network.

Van Susteren is the first major anchor in Fox News' lineup to leave the network post-Ailes. Other top stars at the network — including Bret Baier, Sean Hannity, and Bill O'Reilly — also are reported to have "key man" clauses in their contracts.